When the Colorado Springs area's and Pikes Peak region's single-family housing market nosedived during the Great Recession, luxury homes with hefty price tags and massive mortgage payments became a particularly tough sell.
Even after the recession ended, the bulging supply of $500,000-and-up homes for sale was measured in months and even years — the amount of time it would take to dispose of the backlog.
Five years ago, in the first quarter of 2013, there was a more than 31/2-year supply of $1 million-plus homes available on the resale side of the housing market, based on the number of properties listed and the rate at which they were selling, according to a report at the time by Re/Max Properties, a Colorado Springs residential brokerage.
But finally, higher-end homes — like the rest of the market — have made a comeback, thanks in large part to a stronger economy and an influx of well-heeled, out-of-town buyers, some members of the Colorado Springs real estate industry say.
"The market up to $1.5 million is showing strength," said Becky Gloriod, a real estate agent with Berkshire Hathaway Home Services in Colorado Springs who specializes in upscale properties. "I tell my sellers, the prices haven't gone up. But the difference is, if you price your house where you had it priced in '09, it's going to sell this year. That's the difference."
Consider some numbers from Pikes Peak Association of Realtors reports:
• For all of 2013, there were 226 homes priced from $500,000 to $600,000 that sold in El Paso and Teller counties. Through August of this year, 557 homes have sold in the same price range — with four months still to go in the year.
• Five years ago, just 32 homes priced from $800,000 to $1 million sold in El Paso and Teller counties. So far this year, 120 similarly priced homes have sold — or nearly four times as many.
• Even seven-figure homes are in demand. In 2013, 30 homes priced from $1 million to $2 million sold in El Paso and Teller counties. In 2017, that number nearly doubled to 59 homes. And in the first eight months of this year, 58 homes already have sold for between $1 million and $2 million.
"I've never seen the homes over $1 million sell as quickly as they have in the last eight months in Black Forest," said Jill McFeron, a Re/Max Properties agent who markets properties in the Black Forest, Monument, Falcon and Peyton areas just outside Colorado Springs.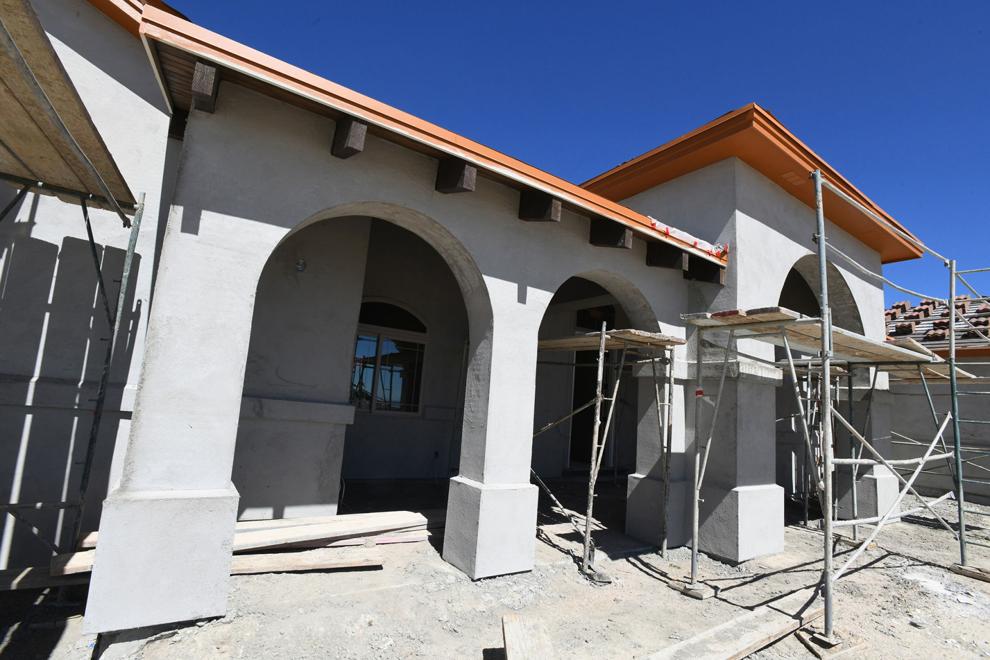 The rebound isn't just limited to the resale side of the market; some builders are seeing a surge in luxury homes, too.
Five years ago, Lain Chappell, co-owner of Solid Rock Custom Homes in Colorado Springs, said he was building one or two homes a year. This year, he expects to undertake six to 10 homes, with prices starting at $700,000.
"Our market is tremendous right now," Chappell said.
In some ways, the high-end market's recovery mirrors that of lower and moderately priced homes.
Improved local and national economies and more people working in the Pikes Peak region have helped boost the overall housing market. When people have jobs, their consumer confidence is high and they're more likely to buy a house, car or other big-ticket item, real estate industry members say.
But within Colorado Springs' economy, the growing health care industry is helping the luxury market in particular, Gloriod said.
Hospital expansions launched by Penrose-St. Francis Health Services and UCHealth, the city's two major health care providers, are bringing an influx of medical professionals to Colorado Springs, Gloriod said. Many of them hold higher-paying jobs and they're choosing to live in pricier homes, she said.
"There's a lot of great medical expansions in Colorado Springs," Gloriod said. "And a lot of those people (employees) are coming from all over the country, and a large portion of them are doctors. Probably the largest percent of our buyers right now are doctors."
An improved economy, in general, means buyers move up when they purchase a home; that's another big factor driving interest in the higher-end market, Chappell said.
"A lot of these houses are flying off the market here at $400,000 and below," he said. "Those people that are selling those houses have got to go somewhere. They got a little bit more for their house, they've got a little bit more to spend. So they're building a little bit more expensive house or buying a more expensive house, depending on the buyer. And that just transfers its way up the ladder."
And because Colorado Springs' economy is stronger and the city has received positive rankings from national publications (it was named the nation's most desirable place to live, according to U.S. News & World Report in July), some people who might have moved away to buy a more expensive home have instead stayed put, said Joe Clement, broker-owner of Re/Max Properties.
"There's people staying in town and buying up, and that's been a beautiful thing that we haven't seen as much of until this year," Clement said. "For years, we'd always have a bunch of people moving out. And we still have that, of course. But not like we used to. Maybe it's because everybody's reading those articles that say we're in the top 10 of this and that and decide to stay."
But it's just not local residents who've pumped up the luxury market. Californians, Texans, Midwesterners and homeowners from other states find they often can sell their pricey properties and use their profits to purchase upscale homes in the Pikes Peak region, Clement and Gloriod said.
Gloriod had clients last year who couldn't sell their Monument-area home, which they had listed at $875,000. They took it off the market but re-listed it in early 2018 at the same price. This time, Gloriod said, the sellers received three offers in a two-week period — with one bid coming from Washington state and another from Denver.
In fact, an influx of Denver- area residents moving to Colorado Springs over the past few years has been one of the biggest reasons for the recovery of the local upscale housing market, some real estate agents say. Denverites get more house for their money here and are willing to commute to their Denver jobs because of the savings.
The median price of Colorado Springs-area homes that sold during August was $315,000, according to the Pikes Peak Association of Realtors; in the Denver area, it was $445,000, said the Denver Metro Association of Realtors.
"As they get priced out," McFeron said, "they come down and find out that we don't have year-round schools, we have a better quality of life, water, recreation, less traffic. We're very, very attractive to that south Denver market. They can sell so high and come down here. We look like a bargain."
Even as demand has ratcheted up for higher-end homes, however, the traditional rules of home selling still apply, Gloriod said. Luxury homes aren't necessarily selling for higher prices, but they're finally selling, she said. So sellers must base their asking prices on sales of comparable properties.
"People really need to be realistic in their pricing," Gloriod said. "And if they are, they're probably going to sell. … The difference is, in '09, '10, '11, if you priced it right, it wouldn't sell. Now, if you price it right, which is probably where you needed to price it back then, it's going to sell, more than likely."