Downtown Colorado Springs' renaissance isn't just about new apartments, hotels and tourist attractions.
Three familiar downtown businesses — Zeezo's, Paris Crepe and Mountain Chalet — are on the move from their longtime Tejon Street storefronts, relocations that will provide them with new digs nearby while ushering in more restaurant, bar and entertainment concepts to fill the spaces being vacated.
The flurry of comings and goings is another sign of a renewed interest in downtown that's being fueled by a stronger economy, the addition of housing in the area and the success of a few businesses that helps to attract others.
"It speaks to the evolution of our downtown," Laurel Prud'homme, a spokeswoman for the Downtown Partnership advocacy group, said of the planned relocations and additions. "We would be sad if it didn't change and continue to transform and grow. I think all of these are going to be beneficial to our downtown as a whole."
Downtown changes now underway include:
• Zeezo's, the costume, vintage clothing, wigs and makeup shop, has moved from its 6-year-old home at 112-114 N. Tejon and opens Monday at 127 E. Bijou St., although it's doing business at its new storefront. Owners Jessica and Mark Modeer sold their Tejon Street building last week and are leasing space on Bijou for their retail, wholesale and rental business.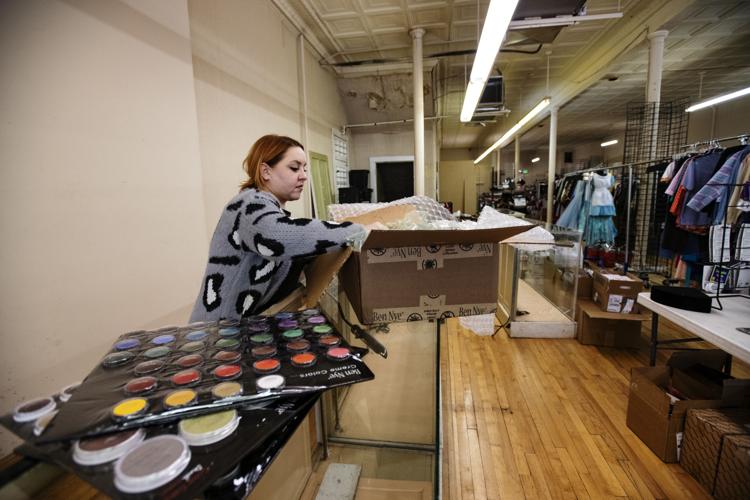 The Modeers said last year they wanted to downsize the store and seek smaller quarters. The Bijou Street location has about 14,000 square feet on a main level and basement, while the old location was nearly 19,000 square feet spread out over a first floor, basement and mezzanine, marketing materials for the buildings show.
The Bijou Street block has its collection of busy storefronts, including King's Chef Diner, the Art 111 art supply gallery and Ladyfingers Letterpress, among other business. Street parking in the area also seems more readily available at the new location across the street from Acacia Park, Jessica Modeer said.
"We love Tejon and we found everyone was really welcoming there, and we love the hustle and bustle of it," Modeer said.
"But I think downtown is growing at such an exponential rate that the focus of Tejon, I don't think it will be the focus that it has been for so long. Downtown Colorado Springs in its entirety will become a destination rather than just one street."
Little will change about Zeezo's, although it's now focusing more on higher quality, do-it-yourself items and fewer packaged costumes that are carried by large retailers such as Walmart and Target, Modeer said.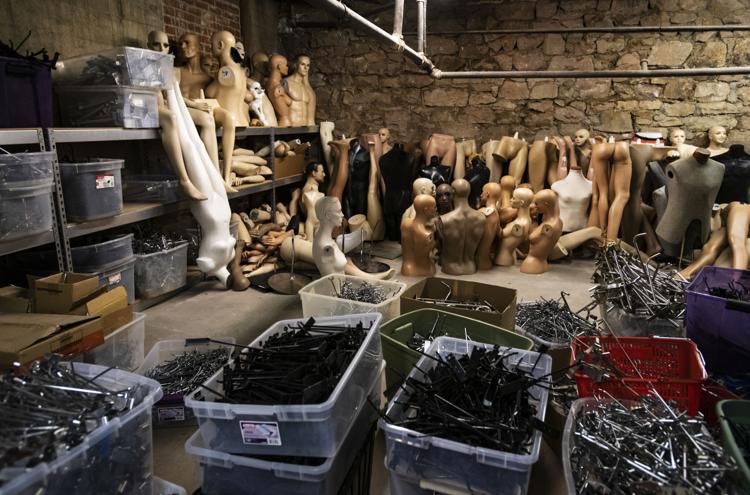 At the same time, the Modeers have launched Vintage Estate, an estate liquidation company that will conduct sales of items for the estates of residential property owners, collectors and others, she said.
Baldwin Cohn Investment Group, headed by local businessmen and Jimmy John's franchisees Brent Baldwin and Derek Cohn, have purchased the former Zeezo's building for just under $1.4 million and plan to bring three new concepts to the space, Baldwin said.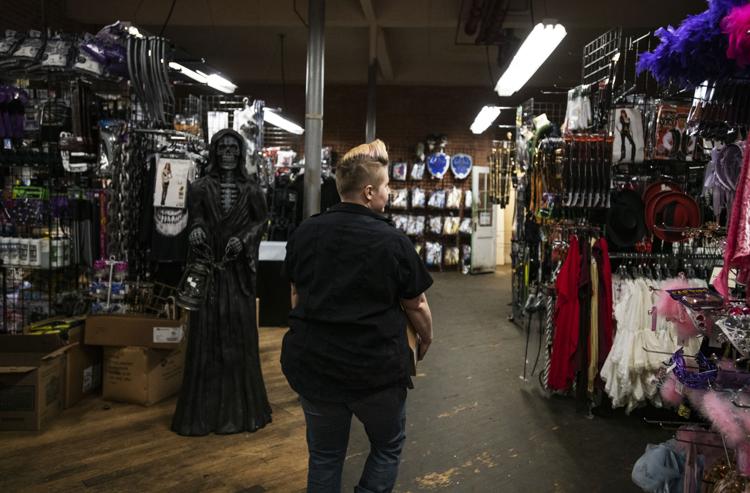 Baldwin declined to identify them by name, but said two of the users will be a fast-casual restaurant serving "poke" — the popular raw seafood served in a bowl — along with a "dueling piano bar" being brought to the Springs by an out-of-state operator with multiple locations. A third occupant is being sought.
Downtown revitalization and construction that were on the drawing board are becoming a reality and he and Cohn were attracted by the activity, Baldwin said.
Among downtown's many high-profile projects: the U.S. Olympic Museum, scheduled to open to the public in 2020; a 167-room Hilton Garden Inn hotel set to open this year; a Marriott-branded hotel planned for the 400 block of South Tejon; the 172-unit 333 ECO apartments that opened last year; and the 184-unit Cascade Apartments and 27-unit Casa Mundi Lofts now under construction.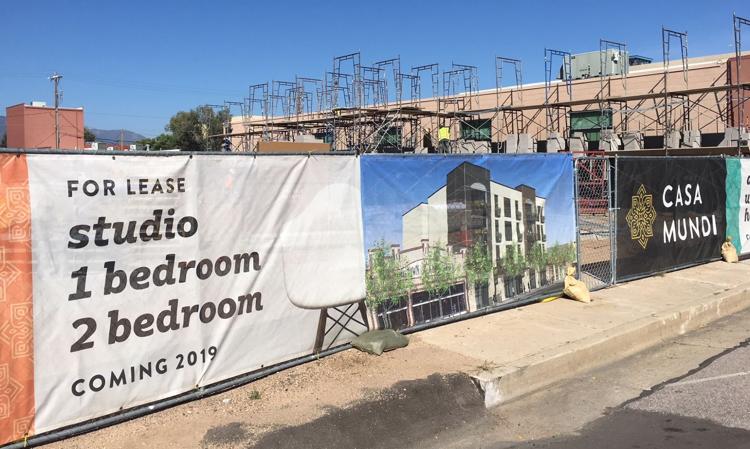 "So much is happening down here," Baldwin said. "The city is getting behind it and we're going to make downtown better. I still think of it as a great little city. We're big, but it's still got that small-town mentality."
• Paris Crepe, which serves a wide variety of crepes for breakfast, lunch and dinner and has operated for a decade at 218 N. Tejon St., closes Sunday. The popular casual restaurant is moving to the main level of the new Casa Mundi Lofts building at 418 S. Tejon and is targeting a late summer reopening, said owner Wahid Hafsaoui.
Paris Crepe will be part of the fast-growing South Tejon corridor and downtown's so-called New South End. The new 255-room Marriott hotel is planned next to Casa Mundi. A large portion of the 500 block of South Tejon was remodeled to house the Denver-based Atomic Cowboy bar, Fat Sully's Pizza and Denver Biscuit Co.
The South Tejon location will allow Paris Crepe to devote more space to dining; the North Tejon space had a kitchen that was too large for the restaurant's needs, Hafsaoui said.
"It's going to be very nice," he said of the South Tejon location. "We have the museum, the Olympic Museum. The hotel is coming next to us. Twenty-seven apartments on top of us. We can cater to them. It's going to be great."
While Paris Crepe will be closed in downtown for a few months, its restaurants in Manitou Springs and Denver will remain open, Hafsaoui said.
Darsey Nicklasson of DHN Planning & Development, who co-developed the Blue Dot Place apartments on South Nevada Avenue and is developing Casa Mundi, said Paris Crepe will bring a different restaurant option for area residents and employees.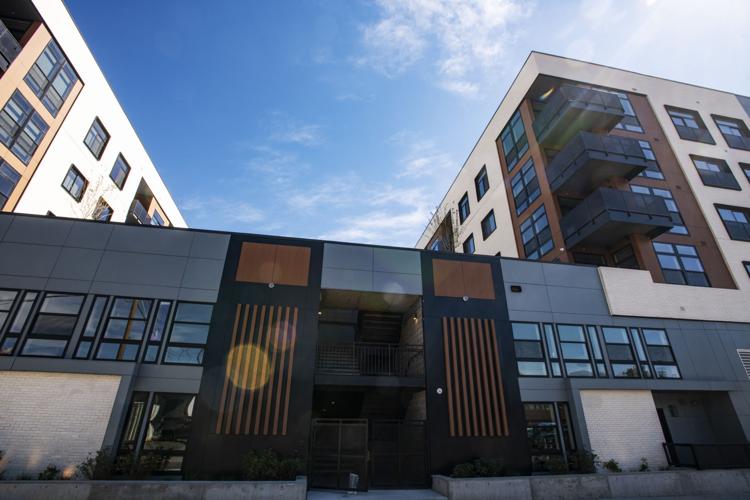 "It's a great fit for residents and for the New South End," she said.
Baldwin and Cohn also own the 218 N. Tejon building, which they purchased last year for $800,000, El Paso County land records show. As with Zeezo's, the North Tejon building will be remodeled to accommodate three restaurant and bar concepts.
Husband and wife Michael Thompson and Crystal Byrd, who for three years have operated T-Byrds Tacos & Tequila at 26 E. Kowa St., will spearhead the new uses at the 218 N. Tejon building.
Mood, a high-end tapas restaurant that also will serve wine and cocktails, and the Bird Tree Cafe, which will feature deli-style sandwiches, soups, coffee, beer and wine, will have entrances fronting Tejon Street. District Eleven, a craft cocktail bar and lounge, will have its main entrance in the alley behind the building.
"Being at T-Byrds for the last three years, we've seen just a pretty high level of growth in a very short amount of time," Thompson said. "Being right down there on Kiowa, we see firsthand everyday the amount of people that are coming into downtown. If you look at a Saturday afternoon now versus a Saturday afternoon three years ago, you've probably got five times the amount of people on the streets."
"There is a resurgence downtown and we kind of want to get to the concepts that we love because, eventually, someone's going to do it," Byrd said. "Just like with tacos, we love tapas, so we decided, 'Hey, let's do an upscale tapas bar.'"
Thompson and Byrd are aiming for a late June or early July opening.
• Mountain Chalet, the 51-year-old, popular outdoor clothing and equipment shop, is moving from 226 N. Tejon to a former, 13,400-square-foot office building at 15 S. Nevada Ave., according to documents submitted to city government planners.
The building, now being remodeled, is next to the CityROCK Climbing Center and will be just south of a 120-room Hyatt Place Hotel planned at Nevada and Kiowa. The new Mountain Chalet site is part of an urban renewal district that covers the downtown block that includes the City Auditorium.
It's unknown when Mountain Chalet is moving or why ; owners Jim and Elaine Smith couldn't be reached for comment.
• Starbucks closed its coffee shop at 134 N. Tejon a week ago. It will be replaced by Solar Roast Coffee, a 15-year-old Pueblo-based company that uses solar equipment to roast its beans and produces 100 percent, USDA-certified organic coffee. The location will be Solar Roast's first bricks-and-mortar storefront in the Springs.