At last.
After more false starts than a Denver Broncos offensive lineman, the redevelopment of downtown Colorado Springs' southwest side is poised to take off.
Though targeted for a makeover by Springs officials nearly 20 years ago, two recessions and a lack of people-generating anchors — among other factors — derailed efforts to clean up and revitalize about 100 light industrial acres mostly southwest of Cascade and Colorado avenues.
But next year's opening of the U.S. Olympic & Paralympic Museum will be the first of several public and private initiatives that finally will position the area for a major turnaround, city officials, developers and community leaders say.
By next summer, the city expects to finish a Vermijo Avenue reconstruction project from the Olympic Museum to Cascade Avenue, with a future phase extending to Tejon Street. Also next summer, a pedestrian bridge will link America the Beautiful Park to the museum.
New apartments, offices and a hotel — among other projects — are expected to follow over the next several years and help turn southwest downtown's empty warehouses, small industrial buildings and vacant parcels into a vibrant residential and commercial hub, downtown enthusiasts say.
"To a certain extent, there's a long way to go, obviously," said Colorado Springs Mayor John Suthers. "There's a lot of land down there, a lot of warehouses are going to come down. The question's going to be what else is going to be there? But we're off to a tremendous start. It's no longer just dreaming."
The dream began in August 2001 when the Colorado Springs City Council designated southwest downtown as an urban renewal district, although downtown improvement plans already had identified the area for upgrades.
An early plan by two of the Springs' largest real estate companies envisioned a residential and commercial project, but it went nowhere. A convention center proposal also flopped. Other than the city's completion of America the Beautiful Park in 2005, southwest downtown has languished.
Over the last five to six years, however, new plans for the area's revival took shape.
City for Champions, a series of tourism-related projects proposed for Colorado Springs, gained approval from the Colorado Economic Development Commission in 2013. The commission's backing provided partial state funding for the Olympic Museum and a multi-use stadium that will house the Colorado Springs Switchbacks soccer team.
That pair of anchors will help attract landscape-changing residential and commercial development to southwest downtown, which will be complemented by the Vermijo Avenue improvements and the pedestrian bridge, the area's supporters say.
Here's a look at the status of some of southwest downtown's key components: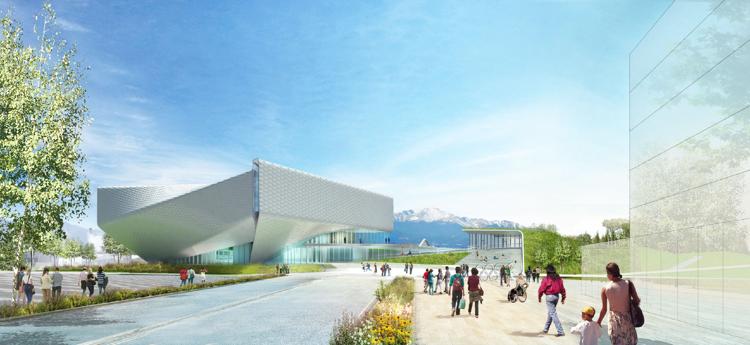 • Olympic & Paralympic Museum: The 60,000-square-foot venue — which will include a hall of fame, theater, store, cafe and outdoor plaza — is under construction at Vermijo and Sierra Madre Street. Its interactive exhibits and displays will honor the nation's Olympians and Paralympians; the venue is expected to draw 350,000 visitors a year.
Museum officials are targeting an April opening, although that timetable could be pushed back because of weather delays and the city's ongoing upgrades along Vermijo and Sierra Madre, portions of which are closed to pedestrians and traffic to accommodate utility and roadwork, said Peter Maiurro, the venue's chief communications and business affairs officer.
"Our No. 1 priority is safety and a positive guest experience, and we want to make sure everything is done to ensure both of those things," he said.
The project's cost is just shy of $88 million, the majority of which is being funded by private donations, Maiurro said. The state has contributed $26.2 million through the money it gave for City for Champions.
• Pedestrian bridge: Since it opened in 2005 south of Colorado Avenue and Cimino Drive, America the Beautiful Park has been isolated; parkgoers could only reach the rest of downtown by using Cimino or Conejos Street, and then heading east on Colorado Avenue or Cimarron Street.
Now, a 250-foot-long bridge, erected 30 feet above ground, will span a set of railroad tracks in southwest downtown and connect the park to the Olympic Museum and the rest of downtown.
The bridge is being manufactured in Houston by a structural steel fabricator that will truck the bridge in six pieces to Colorado Springs . The bridge is expected to arrive in the spring, and will be assembled on the west side of the railroad tracks before it's erected in late summer or early fall, said Ryan Phipps, a Colorado Springs senior engineer.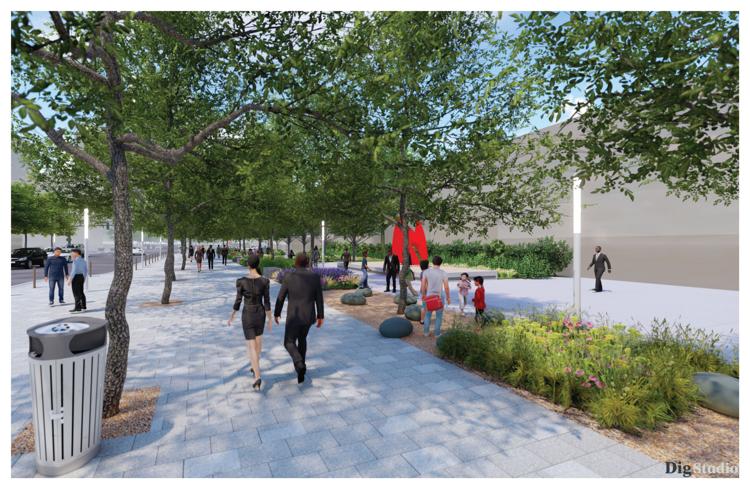 • Vermijo Avenue: The east-west street is undergoing a transformation that will reduce traffic to one lane in each direction, while retaining street parking, widening sidewalks and adding extensive landscaping and trees. The goal: turn Vermijo into a scenic, business- and pedestrian-friendly corridor between the Olympic and Pioneers museums and make it a "signature" street similar to Tejon.
"
Other Vermijo improvements — such as granite walkways, enhanced street lighting and seating areas — will make it a prime space to hold street festivals and other events. The project also includes Sierra Madre Street improvements. The work is expected to be completed in the summer.
"Our history is really a key part of what our public improvements are trying to do, which is connect the new (Olympic Museum) with the existing and the established (Pioneers Museum and Alamo Square)," Phipps said. "We don't want it to be something separate. ... This is enhancing downtown; this is not something in addition to downtown."
The combined Vermijo Avenue and pedestrian bridge price tag of $49.5 million is being financed by City for Champions funds, the Pikes Peak Rural Transportation Authority, Colorado Springs Utilities and a special district formed in the area. Those costs are part of a 20-year series of downtown improvements identified by the city that could total $216 million.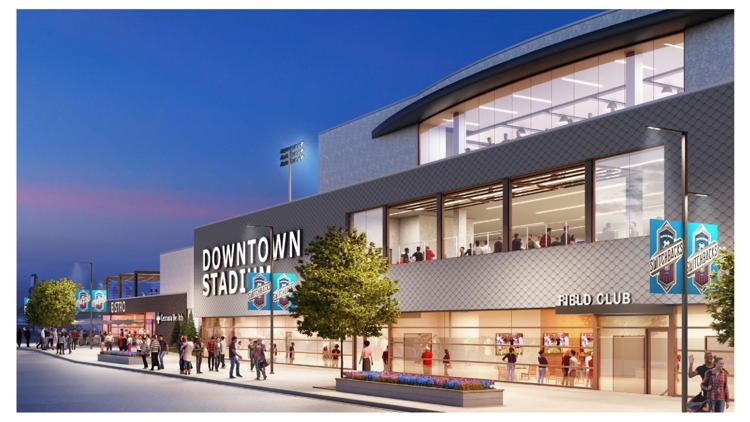 • Multi-use stadium: An 8,000-seat outdoor stadium southwest of Cimarron and Sahwatch streets broke ground in December and is expected to open in March 2021. In addition to being the home for the Switchbacks soccer team, the venue will accommodate amateur and Olympic sports, concerts and other events.
Along with City for Champions funding, the $35 million stadium is being financed by the Switchbacks and partner Weidner Apartment Homes of suburban Seattle. 
• Private development: Weidner has purchased several parcels around the stadium site where it envisions the development of as many as 1,000 apartments, along with stores, restaurants and other uses that would create an entertainment district. The projects could total $200 million to $250 million, Weidner officials say.
Meanwhile, Nor'wood Development Group of Colorado Springs, which has been southwest downtown's majority landowner for several years and donated land for the Olympic Museum, has updated its previously announced projects in the area.
It now plans a 240-room upscale hotel across from the Olympic Museum and a five-floor, 200,000-square-foot office building south of the facility. Nor'wood also plans the two-building, Parkside multifamily housing development along the east edge of America the Beautiful Park — 216 apartments and roughly 90 condominiums and townhomes.
Nor'wood has demolished several buildings in the area, and hopes to start construction on its projects in 2020, which are part of what eventually could be $2 billion in public and private investment in southwest downtown over several years.
"We are in this to develop our city and we believe there's tremendous momentum in our city, and we've been working for years to get to this point," said Chris Jenkins, Nor'wood's president.