Colorado Springs-area homebuyers still can find an affordable house in today's red-hot, record-setting real estate market.
They just have to move to Pueblo.
That's a bit of an exaggeration. But, with $300,000-and-under single-family homes getting scarce in the Pikes Peak region, increasing numbers of buyers are looking south to Pueblo and Pueblo West to purchase homes for tens of thousands of dollars less, several real estate agents and builders say.
A few years ago, Denver-area buyers priced out of the Mile High City began eyeing the Springs and northern El Paso County, where they could buy more home for far less money. The trade-off was a sometimes adventurous commute to their jobs in Denver.
Now, Pueblo and Pueblo West have become to Colorado Springs what the Springs has been to Denver — a refuge for buyers who want a high-quality resale or a new house but can't afford skyrocketing prices or have been frustrated by a shortage of lower-cost homes.
"It happens all the time; we hear it constantly," Manda Trujillo, a real estate agent with Re/Max Pueblo West, said of Springs buyers who are considering Pueblo. "That's one of the big selling points of Pueblo. You can afford to live in Pueblo when you lose out on houses and can't afford the Springs or Denver."
In June, median home prices on the resale side of the Colorado Springs market soared to a record-high $331,000, according to the Pikes Peak Association of Realtors.
In Pueblo County, where most sales take place in the city of Pueblo and the suburban-like metro district of Pueblo West, June's median home price was $224,450 — more than $100,000 cheaper, a Colorado Association of Realtors report shows.
Some Colorado Springs single-family homebuilders, meanwhile, have said they can't construct anything for less than $300,000 because of rising labor, building material and land development costs. In Pueblo and Pueblo West, new homes can be had for thousands less, depending on the house size, location and builder.
Builder Brian Robinson of Sky Creek Homes sells most of his new homes in Pueblo West, where $280,000 will buy a 3,000-square-foot rancher — 1,528 square feet on the main level and an unfinished basement — with three bedrooms, two bathrooms and a three-car garage.
"Overall, you get more land for less money, and the overall house ends up costing you less," Robinson said. "That's very desirable for a lot of people to move down here to get that."
Nobody knows more about Colorado Springs' soaring housing costs and shortage of high-quality, lower-priced homes than buyers like Ricardo Herrera. That's why he lives in Pueblo.
Herrera, an operations supervisor for a defense subcontractor at Fort Carson, began house-hunting this year after a friend decided to sell the home that he, his wife and two sons had been renting in Security-Widefield, south of the Colorado Springs Airport and 10 minutes from Fort Carson.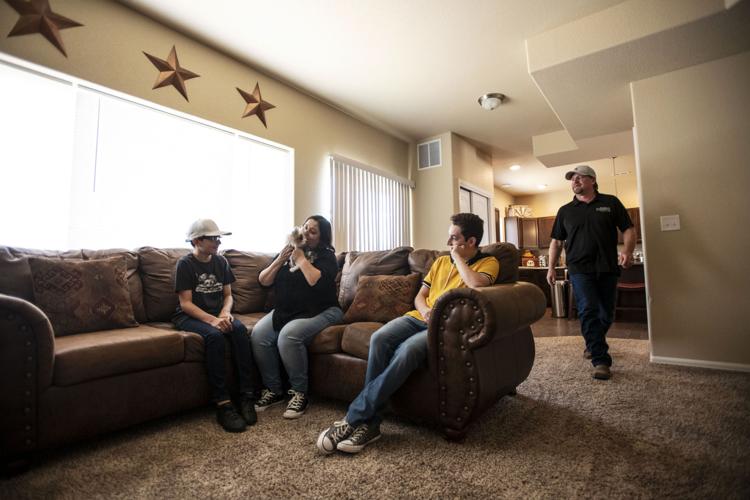 Herrera was looking to buy a resale for about $280,000. But he said the homes he saw were 1960s and '70s-era houses that were badly outdated. New homes he looked at were more than $300,000, which was too pricey for his budget.
"It was definitely frustrating," Herrera said of the resales.
"Online, the pictures looked great. But when we went to the house, it was like, yeah, it's remodeled, but it's not very modern."
A friend in Pueblo suggested Herrera look there. He did and in March bought a new home on Pueblo's north side, with four bedrooms, 2½ baths, a two-car garage and a large yard.
The price? Just $250,000, while his builder, Premier Homes of Pueblo, paid his closing costs of about $5,000, Herrera said.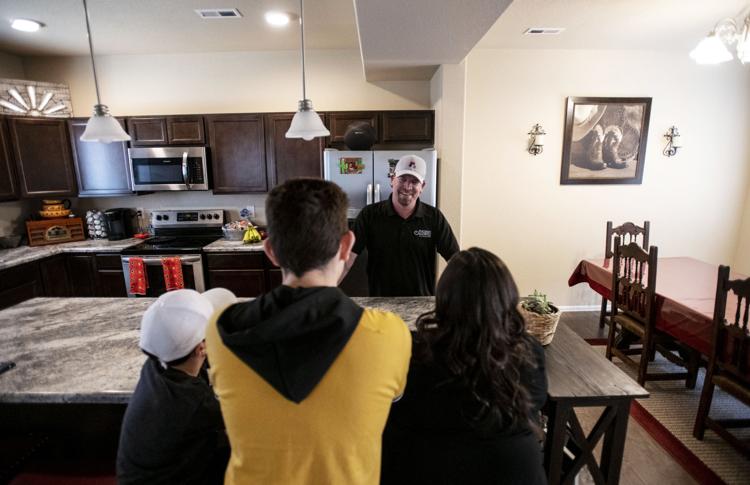 "We just love it," he said.
Sure, Herrera now has an Interstate 25 commute several days a week. But because he lives on Pueblo's north side and drives to Fort Carson on the Springs' southern edge, he said, his drive is only 25 to 30 minutes each way.
"The commute, it's like 25 minutes, and the traffic's not bad, coming up from Pueblo, going down, coming back up," Herrera said. "Never an issue."
Many Springs homeowners make treks of the same length to metro Denver from the north side of town or from outlying Falcon, Monument or Woodland Park.
Cassandra Barron and her wife, Ellie, lived in an apartment for almost two years while they looked to buy a home in Colorado Springs.
They wanted a house between $225,000 and $275,000, possibly $300,000 tops, and saw about 30 homes all over town, Cassandra said. They didn't care for the selection at the prices being asked, she said.
"Smaller bedrooms, smaller houses, less amenities, less upkeep," she said. "Just not what we were looking for at all. ... The houses were better looking on the outside than they were on the inside or they had major issues with the house. It wasn't worth our time."
And when they did see a house they liked, it was sold the next day if they didn't get a bid on it — sometimes snapped up by investors, Cassandra said.
"It was ridiculous," she said.
Their real estate agent, Brittany Winn of Keller Williams Partners in Colorado Springs, suggested the couple consider Pueblo.
They were dubious at first because Pueblo had a reputation as a bad place to live, Cassandra said. But when they looked, they liked what they saw.
"We really started looking around at the city, we started looking around at the people, we started looking around at the neighborhoods," she said. "Honestly, we fell in love with this neighborhood."
They found a 1977, remodeled home on Pueblo's north side, with five bedrooms, three bathrooms and a two-car garage on a quarter-acre lot. The house had a new kitchen, roof, plumbing and a five-year warranty. They paid $225,000 for the home 1½ years ago, and its value already has climbed to almost $250,000, Cassandra said.
She continues to commute five to six days a week to her retail manager job in Colorado Springs. And she was a little hesitant about that commute when considering Pueblo. But the house they found at the price they paid made it worth it.
"It's roughly 35 minutes door to door," Cassandra said. "And there are times when I-25's a pain to get up and down, it really is. There's accidents, there's weird weather. But I think it's all worth it."
Gary Miller, broker/owner of Re/Max of Pueblo, said he's seen Springs-area residents buying in Pueblo for about five years, but the pace has picked up as resale and new home prices have risen in the Pikes Peak region.
Exact numbers of Springs residents who buy homes in Pueblo are hard to come by.
But the U.S. Census Bureau's five-year, American Community Survey released in 2016 showed that 1,507 people had moved from El Paso County to Pueblo County the previous year. That was nearly double the 873 people who moved from El Paso to Pueblo the year prior to a 2012 survey.
Another indicator of interest in Pueblo: The percentage of home sales volume attributed to real estate agents from outside Pueblo's Multiple Listing Service area has nearly doubled to 5.13% in 2019 from 2.75% in 2013, according to figures Miller provided.
"There's always been a fair amount of people that have found there's a much better value for their money here," Miller said.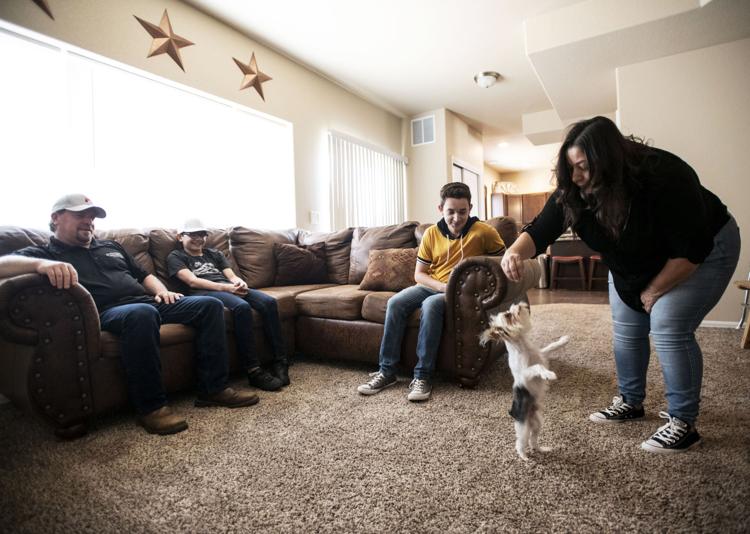 It's not only homebuyers who feel priced out of the Springs market or can't find homes who are purchasing in Pueblo.
Tina Swonger, a Springs real estate agent with Re/Max Properties, said investors who buy, fix and flip homes also are looking to Pueblo as houses get pricier in the Pikes Peak region.
Retirees, meanwhile, have sold homes in the Springs, paid cash for a less expensive property in Pueblo or Pueblo West and banked the difference, said Dave Anderson, also an agent with Re/Max Pueblo West and board chairman of the Pueblo Association of Realtors.
In Pueblo, they find a less hectic lifestyle while still enjoying easy access to I-25 if they want to travel, he said.
"They found this is a great place to live," Anderson said. "It's easy to get around. And if you want to go to a Broncos game, you can still do that."
For community boosters, the influx of Colorado Springs homebuyers moving to Pueblo shows the city is overcoming its blue-collar image after decades as a steel-producing city.
Today, the city has all the water it needs to serve residents and businesses, two well-regarded hospitals, the Historic Arkansas Riverwalk attraction and the Airport Industrial Park, among other pluses, Anderson said.
And more people moving to Pueblo means a financial shot in the arm for the area. Employees and military contractors who commute to their jobs in the Springs, but return home to spend their paychecks in Pueblo, are pumping money into the local economy, said Rod Slyhoff, president and CEO of the Greater Pueblo Chamber of Commerce.
"We look at that as a real good economic engine for us in addition to the other things we're doing," Slyhoff said.
Housing gains being made by Pueblo, however, aren't necessarily a loss for the Pikes Peak region, said Todd Anderson, board president of the Housing & Building Association of Colorado Springs. The demand for housing in the Pikes Peak region remains strong, driven, in part, by long-term mortgage rates that still are very affordable, he said.
In reality, purchasing homes in Pueblo or other outlying areas isn't really new; historically, homebuyers always "drive until they qualify" — going where they can to find a home within their budget, Anderson added.
"It's the reason why people shop at Walmart instead of Nordstrom when they're looking for normal household goods, right? Because of everyday low price," he said.
"And so if my budget or my loan will only allow me to buy a $250,000 house and there's no game in town, new or used, and I can drive an extra half-hour, people will do that, particularly our military men and women that are working out of Fort Carson."