Three Borriello Brothers restaurants were closed this week by the Colorado Department of Revenue for failure to pay $121,570 in state sales taxes dating back more than a year, the agency said Friday.
The Revenue Department shuttered the restaurants at 9 a.m. Thursday, an agency spokesman said. A notice emblazoned with "seized" in large red letters was posted at the entrance of the west-side Colorado Springs Borriello Brothers at 229 S. 8th St.
The Revenue Department also closed Borriello Brothers locations at 5490 Powers Center Point, near Powers Boulevard and Research Parkway on the Springs' far northeast side, and at 5180 Fontaine Blvd. in Fountain, the agency said.
The closures do not affect the original Borriello Brothers at 215 E. Platte Ave. in downtown Colorado Springs. That location, owned and operated separately, continued to dish out thin-crust, New York-style pizzas Friday that are Borriello Brothers' signature menu item.
"People think that we're closed … and we're not," said Rob Raia, who co-owns the Platte Avenue restaurant, across from Palmer High School, with partner Mike Clemente.
The department also said it seized the assets of four Borriello Brothers locations that had closed — on Centennial Boulevard in Colorado Springs, at Fort Carson and in Monument and Lakewood. The disposition of a Borriello Brothers that closed several months ago at 4750 Barnes Road in Colorado Springs wasn't known.
The seizures stem from unpaid state sales taxes going back to November 2017, according to the Revenue Department.
The restaurants have been owned by NY Boys, a limited liability company formed, in part, by Frederick W. Stein of Monument, Secretary of State records show. Neither Stein nor an attorney for NY Boys could be reached for comment Friday.
Raia said he and Clemente formerly partnered with Stein in the ownership of other Borriello Brothers restaurants, but have been on their own with the Platte location for the last few years.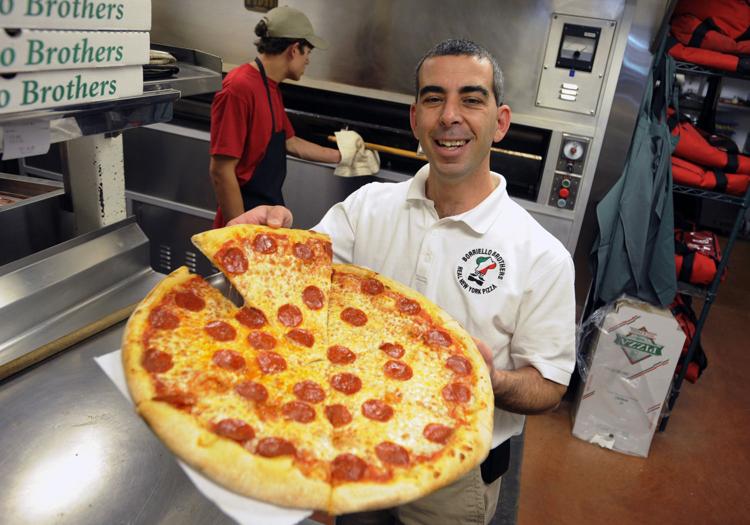 NY Boys has 10 days to pay the taxes it owes in full, said Revenue Department spokesman Dan Carr. If the taxes aren't paid, the Revenue Department will proceed to a public auction to satisfy the unpaid taxes, which would include the sale of equipment, furniture, fixtures and inventory owned or used by the business. No date has been set for the auction.
"We make multiple attempts to reach out to the business about collection before taking this final step," Carr said.
The unpaid sales taxes at its Borriello Brothers restaurants aren't the only financial trouble for NY Boys and Stein.
NY Boys has judgments against it in 4th Judicial District Court from lawsuits filed in 2018 by landlords at the Powers Boulevard and Monument locations for evictions and from another creditor seeking to collect a debt, court documents show. Those judgments total $270,710.30, with most of the money owed to the landlords.
A business in which Stein was a partner, Piazza Manitou — which operated as Creekside Cuisine — also has federal tax liens against it totaling $153,832.34 for unpaid unemployment insurance and employee withholding taxes from 2015 through 2017, El Paso County records show.
Borriello Brothers was launched in 1999 by namesake brothers Thomas and John of New York; they later sold it to Raia, Clemente and Stein, according to Gazette archives.
The chain expanded to multiple locations, and had nine locations as late as 2013. But competition has changed the pizza business, as it has for many segments of the restaurant industry. Hometown favorites such as Leon Gessi, Billy's Old World Pizza and Bambino's Urban Pizzeria square off against national and regional chains including Pizza Hut, Domino's and Anthony's.
"It's not like it was 15, 20 years ago," Raia said. "This is a totally different market (with) the competition and number of restaurants and choices in town."
While the business is tough, there's room for good, local pizza restaurants, especially those that offer a bar, liquor sales and a nice ambiance that differs from chains, said Mark Useman, a broker with Colorado Springs Commercial who specializes in marketing retail properties.
"The pizza business is very competitive but very lucrative," Useman said. "You can make a lot of money on the profitability of pizza."
The Gazette's Liz Forster contributed to this report.