Chick-fil-A has closed a nearly 40-year-old restaurant at The Citadel mall in Colorado Springs, but has moved ahead with plans to construct another location nearby.
The Atlanta-based, fast-food chain shuttered the restaurant May 15, according to a sign posted at the location. The restaurant was part of the food court at the enclosed mall, northwest of Academy Boulevard and Platte Avenue in the central part of the city.
"It has been a pleasure to serve our Colorado Springs community for the past 37 years," the sign read, inviting customers to visit other Chick-fil-A locations.
Neither Chick-fil-A nor Citadel mall representatives could be reached for comment on why the restaurant closed.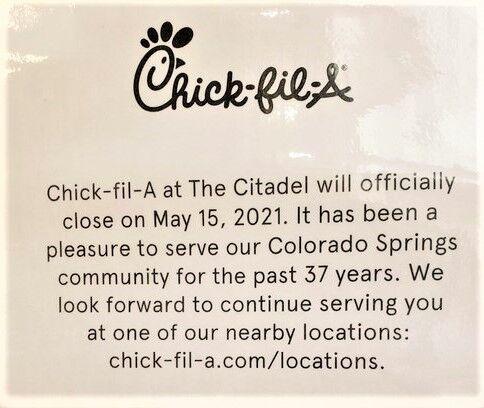 One reason might be a desire for a new location.
Chick-fil-A is poised to build another restaurant at the Citadel Crossing shopping center, northeast of Academy and Platte and just across Academy from The Citadel mall.
In March, Chick-fil-A submitted a proposal to city officials that showed it planned to demolish a free-standing retail building on the south end of Citadel Crossing and replace it with a nearly 5,200-square-foot restaurant.
The chain now appears to have finalized those plans.
It's formally signed an agreement to lease nearly 1.1 acres of Citadel Crossing property where it will raze the retail building and construct its restaurant, said owner and developer Patrick M. Nesbitt, who built the 500,000-square-foot shopping center that opened in 1988.
Nesbitt said the lone business remaining in the retail building, clothier Casual Male XL, will vacate the space in September; he hopes the store will relocate within Citadel Crossing, though no deal has been reached.
After Casual Male leaves the space, Chick-fil-A will demolish the building and start construction of its restaurant this fall. Nesbitt expects it will open in 2022.
Nesbitt speculated Chick-fil-A wasn't getting as many customers as it wanted at its Citadel mall location.
"I would suspect the mall traffic wasn't sufficient enough to support them," Nesbitt said. "They're used to big volumes of traffic."
Nesbitt said he and several Citadel Crossing retailers are eager to welcome Chick-fil-A, whose proposal to the city in March shows the new restaurant would have dual drive-thru lanes, indoor seating for 88 people and a 12-seat patio.
"The amount of traffic they generate and the business they generate will be good for everybody in the shopping center," Nesbitt said. "All of the tenants are excited about the fact they're coming."