For as long as he can remember, Jeff Finn has had an interest in "how things go together."
That interest evolved into a passion for architecture; he has a bachelor's degree in design, with a major in architecture, from the University of Florida and a master's in architecture from the University of Texas at Austin.
It was a professor at Austin that opened his eyes to the concept of city building, a holistic approach to development. "There is a duty and a responsibility that's beyond the program of spaces that fit together," Finn says. "Architecture can play a much larger role in either doing city building well or doing city building poorly."
Today, as a vice president of Nor'wood Development Group, he's actively engaged in city building and supporting Nor'wood's mission of making Colorado Springs the "No. 1 middleweight city in the country." His role in helping create and implement more than $250 million in downtown projects led to him being named one of the winners of the fifth annual Mayor's Young Leader Awards last fall; Finn, 38, was honored in the category of community and economic impact.
Nor'wood President Chris Jenkins detailed Finn's accomplishments in nominating him for the award. Finn's leadership and work as a technical adviser on the application process and other aspects of City for Champions projects was crucial, Jenkins wrote, to the Colorado Economic Development Commission awarding the city up to $120.5 million in sales tax rebates to help fund the project.
Finn has been key in bringing the U.S. Olympic Museum and Hall of Fame to fruition, Jenkins wrote. He was project executive of 333 ECO, the new, 171-unit urban residential project downtown, and was "the workhorse" behind the award from Colorado Housing and Finance Authority to fund Greenway Flats, a 65-unit apartment complex set to open this spring on the campus of Springs Rescue Mission and designed to provide supported housing "to our most vulnerable citizens."
"Jeff is an ardent ambassador for good design and believes that quality architecture is essential to building an lasting and enduring city," Jenkins wrote.
Bob Cope, city economic development director, said he has known Finn for about six years. He calls Finn multitalented, "with expertise in planning and financial analysis."
"He always has a full plate but you can count on him to get it done," Cope said in an email. "Jeff will leave a lasting impact on downtown Colorado Springs for generations."
Embracing city building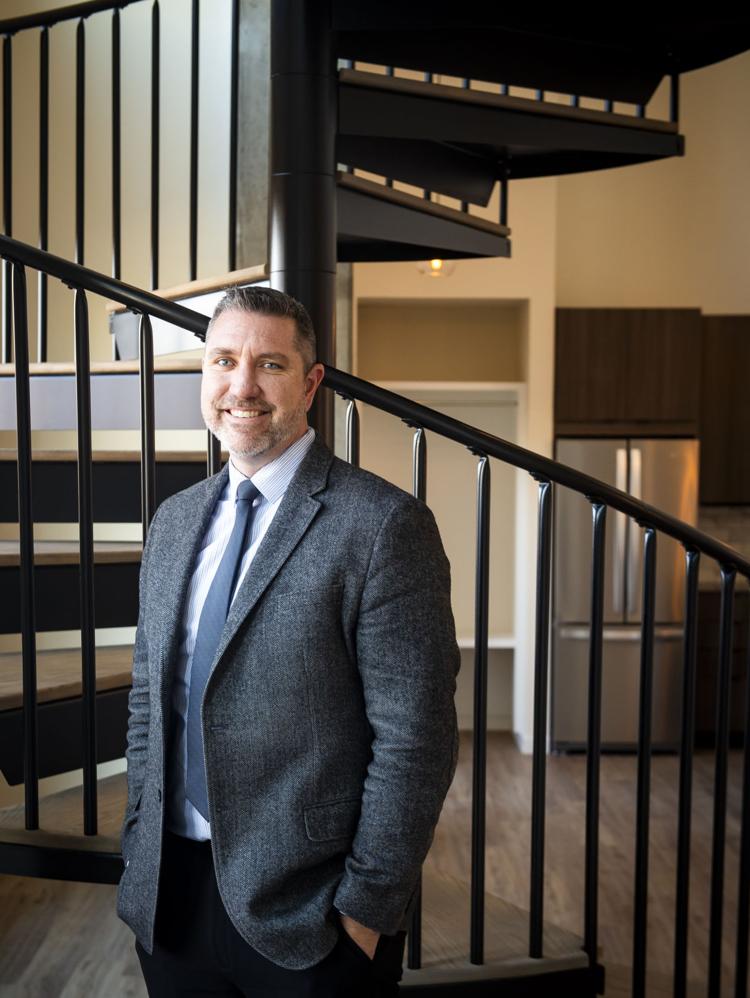 Finn grew up in Florida; his family vacationed in Colorado and, as a "flatlander" from the Sunshine State, the mountains were a big draw. He moved to the Springs in 2002 after graduating from the University of Florida. It was a tough job market after the Sept. 11, 2001, attacks, he says, and he had to turn to Denver, commuting there before eventually finding work with Colorado Springs architecture firms.
He met his wife, Rebecca, an occupational therapist and a Springs native.
Soon after marrying, they moved to Austin for Jeff to attend grad school, but they knew they would return to the Springs.
It was back in the Springs, while working as an architectural designer for HB&A, that he got to know Jenkins. Finn was part of a group at HB&A that did a "reinvisioning" of Acacia Park and of downtown alleys — not as a job but just "a fun little tinkering." That tinkering drew the attention of downtown leaders, property owners and others, including Jenkins.
"At the time, around 2011, I had no idea what Nor'wood did," Finn says. But he was intrigued, he says, "by the way Chris' mind worked. I had never heard anybody in this city talk about the idea of city building, and they were actually in a position to do it."
It was a time of change for the city, with the transition to a strong-mayor form of government. And with that came talk of a downtown revival — talk that evolved into City for Champions' vision of new, "game-changing" tourist venues.
"That idea of a downtown renaissance, I always wanted to be part of that," Finn says. And in joining Nor'wood as a project design manager in 2013, he secured a role in helping lead that renaissance.
"Jeff is a quiet guy who listens and respects his associates, but will take the reins and lead the team when it's time to do so," Fred Veitch, a fellow Nor'wood vice president, said via email. "He puts family, community and 'doing the right thing' ahead of expediency, which shows a maturity you don't often see in someone his age. He's thoughtful and considerate, but will be as firm as needed to see a good end result."
A work-life balance
Finn still loves doing design, still loves tinkering. "Sometimes I'll pick up paper still and draw or do models in 3D on the computer."
But what he really has a passion for, he found, is the front end of projects — working with partners; securing funding; envisioning not just how spaces go together, but how they fit into the community and contribute to its health and economic vitality.
Those pieces can be quite varied. When it comes to urban living, which Finn sees as key to a downtown renaissance, there's the "amenity-rich" 333 Eco in the heart of downtown on one end of the spectrum and Greenway Flats near the other end.
Greenway Flats, a partnership with Springs Rescue Mission, "might seen like an anomaly" for Nor'wood, Finn says. But the company's goal, he says, "is not to build awesome assets that we can have in our collection; our goal is to make Colorado Springs the best it possibly can be. In order to have that occur, you need to have health across the board in all quality-of-life sectors, including housing." And that means housing for everyone, he says, from young professionals to families to empty nesters.
Finn is also a driving force behind the $2 billion southwest downtown urban renewal project and helped lead the effort to bring the University of Colorado at Colorado Springs downtown with a satellite location.
But despite his involvement in so many projects, he says he does have a life outside of work. That life centers on his family; he and Rebecca — "the rock that keeps the family going" — have four kids, ages 11 to 4. "I'm an only child," Finn says, "so I've really had to learn about the whole siblings dynamics thing."
His faith, he says, is "a significant cornerstone" of his life, at home and at work. The family attends New Life Church downtown and they're in their first year of helping a refugee family from Africa acclimate to life in the Springs through Lutheran Family Services. "That's been a really cool, fulfilling thing," Finn says.
He's excited, he says, to be part of a transformative period for Colorado Springs. While he acknowledges everyone might not agree with City for Champions or all its forms, he believes it has helped change the city's narrative, from a town living in Denver's shadow to a community making investments and moving forward.
"If we were in an awkward teenage phase," he says, "we have put on muscle as a community."