Call it a movie theater that serves food or a restaurant that shows films.
Either way, an Arizona company plans to bring one of the entertainment industry's hottest concepts to Colorado Springs next year when it opens the city's first dine-in movie theater in a shuttered Kmart northwest of Fillmore Street and Nevada Avenue.
RoadHouse Cinemas, which has similar venues in Scottsdale and Tucson, plans to remodel a portion of the old Kmart to accommodate a 12-screen complex where moviegoers can order burgers, pizzas, tacos, sandwiches, pretzels, cocktails and desserts from their luxury recliners. The food and drink — ordered before the movie starts or even as the film runs — is served to them while they watch first-run hits and throwback classics.
"It's the whole experience of the recliners, of ordering at your seat, of being served at your seat" that makes a dine-in theater special, said Scott Cassell, RoadHouse's director of operations.
"People generally go to the movie theater closest to where they live," he said. "A dine-in movie theater, it becomes a destination location. People will actually drive by that (neighborhood) theater, and they do it in both Tucson and Scottsdale, to get to our theater because of the experience and everything that goes along with it."
RoadHouse chose Colorado Springs for its third site because it offered several opportunities, Cassell said. The company wants to be primarily in smaller, secondary markets, and the Springs doesn't have a dine-in theater, he said. The company also was impressed by the city's strong economy and growing industries such as tourism, its weather and quality of life and the friendliness of its people.
In the case of the former Kmart at Fillmore and Nevada, the site is centrally located and separated by several miles from the Regal, AMC and Icon theater complexes on the city's north side and Cinemark complexes to the northeast and south.
"Geographically on the map, that site is just perfect in terms of where all the other theaters are located," Cassell said.
Local theaters and national chains have upgraded offerings in recent years as they try to capture moviegoers in the face of competition from online services and other media.
Theaters no longer sell just popcorn and candy; they've added nachos, hotdogs, beer, wine and cocktails. They've also yanked out auditorium-style seats in favor of full recliners, and allow movie-goers to buy tickets online — eliminating the need to race into a theater to grab a seat for the latest blockbuster film.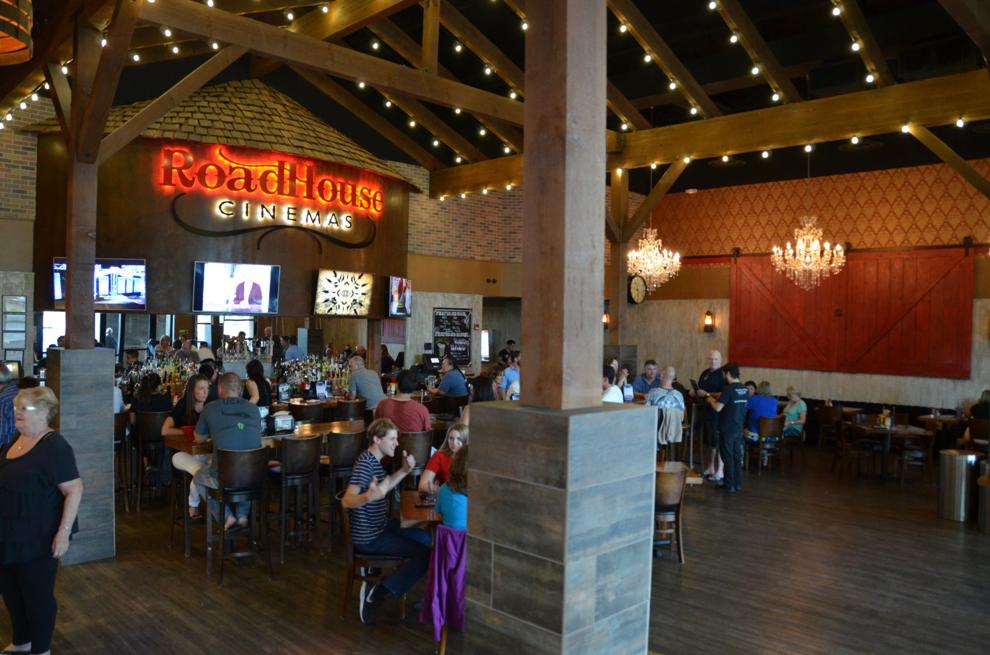 The dine-in concept takes those amenities to another level, providing movie fans with the kind of special treatment they don't get elsewhere, Cassell said. National chains AMC, Cinemark and Regal now offer dine-in theaters in selected cities — although none have the option in Colorado Springs.
In the Springs, RoadHouse will have its own kitchen; bottomless bowls of several popcorn varieties; a bakery serving cheesecakes, gelato and other items; a full-service bar with selections of Colorado craft beers and wines; and state-of-the-art digital projection and sound systems.
Auditoriums will range from 40 to 100 seats and ticket prices will be on par with other theaters, Cassell said.
In addition to its theaters, RoadHouse plans a separate entertainment center in Colorado Springs that it doesn't have at its other locations. The Rail Yard, as it would be called, would offer six lanes of bowling, arcade games, food, a sports bar and patio.
"You don't have to go see a movie, or you can see a movie and afterward you can go bowling or you can hang out or you can play the games," Cassell said.
RoadHouse expects to invest $7 million to $7.5 million to remodel about 45,000 square feet of the 104,000-square-foot Kmart store, Cassell said. The theaters would occupy 35,000 square feet, and the Rail Yard would cover another 10,000. Together they'll employ about 150 full- and part-time people, he said.
The company is targeting a fall 2019 opening, he said.
But RoadHouse would be just one part of a massive overhaul of the Fillmore Marketplace shopping center that Kmart anchored until it closed in April, said John Egan, a commercial broker with NAI Highland in Colorado Springs who's marketing the site.
Shopping center owner Hall Equities Group of California bought Fillmore Marketplace in 2013 with the expectation Kmart eventually would close, leaving the property ripe for redevelopment, he said.
Now, a 90-room, Home 2 Suites by Hilton hotel is planned for the northeast corner of the shopping center's parking lot, which means the building that houses the Big Train Restaurant will be razed, Egan said.
A manager at Big Train said Friday the restaurant has no plans to close, however, and will be looking for a new location.
Utah-based Vasa Fitness, which opened its first Springs location this year in a former Albertsons store on the south side, plans to take the rest of the Kmart building for a 60,000-square-foot fitness center, Egan said.
An 8,000-square-foot, multi-tenant retail building also would be constructed along Nevada in the shopping center's parking lot, which is expected to attract retailers and restaurants such as Starbucks, Caribou Coffee or Einstein Bros. Bagels, he said.
Fillmore Marketplace's redevelopment would mark a major step forward in efforts by Colorado Springs officials to inject life into the North Nevada corridor, which they've targeted for upgrades. Renew North Nevada, a master plan approved by the City Council last year, envisions new land uses for the area from south of Fillmore to Garden of the Gods Road.
A portion of Nevada north of Garden of the Gods already has been redeveloped with the University Village Colorado retail center, anchored by Costco Wholesale Club, a Kohl's department store and Lowe's Home Improvement Warehouse and home to dozens of stores and restaurants. The University of Colorado at Colorado Springs, meanwhile, is on a growth spurt.
"This site is actually in a nice little sweet spot," Egan said. "All the improvements with University Village, the expansion of ... UCCS and close proximity to Interstate 25. There's a lot of positive things that are happening. This also becomes an additional game changer for the area. It's going to upgrade the area. The whole area is going to rise a little bit because of this."