Out on the treeless plains northeast of Denver, 9.4 miles southwest of the Denver International Airport terminal to be exact, Colorado's biggest hotel and resort is about to debut — the $824 million Gaylord Rockies Resort Hotel and Convention Center.
The gleaming, mountain-lodge-inspired Gaylord Rockies resort, with its 1,501 rooms, indoor-outdoor water park, multiple restaurants and luxurious spa and fitness facilities, took three years to build, but it has been in development since before Colorado fully emerged from the Great Recession.
It commands stunning views of the Front Range, albeit a little more in the distance than promotional images in the resort's marketing brochures would have one surmise — not the first time distances to the Rocky Mountains have been compressed photographically for aesthetic purposes. Nevertheless, the sunsets viewed through the 75-foot tall Grand Lodge's west-facing windows will be impressive.
Gaylord Rockies, which has its "soft" opening Tuesday, with the full contingent of rooms and workers coming on line next month, will have 485,000 square feet of meeting and convention space. At more than 1,500 rooms and suites, its next biggest competitors are the Sheraton Denver Downtown hotel with 1,231 rooms and The Broadmoor with 779 rooms.
The city of Aurora and the state of Colorado are giving the owners and developers of Gaylord Rockies the biggest economic development package in the state's history to make the project a reality.

Over the next 30 years, 100 percent of the local taxes collected on room and other charges at the resort will flow not into city or state coffers but to Ryman Hospitality Properties of Nashville and Rida Development of Houston, the majority owner and developer of Gaylord Rockies.
In addition, state taxes paid by guests and conventions using the hotel up to $81 million will also accrue to Ryman and Rida. While the state subsidy is capped at $81 million, the local subsidies will keep accruing for the life of the deal, which will run until the middle of the current century. With no cap, it's conceivably worth north of $800 million depending on how much business Gaylord Rockies does, although the city predicts the value is closer $300 million to $400 million.
No one can say for sure, however. It depends on how many rooms and conventions are booked. The more bookings, the bigger the tax abatements will be.
The potential value of that package rivals even what the state was prepared to give Amazon in the national competition for the internet retailer's second headquarters, which promised to bring 50,000 professional salaried jobs to the chosen city. Instead, Amazon chose locations in the New York City area and suburban Washington, D.C.
But city officials argue that the generous package offered for the Gaylord project is worth it because of its potential to be a catalyst for surrounding development that will benefit city and state coffers, which is not a stretch based on what's happened at some other Gaylord resort properties.
Gaylord Rockies will host its first major event Jan. 18, appropriately, for the annual A-List dinner of the Aurora Economic Development Council.
It was the AEDC, led by its president and CEO, Wendy Mitchell, that successfully guided the contentious project through a series of financial stumbling blocks and legal landmines set by some of the most powerful hotel interests in the state to get the project scuttled.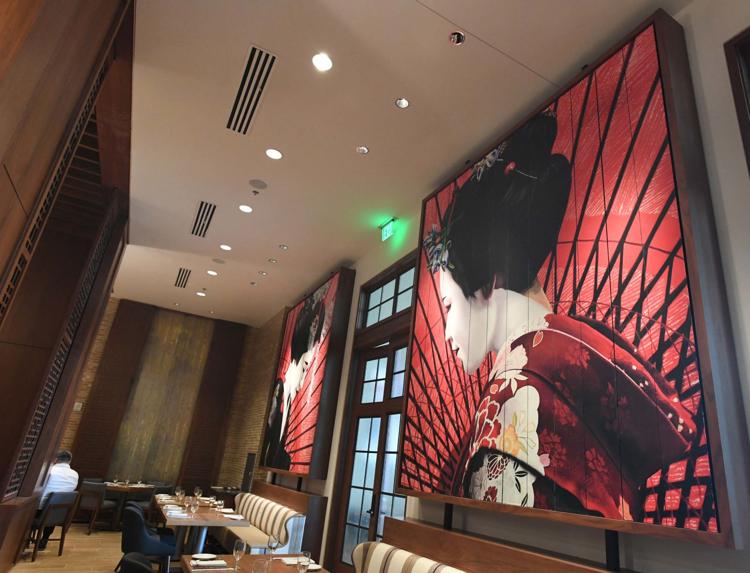 "This is a transformational project for Aurora," Mitchell said in an interview. "When you think of all the opportunities in and around Aurora and Gaylord Rockies, it's truly amazing. It's next to one of the finest airports in the world. You look at the development that's occurring around it. … This is going to be something that spurs quality development and entertainment."
Ryman and Rida, which share ownership of Gaylord Rockies, have bought 129 acres adjacent to the Gaylord Rockies property for future development projects. They hope to emulate what happened with the Gaylord National Harbor project in Maryland where a similarly grand hotel and convention center was built on depressed land. Today, it is the center of a huge commercial hotel, retail and office complex on the banks of the Potomac River south of Washington, D.C.
Gaylord Rockies has booked more than 1.1 million room nights, and the resort's operators claim that 81 percent are reservations from organizations that have never held conventions in Colorado before. At least so far, that would appear to satisfy one of the main goals of the state's financial support — to spur tourism spending by a new base of tourists.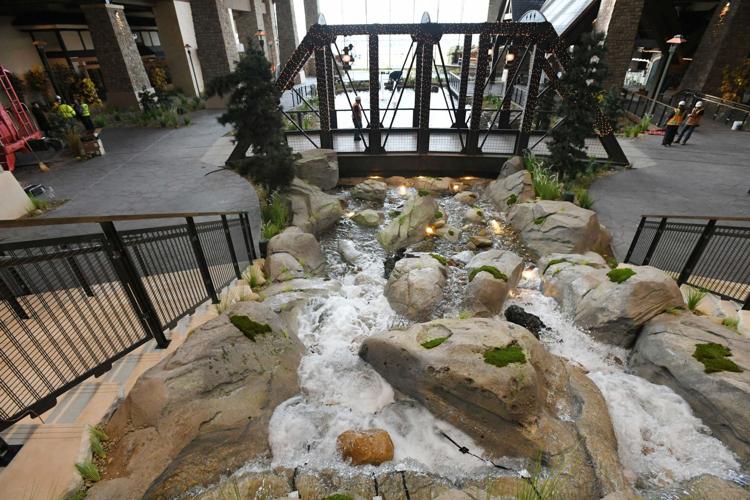 "Personally, I find that very gratifying," Mitchell said. "Everyone was jumping up and down how we were going to cannibalize everyone else's hotel business and the world was going to come to an end. It hasn't happened. It's coming down exactly as we said it would."
The complex is managed by Marriott under an agreement with Ryman and Rida. Among its biggest bookings next year will be 6,000 room nights reserved for CommVault's 2019 annual conference. CommVault is a publicly traded data security firm that has held conferences at Gaylord branded resorts.
Mitchell, who was the city of Aurora's point person for the project, was at the center of a pitched legal battle waged by downtown Denver and Colorado Springs hotel interests opposed to the tax subsidies granted to Gaylord Rockies in which Aurora ultimately prevailed.
A related lawsuit brought by two Adams County residents did manage to unwind a planned special taxing district aimed at raising the stakes for even bigger abated tax payments proposed for the development.
The Aurora City Council, acting as the city's urban renewal commission, authorized an election of property owners who held the land where Gaylord Rockies was proposed to be built. A single vote cast by an employee of the corporation that owned the land cemented the deal for "enhanced" taxes that could then be rebated to Gaylord Rockies, but it was tossed out as unconstitutional by an Adams Country District judge.
While there has been some lingering grumbling about the size of the Gaylord tax breaks, the once-opposed hotel interests demurred when approached for comment on the opening of Gaylord Rockies.
The Broadmoor and VisitCOS, the tourism bureau for Colorado Springs, declined comment as did other hotel interests who were parties to the legal actions opposed to the project.
The head of Visit Denver, the city of Denver's main tourism promotion organization was conciliatory.
"For 109 years, Visit Denver has been marketing Denver and Colorado for conventions and leisure tourism and, due to the hard work of the entire hospitality industry, we have grown into a world-class destination and market that all major hotel chains want to enter," said Richard W. Scharf, president and CEO of Visit Denver. "The addition of new hotel development into Colorado only reinforces our mission of driving new demand for hotels and all hospitality-related businesses that benefits everyone."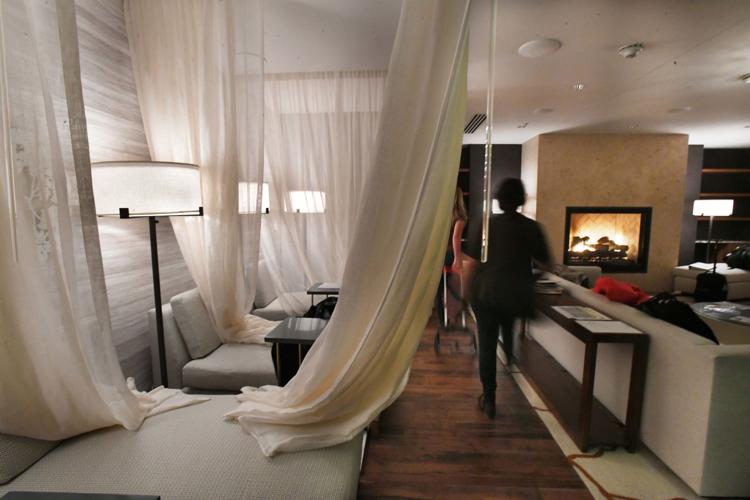 One possible reason for the subdued response: Colorado's overall economy has vastly improved since the Gaylord Rockies project was first conceived. And there has been an explosion of hotel rooms to meet growing tourism and convention demand.
The Colorado Convention Center plans a major expansion that will add 85,000 square feet of additional ballroom space and 100,000 square feet of new pre-function and service space and a rooftop terrace.
And neighboring hotels are banking on overflow guests coming to their hotels when the larger conventions are booked into Gaylord Rockies.
"(Gaylord) has 1,501 rooms, which sounds like a lot, but there are going to be times when their conferences are bigger than that," Mitchell said. "The other hotels are going to be supported by the Gaylord."
She also predicts that many Gaylord guests will want to explore surrounding areas, including downtown Denver where breweries, museums and entertainment venues beckon. Shuttles will connect the resort complex to the University of Colorado A-Line stop at East 61st Avenue and Pena Boulevard, and resort brochures already tout downtown Denver and Aurora attractions to would-be guests.
And then there's the commercial-industrial development that has exploded in the surrounding Pena Boulevard/E-470 corridor areas, collectively referred to as the DIA Aerotropolis. That includes several new manufacturing concerns, retail distribution centers and other developments at least tangentially connected to the investment at Gaylord Rockies, including the Panasonic transit-oriented development at Pena Station. It's envisioned as a research campus aimed at developing best practices for "smart city" urban development.
Mitchell said the opening of Gaylord has been the most important economic development project of her career, one that many doubted would ever come to pass.
"It's all coming together. It's happening," she said.
Neil Westergaard is the former editor of the Denver Business Journal and has covered the Gaylord Rockies project since 2012.