CRIPPLE CREEK • Yes, there are eight reindeer at the new Christmas Casino & Inn in Cripple Creek, but they aren't tiny and they don't fly.
And just by chance, the casino is less than two blocks from the Hotel St. Nicholas, which is under separate ownership and does not have a Christmas theme, despite the name.
The parent company of Bronco Billy's Casino and Hotel bought the longtime Cripple Creek landmark Imperial Hotel and spent six months and $1 million turning it into a Christmas-themed gambling hall and lodging property that opened Thursday.
Full House Resorts, which bought Bronco Billy's in 2016, plans to maintain its Christmas theme year-around, including the eight live reindeer that will be in the hotel's parking lot through Jan. 1.
"Cripple Creek doesn't need more slots, it needs more people," Full House CEO Dan Lee said Thursday.
"We hope to show that attracting more people to town is good for everybody. I hope the Christmas Casino doesn't steal business from other casinos, but grows the market, instead, by giving people an additional reason to come here."
Full House operates another casino in Indiana that adopts a Christmas theme during the holiday season, including bringing in reindeer from Minnesota for two months. Lee said he acquired the former casino and hotel because the owner of land needed by Full House for a parking garage asked the company to buy all of his Cripple Creek property, including the casino and hotel building.
"I didn't want to just reopen the Imperial Casino, so we had this Christmas-themed casino part of the year in Indiana and I thought it would work year-around in a mountain setting like this," Lee said.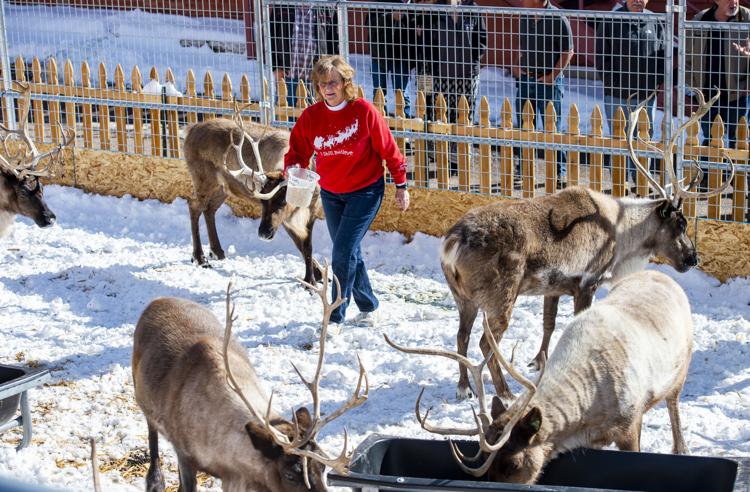 "We've been working on this for about a year and three of us went to Germany last December to visit the Chriskindlesmarkt in Nuremburg, the biggest Christmas market in the world" to get ideas for the new casino.
Much of the casino's décor was designed by mechanical display artist Lou Nasti, who has worked with Macy's and the Park Avenue Plaza in New York.
The interior features a 17-foot Christmas pyramid with five tiers of traditional rotating scenes, a 15-foot rotating Christmas tree, a 360-yard garland outfitted with more than 4,000 ornaments, 9-foot nutcrackers, and about 30 cuckoo clocks — three with military themes.
The historic hotel also has reopened with 12 rooms and Bronco Billy's hopes to eventually resume melodrama performances in the hotel's basement that had been staged there every summer from 1948 until the mid-1990s, said Bronco Billy's General Manger Marc Murphy.
The Imperial complex last housed Big Jim's Gambling Hall and Saloon, a casino that closed in 2014 and had later been converted into an antique store and bed and breakfast operation.
The Christmas Casino is the first new casino in Cripple Creek in more than a decade and boosts the number of slot machines and gaming tables to about 900 and adding a fifth restaurant called Rudy's Diner to the four others Bronco Billy's operates.
The new casino is the first part of a Bronco Billy's expansion that includes a 150-room hotel, spa, parking garage, convention and entertainment space and an upscale restaurant. Lee said Full House recently won dismissal of a lawsuit filed by competitor Triple Crown Resorts challenging approval of its expansion plans by the city of Cripple Creek.
Lee said Full House plans to start construction of the parking garage early next year and complete it late next year, allowing the company to start construction of the hotel for an opening in late 2020 or early 2021.