- PHOTOS: Documenting COVID-19 in the Pikes Peak region.
While the website portal for Americans to track their stimulus check appears to be fully functional now, people are still waiting on their payments.
The IRS launched the tracking tool on its site Wednesday, and many users experienced issues accessing their payment and information. The high traffic causing those problems has since died down, with immediate access to enter information upon clicking "Get My Payment."
Users are still, however, getting a "Payment Status Not Available" prompt after entering information. Apart from human error or being ineligible to receive a stimulus check, the remaining issue is time.
Two notes for why someone's payment status is not available, via the frequently asked questions page, are: 
1. We haven't finished processing your 2019 return; and
2. The application doesn't yet have your data; we're working on adding more data to allow more people to use it.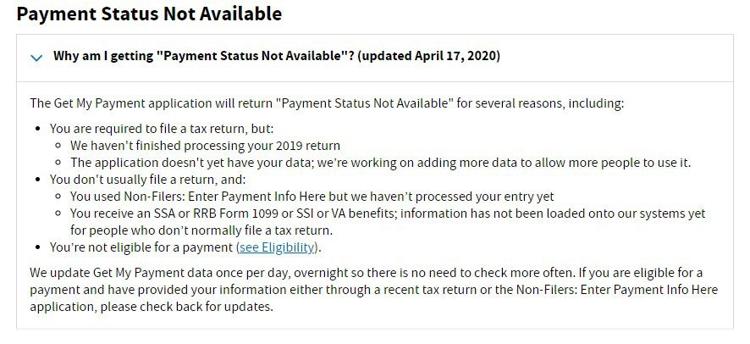 Individuals who earned up to $75,000 in adjusted gross income, or married couples combining for up to $150,000 are eligible to receive a stimulus check as part of the CARES Act. Individuals receive $1,200, while married couples get $2,400; people with qualified children younger than 17 will receive an additional $500. 
The payments decline for people making up to $99,000 ($198,000 for married couples), and anyone making more than that is ineligible.
Politico reported Monday on the IRS' issues in dealing with the stimulus payments and the resulting delays on tax refunds, paper filings and other assistance. The IRS will begin processing paper checks for the stimulus payments next week for those who were not able to receive them via direct deposit.