In some ways, Wienerschnitzel is to hot dogs what In-N-Out Burger is to hamburgers.
Both are decades-old restaurant chains founded in Southern California, with multiple locations, signature menu items and fiercely loyal customers.
Now, Wienerschnitzel has something else in common with In-N-Out: a presence in Colorado Springs.
Wienerschnitzel, known for its variety of hot dogs and whose chili dogs and chili cheese dogs are top sellers, is targeting a mid to late April opening at 4095 Austin Bluffs Parkway, east of Academy Boulevard.
RELATED:
Burger battles intensify in Colorado Springs
The restaurant will occupy a remodeled, single-story building that will feature Wienerschnitzel's familiar A-framed roof; the building most recently housed Fat Cats Coffee & Sandwiches, though some residents might remember it as the longtime home of a Farm Crest convenience store.

It will be the first present-day Wienerschnitzel in Colorado Springs, though a Circle Drive location closed several years ago after operating under the chain's original name of Der Wienerschnitzel.
Franchisees Scott Wohlman and Manny Singh will own and operate Wienerschnitzel in Colorado Springs. Both have backgrounds with 7-Eleven; Wohlman worked in franchise development for the convenience store chain for 25 years and owns a 7-Eleven at 8th and Cimarron streets, while Singh operates four local 7-Elevens.
The pair, who have been friends since 2005, started looking five years ago for opportunities to bring a new-to-market concept to Colorado Springs, Wohlman said. In 2018, they began exploring Wienerschnitzel and were intrigued with the chain after visits to successful franchisees in New Mexico, he said.
Wohlman and Singh became more impressed after visits to California, where they spoke with franchisees and Wienerschnitzel executives, including the chain's CEO. They now have franchise rights in El Paso County, and have plans for at least two more locations, Wohlman said.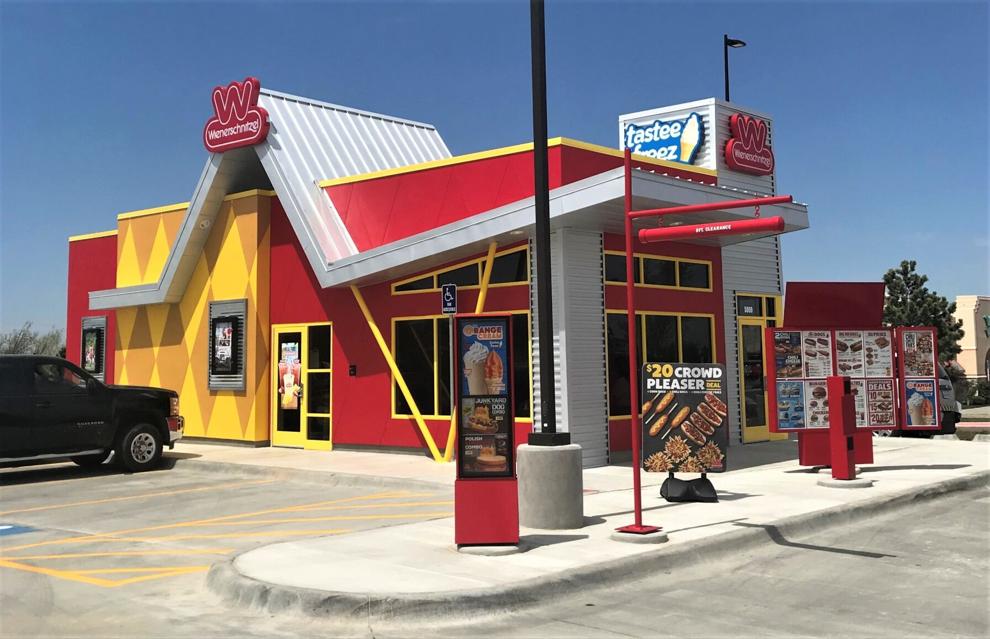 Based in Irvine, Calif., Wienerschnitzel bills itself as "the world's largest hot dog chain."
Its menu features a variety of hot dogs that range from the simple Mustard Dog (topped with French's yellow mustard) to the Junkyard Dog (billed as "everything-but-the-kitchen-sink," with french fries, chili sauce, a slice of American cheese, mustard and grilled onions).
In between are Wienerschnitzel's chili and chili cheese dogs topped with a "secret recipe chili," along with the Chicago-style, Texas BBQ, Aussie and Kraut dogs, all of which are served on steamed buns. Corn dogs and mini corn dogs also are available.
"It's a good-quality fast food," Wohlman said. "And the other thing is the value. For the working guy, you've got got five chili cheese dogs for $5.99. They're always running some type of special like that." Families especially like the menu's variety and prices, he added.
Wienerschnitzel's menu also features cheeseburgers, two varieties of which are topped with chili; several types of fries, including the classic chili cheese fries; a Polish dog sandwich; and soft drinks, tea and lemonade.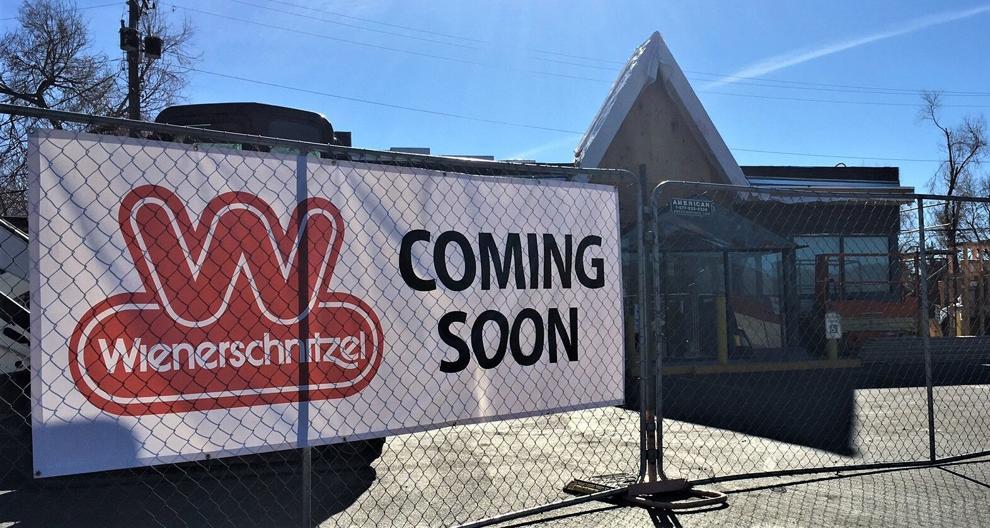 Breakfast sandwiches and burritos also are part of the menu that Wohlman said he and Singh hope to offer when the restaurant opens or soon after.
Tastee Freez ice cream products — including soft-serve cones, milk shakes and sundaes — are a major part of the Wienerschnitzel brand and will be offered in Colorado Springs, Wohlman said. Customers can even buy cans of Wienerschnitzel's chili for cooking at home.
Wienerschnitzel will have indoor seating for about two dozen people and a patio with tables that will accommodate about 20 more. But like most Wienerschnitzels, the Springs restaurant will do a majority of business via its drive-thru, Wohlman said.
The Austin Bluffs Parkway location has high visibility and traffic counts and a Walmart Neighborhood Market across the street and other area businesses will help draw customers, he said.
Founded in 1961 with a single location south of Los Angeles by former Taco Bell employee John Galardi, Wienerschnitzel is a family-run business that franchises most of its locations.
The chain has about 330 restaurants in 10 states, mostly in the Western U.S., according to its website. Roughly two-thirds are in California; six restaurants operate on Colorado's Western Slope. The Original Hamburger Stand, Wienerschnitzel's sister company, has a half-dozen Denver-area locations.
Wienerschnitzel has several parallels to In-N-Out Burger, which arrived in Colorado in November and opened its first two restaurants in Colorado Springs and Aurora.
In-N-Out also is a family run company that began in 1948 with a single location outside Los Angeles. Known for its Double-Double burgers, In-N-Out now has about 360 locations in mostly Western states, though its restaurants are company owned.
Ted Milburn, director of U.S. franchise development for Wienerschnitzel parent company The Galardi Group, said the chain is growing and the area from Colorado Springs to the northern portion of New Mexico is underserved, he said.
Despite the COVID-19 pandemic, Wienerschnitzel enjoyed its best year in 2020, with sales climbing 15% on a year-over-year basis, Milburn said.
At a time when many restaurant dining rooms were closed, Wienerschnitzel's reliance on drive-thru service was a big reason for last year's soaring sales, he said.
Wienerschnitzel's menu also offers family favorites at an affordable price, Milburn said.
"People love comfort food in this time of the pandemic," he said. "A hot dog was very nostalgic. People, if you think about it in general ... they yearn for the things that make them happy. People have good memories eating a hot dog at a ball game or on the Fourth of July."