It's another sign of the crumbling fortunes of brick-and-mortar retailers.
Sears closed its doors Sunday at the Chapel Hills Mall in Colorado Springs, ending a nearly 40-year run that began when the north-side shopping center opened in 1982.
Despite that loss, and those of other high-profile retailers in recent years, Chapel Hills isn't going anywhere. And neither is its sister property, The Citadel mall, in the center of town.
In fact, the Springs' two enclosed, regional shopping malls continue to have a following — and a future, insist representatives of Namdar Realty Group and Mason Asset Management, the New York owners of Chapel Hills and The Citadel.
The owners have no plans to sell or go the way of Southglenn, Villa Italia or Cinderella City — Denver-area malls that were redeveloped into successful mixed-use projects. Rather, Chapel Hills and The Citadel will continue to court tenants and shoppers as they remain part of the city's highly competitive retail landscape.
"There haven't been discussions of a redevelopment or anything," said Jill Lais, the malls' regional marketing director. "That's not to say that somewhere down the road it couldn't happen. But as of right now, in this moment in time, that is not a discussion."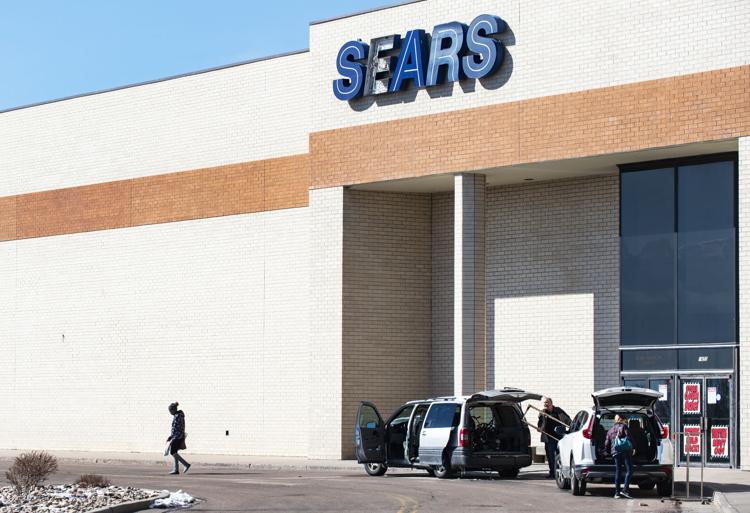 The malls, Lais said, are 90 percent occupied — a figure that refers to the properties' interior spaces owned by Namdar and Mason. Mall anchors — including Dick's Sporting Goods, Macy's and Dillard's at Chapel Hills and J.C. Penney and Burlington at The Citadel — are owned by the retailers or third-party investors.
"Shopping centers need to evolve with the changing times and that's why you're seeing stores like Sears and Payless Shoes go bankrupt, because they're old retail concepts that haven't evolved," Lais said. "Part of being a shopping center is having experiences."
Jon Schallert of Longmont-based The Schallert Group, who consults with businesses and communities on how to turn themselves into consumer destinations, also is a believer in the Springs' malls.
As he travels around the country, Schallert says he sees malls in smaller markets surviving and attracting shoppers — older consumers who want to get out of their homes for a shopping experience and even younger people who get frustrated with delivery issues and other problems associated with buying products online.
"What I see is, slowly, some consumer behavior is actually changing and going back to retail stores," Schallert said. As a result, in middle markets such as a city like Colorado Springs, "malls can still be viable," he said.
That bullishness, however, isn't shared by everyone.
Some retail experts in commercial real estate question if the Springs' malls can provide the shopping experiences demanded by today's consumers, which would keep the shopping centers attractive.
"We're still shopping at them," said Dan Rodriguez, a commercial broker with the local office of national real estate firm CBRE.
Still, he said, "whether it's those malls or just malls nationally, the model for that kind of space, that kind of enclosed mall, is changing. And it's not going to work the same way that it did before."
Shoppers used to stroll through malls, poking their heads into several stores they'd pass by as they made their way to a particular retailer for clothing, appliances or other items. It also was a place for friends to gather, eat at the food court and even see a movie, since many malls had theaters.
"The malls were the entertainment hubs at one time, in my era," said broker John Egan of NAI Highland in the Springs. "I'm 56, and when I was a kid, that's where we went. We went there to walk around, meet our friends, chase girls and stuff like that. It was just a connection spot. And then we shopped there."
But consumer habits have changed and the aging Chapel Hills and The Citadel malls appear stuck in the past, Egan and Rodriguez say.
Shoppers need a reason to come to a mall, Rodriguez said. They make purchases online or research products on their phones or mobile devices and only venture to the mall to buy the item they've already picked out. And they're not interested in wading past long lines of mall stores.
"We don't have to go," Rodriguez said. "We can buy anything we want online. So there has to be another reason for us to choose to go spend time in these places. They've got to be interesting because just to buy the product isn't enough anymore."
Other shoppers prefer to park their vehicles near a store entrance and walk straight in, making open-air centers quicker and easier.
"We shop out of convenience now, using Amazon and other venues," Egan said.
"We research the product a lot more. I don't think you just kind of wander through somewhere and pick things up as you used to. The shopper's a lot more educated. And the malls have got to be careful of that."
Online retailers aren't the only competition. Newer shopping centers in fast-growing parts of town — with their own collections of trendy restaurants and entertainment concepts — are potent rivals.
The 1.1-million-square-foot Citadel mall, which opened in 1972 northwest of Academy Boulevard and Platte Avenue, and other shopping centers along the Central Academy corridor, have watched as several stores bolted over the last 20 to 25 years to Powers Boulevard. The corridor on the city's east side runs past thousands of homes and apartments that sprang up in nearby subdivisions.
"Powers Boulevard evolved and that took a lot of wind out of The Citadel corridor," Egan said. "All those big boxes moved out to Powers. They didn't just evaporate. They moved."
Market conditions also have changed on the north side, Egan said. University Village Colorado, InterQuest Marketplace, InterQuest Commons and the Promenade Shops at Briargate all pose competition for Chapel Hills, the 1.2-million-square-foot center northeast of Academy and Briargate boulevards.
Polaris Pointe, on the far north tip of the city, already has dozens of stores and restaurants anchored by Bass Pro Shops. If Powers Boulevard is extended through the Polaris Pointe site as planned, it will make the area even more attractive to retailers and shoppers and pose additional competition for Chapel Hills.
"That could be a real interesting twist to the Chapel Hills Mall," Egan said.
In addition to the closing of Sears, the malls have suffered other retail losses and downsizings.
J.C. Penney, Gordmans, Old Navy and Borders, Books & Music are among retailers who've left Chapel Hills in recent years. Last week, bankrupt women's clothier Charlotte Russe announced it would close more than 500 stores as part of a liquidation; the chain has a location at Chapel Hills.
At The Citadel, Macy's closed its store in 2009. In 2015, Dillard's downsized at the mall from a three-level, full-service store to a single-floor clearance center.
Namdar Realty and Mason Asset Management partnered to buy Chapel Hills in March 2018 for $33.5 million; Chapel Hills' previous owner, who had encountered financial troubles and was sued and foreclosed upon by a lender, had paid $71.5 million for the mall seven years earlier. The purchase included interior spaces, common areas and a 13-screen movie theater complex.
The group also paid $20 million in 2015 for The Citadel; it had been taken over by a lender from financially troubled owners who paid $153.2 million when they bought the property in 2007. Similar to the Chapel Hills acquisition, The Citadel purchase included interior spaces, parking lots and free-standing buildings.
Those bargain-basement prices likely give Namdar and Mason an advantage because they can charge cheaper lease rates in a bid to attract tenants, Schallert said.
Lais, the Chapel Hills and Citadel marketing director, said ownership already has taken steps to make the malls more attractive and create the experience shoppers want.
Chapel Hills has leased more than 20 spaces since its purchase by Namdar-Mason last year, Lais said. Among the new tenants: a year-round Go Calendars and Go Games store, which had been only seasonal; Avier, a local home furnishings, custom furniture and decor retailer; Fun4Kidz, a new children's indoor playground; and Gaming to You, a laser tag, dart wars and video games outlet.
Schallert said some of those smaller, mom-and-pop retailers can give malls a one-of-a-kind feel that appeals to shoppers.
But Rodriguez speculates Chapel Hills and especially The Citadel are filling spaces with local retailers taking advantage of lower lease rates. Successful malls, however, are being redeveloped with unique restaurant and retail concepts that create a more inviting product for shoppers; an influx of familiar mom-and-pops won't generate that buzz, he said.
"We're looking for a different thing," Rodriguez said.
"If they were leasing to tenants like that and putting in infrastructure to put in restaurant food courts, and interesting restaurants we want to go to, and food truck courts, and things of that nature, then they absolutely redevelop and local mom-and-pops make sense in that setting all day long. But if it's another barber shop or another cellphone cover store or another urban clothing store that's like every other one on the strip, there's no driving factor to go to those."
At Chapel Hills, it's unknown what will happen to the 141,130-square-foot Sears building, which was purchased last year by Northwood Investors, a private real estate investment and management firm with assets in the U.S. and Europe its website shows. Northwood is "actively pursuing leads" for the space, said Lais and Sherry Drew, vice president of specialty leasing for Namdar.
Northwood, which has a Denver office, declined to comment.
Among five new tenants it's signed in the last year, The Citadel added Attic Salt, a jewelry and accessories store that also has six Denver-area locations and outlets in seven other states, Lais and Drew said. And while Dillard's scaled back its full-service store at The Citadel, the retailer's mall clearance center ranks among the top three in the nation for sales, they said.
One of the biggest potential additions at The Citadel in recent years isn't a retailer.
Coperni 3, a charter school, has contracted to buy the top floor of the Macy's building and a portion of an adjoining parking lot — totaling 110,000 square feet — where it will open a K-6 school in August, said Principal Amanda Ortiz-Torres.
The school has a targeted enrollment of about 450, and will have 15 classrooms and a cafeteria during its first year, she said. The school also plans to add a seventh grade in its second year, more classrooms and an indoor gymnasium.
Coperni 3, funded largely by grants and fundraising efforts, liked Macy's central location surrounded by residential areas, Ortiz-Torres said. The purchase price also was right; the school is paying just under $3.5 million for the space, she said. It also plans another $4.5 million in upgrades.
While the price and location were primary reasons for taking the Macy's space, the store's location at the mall will be an added benefit, she said. Coperni 3 hopes to partner with some Citadel restaurants to provide rewards for pupils, while using the mall's play areas for kids.
The school will have a separate entrance for children and faculty and Citadel shoppers will not be able to enter the school, Ortiz-Torres said.
Even if it's separated from the rest of the mall, the school is exactly the kind of new use that could bring more shoppers into The Citadel because parents will be dropping off and picking up their kids each day, Rodriguez said.
"What else am I going to try and find in the mall, as opposed to somewhere else, because I have to go there anyway?" Rodriguez said.
Other uses that would bring large numbers of people to the malls also would make sense for their survival, Egan and Rodriguez said. Among them: employment centers, medical offices, recreational concepts or even apartments that would replace torn down or redeveloped portions of the malls.
"Some of these malls and some of these obsolete (shopping) centers need to become something else rather than what they are because they're doing nothing but struggle," Egan said. "Either you're going to get a big Scheel's (outdoor retailer) that comes in and says, 'We'll take the whole kit and caboodle because we need all that ground,' or you're going to come in and see bits and pieces of a mall become different, repurposed for different things that make more sense for today."
"Powers Boulevard evolved and that took a lot of wind out of The Citadel corridor." John Egan, broker, NAI Highland