Call it a tale of two downtowns.
The core of Colorado Springs' downtown, which spreads out from Pikes Peak Avenue and Tejon Street and the home of high-rises, government offices and Tejon's restaurants, bars and nightclubs, has seen its share of new or remodeled hotels, eateries and apartments in recent years.
But downtown's south side, bounded roughly by Vermijo and Wahsatch avenues and Conejos and Rio Grande streets, has remained a mishmash of industrial uses, smaller office buildings, motels, surface parking lots, restaurants, specialty retailers and even a few small single-family homes. Some redevelopment and construction have taken place in the area but nothing that has significantly altered its look and feel.
That's changing. A crane towering over a multistory apartment building now under construction and the soon-to-be completed makeover of a historic Tejon Street building signal the south side is poised to become a hub for restaurantgoers, bar hoppers and residents who want urban living, some downtown backers and businesspeople say.
A portion of the 500 block of South Tejon Street — a building that once housed a trolley car barn and more recently was home to the Southside Johnny's bar — is undergoing an ambitious expansion and remodeling. The new space will accommodate a half-dozen new Denver and Colorado Springs restaurant and entertainment concepts targeted to open in September.
A few doors down, the 12-year-old McCabe's Tavern was closed this year and remodeled into the recently opened Streetcar520 restaurant. Last year, Coquette's Bistro & Bakery relocated to the 600 block of South Tejon.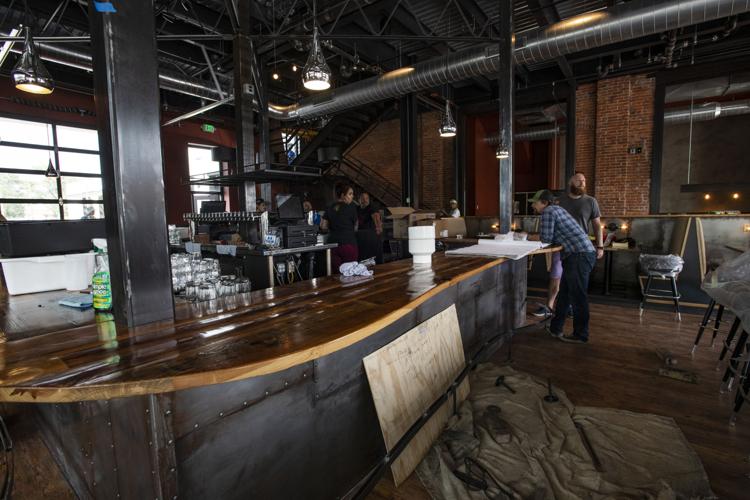 A 184-unit apartment building is under construction across the street and to the west at Cascade Avenue and Rio Grande Street; a 27-unit apartment building and a 252-room Marriott-branded hotel are planned in the 400 block of South Tejon; and a 10,000-seat outdoor stadium for the Colorado Springs Switchbacks soccer team and other sports and events is envisioned southwest of Cimarron and Sahwatch streets.
"It's definitely exceptional for the area," said Ari Howard, owner of Streetcar520 and the former McCabe's at 520 S. Tejon. "McCabe's resided on this block for over a decade and weathered a lot of storms on this block, just waiting for this potential to seep in."
Even as new restaurants will pose competition, Howard said she's excited about the vibe that's building on downtown's south side.
"I feel like the shoulder of any downtown, really, has so much potential and this one was just very untapped for a long time. This is sort of what I've been waiting for in this location."
The south side's new residential and commercial projects would complement others under construction and planned in southwest downtown. That's where the 60,000-square-foot U.S. Olympic Museum is targeted to open next year at Vermijo and Sierra Madre Street, while thousands of residences, offices, stores, restaurants and hotel rooms are planned by Springs real estate giant Nor'wood Development Group east of the museum site.
"There were some early pioneers that saw the potential of that area," said Susan Edmondson, president and CEO of the Downtown Partnership advocacy group. "Now we are seeing rapid transformation there."
The 33-unit Blue Dot Place opened in 2016 on South Nevada Avenue; its co-developer, Darsey Nicklasson of DHN Planning & Development, is developing the 27-unit Casa Mundi Lofts in the 400 block of South Tejon.
Nor'wood and Griffis/Blessing of Colorado Springs, meanwhile, are developing the 184-unit apartment building at Cascade and Rio Grande; the companies already have built the 172-unit 333 ECO at Colorado and Wahsatch avenues on the east edge of downtown.
"It's a great synergy that as those apartments are going up, we're getting all these new restaurant offerings as well as other businesses coming to the area, which is pretty exciting," Edmondson said.
Changes are coming to downtown's south side, in part, because vacant parcels and older buildings were available for developers to purchase and assemble. And now, the economy has picked up steam.
A limited liability company formed by Joe Niebur, CEO of a Colorado Springs-based commercial, residential and golf course development firm, paid $4.1 million last year to buy the former trolley barn building, El Paso County land records show.
Last year, Niebur partnered with Denver businessman Drew Shader to remodel the building's interior and to construct a two-story addition on its south end.
The remodeling and addition have created a total of 10,000 square feet, including a second-story balcony and three outdoor patios. Shader, owner of umbrella restaurant group Atomic Provisions, will open Springs versions of his successful Atomic Cowboy bar, Denver Biscuit Co. and Fat Sully's Pizza, which have multiple Denver locations. The restaurants are scheduled to open Sept. 4. Shader also will add Frozen Gold, a new ice cream shop concept, at the site.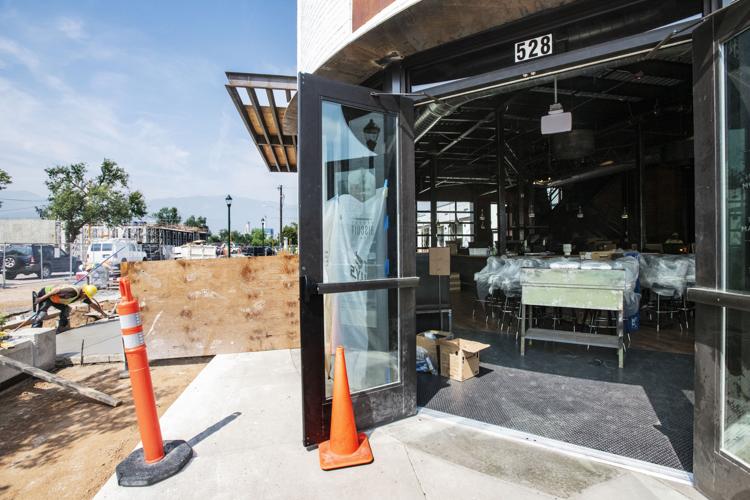 Also coming to the building: Dos Santos Taqueria de Mexico, a Denver restaurant known for tacos and tequila that's expanding to the Springs. Cork & Cask, a Springs bar specializing in wine and whiskey operated by local restaurateur Joe Campana and partner Lucas Frye, will open in mid-September inside the South Tejon building.
Niebur said he was attracted to downtown's south side, in part, because the area isn't as crowded as the core. Parking also isn't as big a problem as in the core, he said.
The new restaurants, several of which already are popular in Denver, will attract customers from the city's north side and perhaps as far south as Pueblo, Niebur predicted.
Shader, of Atomic Provisions, said he likes older buildings and saw that downtown Colorado Springs was showing signs of moving south.
"It seems like everything is moving toward South Tejon," Shader said. "I guess in the past, other than Johnny's, there hasn't been a whole lot down here. It seems like this is kind of the area of town that's about to take off."
But the influx of new restaurants, apartments and hotels won't be without its challenges.
John Crandall, whose Old Town Bike Shop has been a fixture for years at 426 S. Tejon St., said the addition of new people into the area will be good for his and other businesses. And he's pleased that Nicklasson, the Casa Mundi developer, is taking care in her project to help protect his 1909 building, which is immediately to the south and is "an old and very delicate building. They've tried very hard to make sure everything goes well," he said.
Crandall, however, has concerns. New businesses mean more vehicle traffic in the area, and he prefers a focus on pedestrians and bikes.
Perhaps a bigger worry, Crandall said: the potential for gentrification of the area, including the Mill Street neighborhood to the south.
Mill Street is a 212-acre, diverse, working-class neighborhood, as it's described in a Mill Street Neighborhood Plan now being assembled by city government planners and area residents. Mill Street's small-lot, single-story homes make it one of the city's most affordable neighborhoods, with median home values of $158,333 in 2017, according to Opportunity360, a city report referenced in the draft Mill Street plan.
New businesses, restaurants and the like coming to downtown's south side could eventually boost area property values in Mill Street. Rents for new apartments will be pricey, judging from the rates Nor'wood and Griffis/Blessing are charging at their 333 ECO building. Rents there for available units range from $1,250 to $2,565, 333 ECO's website shows.
"I'm very fond of the 20- to 40-year-olds," Crandall said. "And I'm concerned about whether they'll be able to afford to live here. I've watched what's happened in Boulder and Denver and Fort Collins. And it's not livable."
"The cost of living in Colorado Springs, to me, is not at all unreasonable. But the cost of living for young people is a huge concern."
And Howard, while looking forward to the upgrades coming to downtown's south side, wonders if there will be enough parking to accommodate new customers coming to the area and employees like hers.
Edmondson, of the Downtown Partnership, said her group is mindful of the concerns over parking and gentrification and has been involved with the Mill Street plan. But those worries aren't unique to downtown's south side, she said; soaring home prices, especially, are concerns citywide and more lower- and moderately priced housing is needed.
"We know any economic vitality like this also comes with some growing pains," Edmondson said of new projects planned for the south side. "But we've got a lot of properties that were vacant or in some cases were completely cleared lots that were not generating either sales or property tax revenue for the city or doing anything to any significant degree to move our city forward. And that part of downtown is really going to be taking off."