Downtown Colorado Springs' progress can be measured statistically: an estimated three-quarters of a billion dollars in new apartments, hotels and other public-private projects planned, underway or completed over the last several years.
But Mayor John Suthers likes to gauge downtown's success anecdotally.
On Friday nights, when his schedule permits, he said he and his wife, Janet, walk up and down the Tejon Street retail and restaurant corridor to take in the street scenes.
"If you do that, you will see art galleries, restaurants, and bars, and they're full," he said. "People are living and enjoying themselves in downtown Colorado Springs."
Downtown's flurry of construction, new employers and expanded retail and restaurant offerings were celebrated Friday during the Downtown Partnership's annual breakfast attended by about 650 people at The Antlers hotel.
The message by Suthers, other speakers and attendees alike about downtown: Today's vibrancy has replaced the Great Recession's dormancy — and it has had a ripple effect citywide.
"A broker handling the airport business park says the downtown renaissance is a story he can use to sell in marketing that project out east," said Susan Edmondson, the Downtown Partnership's president and CEO. "And because we know that while downtown is just over 1 square mile of our vast city, we return 11 times more sales tax revenue per acre than the city average. Clearly, a strong downtown elevates our entire city."
Edmondson ticked off a list of downtown achievements in recent years. Among them: A recently opened University of Colorado at Colorado Springs downtown campus and USA Basketball's move to the area; a new Hilton Garden Inn under development and Hyatt and Marriott hotels on the drawing board; an apartment building that opened this summer and two more underway; the U.S. Olympic Museum that's under construction; and a flourishing restaurant hub taking shape along South Tejon Street that includes Coquette's Bistro & Bakery, Fat Sully's Pizza, Denver Biscuit Co., Dos Santos Taqueria de Mexico and Frozen Gold ice cream.
"I just gained 5 pounds reading that sentence," Edmondson said.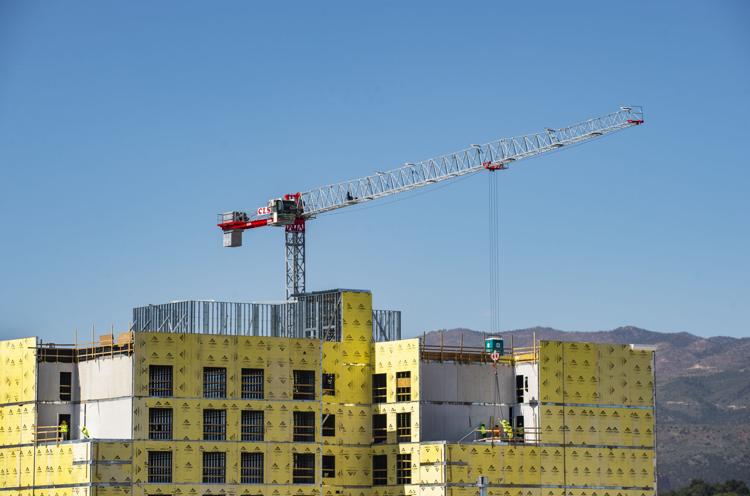 But downtown still has its problems.
Homelessness, panhandling and illegal camping remain major concerns for area residents and downtown business owners, Suthers said. Those problems are "at the forefront of our concerns at the city, as well," he said.
A City Council appropriation this week to help the Salvation Army and Springs Rescue Mission add 300 additional beds is a step forward in addressing those problems, Suthers said. While offering warmth in the winter, the extra beds will allow police officers to aggressively enforce the city's camping ban and move the homeless into shelters, he said.
The Springs Rescue Mission, on downtown's far south edge, also is completing a full-service kitchen, Suthers said. That addition will allow the Marian House Soup Kitchen's noon meal for the chronically homeless to move to the Rescue Mission's campus, while Catholic Charities sponsors a family meal at the Marian House, Suthers said.
Suthers also said the city continues to promote its HelpCOS campaign, which urges area residents to donate money online or via text to help the homeless, instead of giving them cash handouts.
He also acknowledged that road construction, especially the rebuilding of Pikes Peak Avenue, has been a major inconvenience for downtown businesses. But the short-term pain will be well worth the improvements along Pikes Peak, which is a major roadway into downtown, Suthers said.
"With the continued spirit of collaboration, I'm confident that we will continue to move this city forward," he said.
As part of Friday's breakfast, the Downtown Partnership handed out its annual Downtown Star awards, which recognize contributions by businesses, nonprofits and individuals. This year's recipients were:
• The Quad Innovation Partnership, formed by Colorado College, the Air Force Academy, Pikes Peak Community College and the University of Colorado at Colorado Springs to help college students transition to the business world.
• Urban Peak Colorado Springs, which serves homeless youths from age 15 to their early 20s.
• Developer Chuck Murphy and architect Michael Collins, who have worked to enhance the Art on the Street program since its inception 20 years ago.