Stacy Gery saw the out-of-control car headed her way, but there was nothing she could do.
"I thought I was going to die," she recalls. She said a prayer but felt oddly relaxed. Then the car T-boned her vehicle and air bags deployed and her head was shaken as if a ball in a pinball machine.
Gery believes she blacked out briefly. She got out of her car, surprised to be alive. Her face hurt, her wrist hurt, but she seemed largely OK.
"An hour later I was struggling to move, to stand, to walk, to do anything," she says. She had suffered a traumatic brain injury.
The accident happened in 2015 on Black Friday, the day after Thanksgiving, on the north side of Colorado Springs. Gery's recovery proved to be longer and more difficult than she could have imagined. There were days she couldn't get off the couch, days she didn't know her last name. One thing she could do: play the piano, using the skills she had learned as a young girl and had cherished over the years.
The music aided her recovery, just as it had helped her cope with a devastating loss years before. And it would become the foundation of one of two businesses she has formed since the accident and the loss of her job as a high school Spanish teacher.
A musical surprise
Gery was 6, and living in Pennsylvania, when her mother told her she had a surprise for her. "I was hoping it was a Barbie or something cool like that," she says. Instead, her mom took her to her first piano lesson.
Week after week, year after year, the lessons continued. There was a time, in fifth or sixth grade, that she wanted to stop — "every kid goes through a period of time when he or she wants to quit their instrument," she says — but her mother held firm.
She was 13 when her father killed himself. The piano, she says, "was my way to process emotions that I really didn't have an outlet for." She played Chopin, she played Rachmaninoff. She played "loud and hard."
"If you think of your formative years, your teenage years, you already have that teenage angst and who am I and self-questioning and questioning the world around you," Gery says. "Now add the loss of a parent to that, especially to suicide."
She played the piano as an accompanist for the show choir in high school. She played at church, at senior centers.
She decided, though, not to seek a career as a pianist.
"I didn't want something that I loved to turn into something that caused me stress," she says. "And I was good, but I don't think I was that good to make it my career."
A straight-A student, she attended Johns Hopkins University, where she earned a bachelor's degree in international relations, then got her master's in Latin American studies and international economics from the Nitze School of Advanced International Studies at Johns Hopkins. From there, it was on to Bolivia for two years, working with a nonprofit.
She returned to the United States and, fueled by a passion for the people, culture and language of Latin America, became a high school Spanish teacher in Pennsylvania. She taught for six years; then, lured by a lifelong dream to hike the Appalachian Trail, she quit her job to do just that — trekking nearly 2,200 miles, from Georgia to Maine. She said her effort as one of the few women on the trail earned her the attention of The Morning Call in Allentown, Pa., which wrote about her adventure and explained her trail name, Snack Break — "a reference to her retrieving a snack from her backpack each time she took a rest along the trail."
Once that epic adventure ended, she returned to teaching for two years in Pennsylvania. Then, lured by the mountains, she moved to Colorado Springs in 2010.
"I was kind of an oddity in Pennsylvania," she says, "because I would put my bike and my backpack in the car and I'd go and camp and ride my bike for a weekend, and people thought that was a bit strange. Where as here in Colorado, that is totally normal."
She got teaching jobs in the area, first at District 20's Classical Academy High School, then at Manitou Springs High School.
And then the accident happened.
"I stayed on the sofa for a long time," she says. "I could not tolerate light or sound. I couldn't keep my eyes open for more than a few minutes."
Seeing doctors, she says, "was my full-time job." She wore a series of prescription prism glasses to correct a shifting of her "visual midline," which caused her to walk into things. She continues to undergo vestibular physical therapy, which is becoming a common treatment for concussion and has helped her with headaches and balance issues.
She believes music has played a huge role in her recovery. She might get lost in the music, might play the wrong notes, but she could still play. Music and art, she says, have been shown to reach parts of the brain that language can't access.
As with the loss of her father, playing the piano provided an outlet for her feelings. Feelings of despair when she lost her job. Feelings of abandonment when family and friends, not understanding the toll from a closed head injury, would tell her to "just get over it."
"Music gave me something to do every day," she says. "And now it's opening up a new career for me."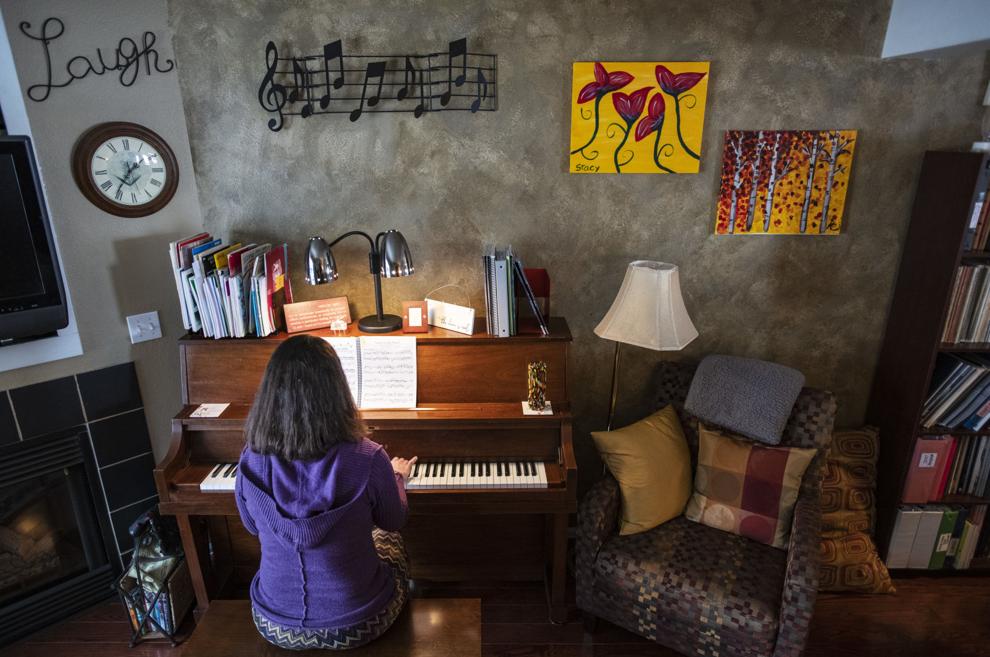 Launching businesses
Gery launched Stacy Plays Piano (stacyplayspiano.com) about a year after the accident, offering piano lessons and playing at weddings and other special events. A page on her website is devoted to "Music for Healing" and has stories of some of her more unusual students: a young girl with autism, a man with tremors, a homeless man who because of a stroke only has the use of one arm.
Months later, she launched another business stemming from another passion, mountain biking. MTB With Stacy (mtbwithstacy.com) offers "the gamut of services for the mountain biking community in Colorado Springs." She saw a need for low-cost clinics "that could get people riding more safely and more confidently," and those skills clinics are the foundation of the business; Gery also provides private coaching and group rides, aided by some young cyclists.
As for riding herself, getting on the bike after her injury was scary. But it was an outlet she needed, she says, just like with the piano.
"I didn't ride the more technical stuff," she says. "I still rode my bike, I just brought it down a notch."
Having the two businesses is a way to keep busy year-round. The piano business is most active during the school year; the peak of the mountain bike business is summer. Both help fill "a huge hole" that was left when she lost her teaching job.
"I'm a teacher" she says, "and if I can educate in one form or another, I'm pretty passionate about that."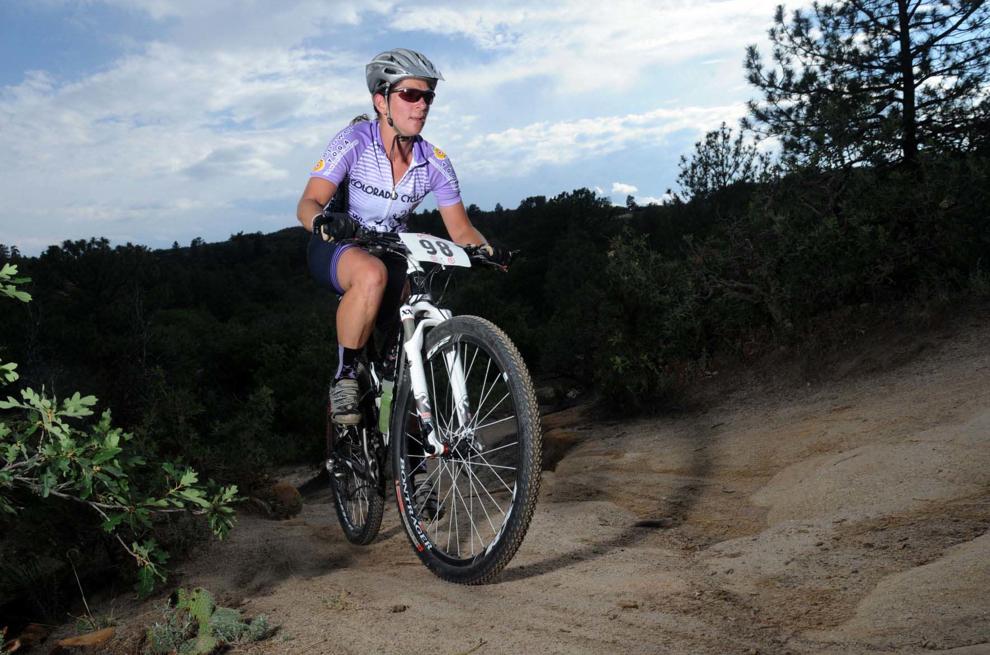 In launching her two businesses, the 44-year-old Gery says she found critical help from the Pikes Peak Small Business Development Center.
"I took free classes like you wouldn't believe," she says. "I learned so much."
Aikta Marcoulier, executive director of the Pikes Peak Small Business Development Center, marvels at Gery's determination.
"Stacy Gery is truly a champion and has defeated the odds to follow her dreams of entrepreneurship," Marcoulier said via email. "Not only does she value the support and mentorship from the SBDC, she gives it back 100 percent to others by sharing her story and motivating individuals to follow their dreams."
Gery found an abundance of other resources, too. The Colorado Institute for Social Impact helped her define her businesses — and the role community could play in them. Library 21c provided a wealth of services.
"I don't know what it's like to start a business somewhere else," Gery says, "but I can't imagine a better place than here."