Lou Morales has one of the nicest backyards in town. It's also one of the biggest.
Morales lives in a house on Pony Tracks Drive that looks out over the Springs Ranch Golf Club in northeast Colorado Springs. Since the privately owned, publicly accessible 18-hole golf course opened nearly 25 years ago, nearby Springs Ranch homeowners have likened it to having roughly 200 acres of open space in their backyard.
Many homes were built along the golf course and, like Morales' house, back up to its expansive fairways that provide an unimpeded view of the Front Range. A portion of Springs Ranch — 94 homes known as The Island — is ringed by several golf course holes. Other homes are a few streets away, but their owners still enjoy the golf course's parklike setting.
"You've got this wide-open space," said Morales, who's owned three homes in Springs Ranch over 22 years and now lives a lob wedge from the 13th hole.
"Everybody can enjoy it. Even the houses behind me, which are higher up, they can look over the golf course and enjoy that greenery. We've got Sand Creek there. It's just gorgeous."
But it's not so pretty to owner Tom Tauche, who built the golf course and opened it in 1997.
At 66, and looking to retire, Tauche says it's tough these days to keep the Springs Ranch Golf Club viable as a golf course. That's because of a downturn in the sport, he says; the number of people playing golf has fallen by millions nationwide and, as a result, more golf courses close than open each year, industry figures show.
At the same time, the Springs Ranch Golf Club needs costly upgrades, such as a new irrigation system and clubhouse renovations, he said.
"For me to keep it as a golf course going forward," Tauche said, "I'd probably have to put $1 million to $1.5 million back into the golf course."
Tauche says he's marketed the property for years, yet can't find a buyer who'd operate it as a golf course. Unlike the owners of some golf courses whose facilities have closed and become overgrown with weeds, however, Tauche sees a way out.
He's agreed to sell the Springs Ranch Golf Club to Classic Cos., one of Colorado Springs' biggest homebuilders and the developer of several residential communities in the Pikes Peak region, including Flying Horse, University Park and Indigo Ranch.
Classic wants to redevelop the golf course with a mix of home styles carrying a range of prices. Trails, parks and other features also would be part of the project. The company says the redevelopment would address the city's desire for more infill projects — developing vacant parcels instead of continuing the area's suburban sprawl. The city's revised comprehensive plan, known as PlanCOS, emphasizes infill projects.
The golf course sale isn't a done deal, and Classic won't submit a formal proposal to city planners until around July 1, after it gathers community input, company CEO Doug Stimple says. For now, Classic envisions 500 to 600 homes on the golf course property, although Stimple said that number could change.
The possible sale and redevelopment of the Springs Ranch Golf Club is shaping up as a "not in my backyard" clash — something relatively common in the Pikes Peak region because of the community's growth and booming economy.
The question of what happens with the golf course, however, has several more layers than typical disputes. If Colorado Springs officials consider the proposal, they'll no doubt have to weigh the rights of a private property owner, the state of the golf course industry and objectives of the city's comprehensive plan.
But Colorado Springs officials also will have to consider complaints by Springs Ranch residents, who say that taking away their pristine backdrop would violate a 20-year-old agreement by the city to keep the property as a publicly accessible golf course. Tauche and Stimple dispute that notion.
That agreement with the city "ensures the public health, safety, welfare and aesthetics of the existing neighborhood and Colorado Springs as a whole," according to Save Springs Ranch Green Space and Golf Course, a group of nine homeowner associations that opposes the potential change in the property's use.
"I would love to see it as a golf course," Tauche said. "If you can find me a golf developer that is willing to come in and take over the golf course for the price that I'm getting from Classic, I'll be more than open to sit and talk with them also."
Golf courses as an amenity
Golf courses and housing developments used to go together like Pebble Beach and ocean views.
Decades ago, real estate developers added golf courses at a furious pace. In the 1990s, more than 2,600 were built nationwide — over three times the number developed in the 1980s, according to a report by the National Golf Foundation, a Florida-based, industry research group.
In many cases, golf courses were built as part of residential projects with the goal of attracting homebuyers — some who played regularly and others who just wanted to enjoy open space.
In Colorado Springs, a New York company developed the roughly 1,200-acre Springs Ranch community in the early 1990s northeast of Powers Boulevard and Constitution Avenue, and sold about 200 acres to Tauche who built the Springs Ranch Golf Club.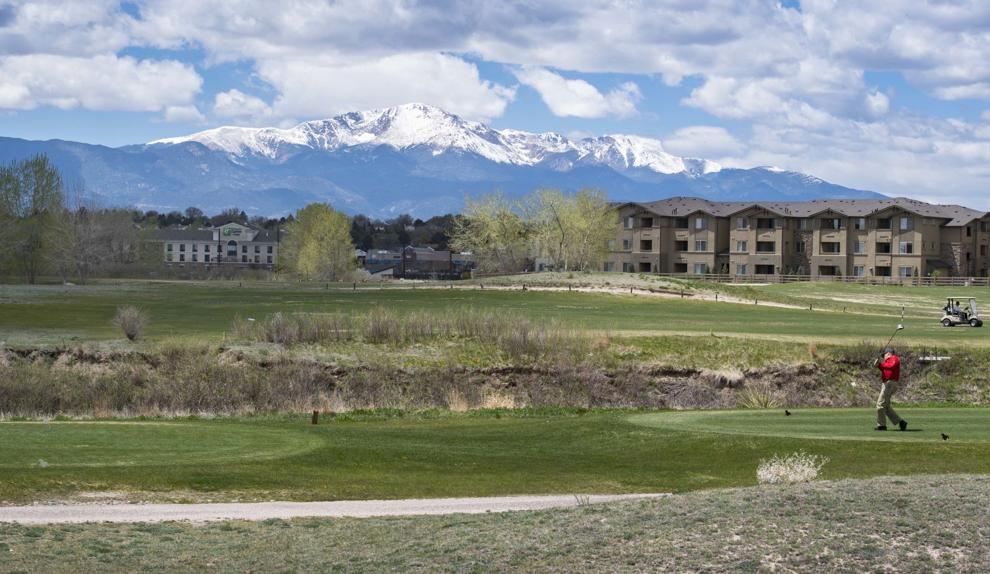 The course was constructed east of Tutt Boulevard, and runs between South and North Carefree circles, with a portion extending north of North Carefree Circle. Street names like Golf Club Drive, Caddy Point and Birdie Court are giveaways that Springs Ranch is a golf course community.
The golf course has been a hit with nearby residents. Two years after the course opened, Sandy Medrano bought a three-bedroom, two-bathroom house in Springs Ranch. He paid almost $206,000, a then-hefty sum that included a premium for a home site that backs up to what is now the 13th hole.
Medrano, a Colorado Springs Utilities worker, is a self-described fanatic who "eats, sleeps and drinks golf." He plays about five times a week and is a member of the Springs Ranch Golf Club.
But Medrano also loved the unobstructed Front Range views afforded by having a house that looks out across the golf course.
"The main reason why we purchased is really two," Medrano said. "Number one, definitely, the view. Number two was the course. Nobody can build behind us because it's a golf course."
Homi Waldorf, who designs databases for many types of companies and industries and can work from anywhere, moved to Springs Ranch from Arkansas in September 2017 to be near her son and his wife, who were expecting a baby. She paid $283,000 for a three-bedroom townhome at Springs Ranch, and spent an additional $60,000 on improvements to her property.
She doesn't golf, but runs, and enjoys the golf course's open space.
"When I saw this place, and the kids saw this place for me, it was the fact that nobody was behind me, it was open space and that was very, very important to me," Waldorf said. "I get this gorgeous view, an absolutely million-dollar view of the mountains."
A changing industry
Despite their popularity as open space amenities, golf courses are closing around the country as fewer people play.
In 2018, 24.2 million people played golf nationwide, down from more than 30 million in 2003, according to a recent National Golf Foundation report. Since 2006, more than 1,800 golf courses have closed nationwide, with fewer than 600 new ones opening, according to an online report last year that quoted industry group Pellucid Corp. of suburban Chicago.
In the Pikes Peak region, the Appletree Golf Course in Fountain, south of the Springs, shuttered in 2006, although its problems were tied in large part to the financial woes of its then owner. Representatives of the current ownership group didn't return calls.
The Gleneagle Golf Course, north of Colorado Springs in unincorporated El Paso County, closed in 2013. Its situation mirrors that of the Springs Ranch Golf Club. A California attorney who owned the golf course told members of the Gleneagle Civic Association that he had lost money each year he operated it, said Ken Judd, a former board member of the group and still its treasurer.
"Many of us knew it was coming," Judd said of the Gleneagle Golf Course closing.
G&S Development, a suburban Denver company, bought the Gleneagle Golf Course in 2015 and, working with the civic association, is redeveloping a portion of the property with 56 single-family homes. G&S bought 130 acres, but has given back close to 95 acres to the civic association, which will be responsible for its maintenance.
"As a business model, it's not a good business model," said G&S president Scott Gratrix. "Golf courses in general just struggle. The only golf courses that don't struggle are the ones that are private ... Build a golf course and they will come. Well, not anymore. It's not a sustainable business model as a public course."
Tauche raised cash in recent years by selling off small portions of the golf course along Tutt Boulevard to apartment and memory care developers. Now, Tauche said he's ready to sell the rest of the property to Classic. He declined to disclose his sale price.
"The course has been on the market, always has been," Tauche said. "Everything is for sale. Classic is the one that came and made me an offer that, how do you refuse it?"
At a public meeting last month with about 200 Springs Ranch residents, which Classic organized to gather input, Stimple told the crowd it's inevitable the golf course will be redeveloped. And, he said, "Classic is the perfect one to do it."
He touted Classic's track record over roughly 30 years of developing quality neighborhoods, construction of more than 12,500 homes and the development of more than 6,000 home sites — along with its community investments through charitable contributions and other programs.
"We know what we're doing," he told the crowd.
Classic's preliminary plan calls for a mix of home types among the 500 to 600 residences to be built on roughly 150 acres of the golf course. They include single-family homes similar to those in suburban areas; a new urban-style home the company is selling elsewhere in town; a traditional neighborhood-style home with front porches and alleys, and townhomes.
The company wants to build homes that teachers, first responders and other members of the local workforce can afford, Stimple said. But since he doesn't like the word "affordable," Stimple prefers to call the home types "attainable." Whatever they're labeled, prices still won't come cheap and could range from roughly $300,000 to $450,000.
Other elements of Classic's plan include a 5-acre park around an existing golf course lake; a second park whose size is to be determined; trails that would allow existing and future Springs Ranch residents to walk and bike through the area and connect to the stores, restaurants and movie theaters at the First & Main Town Center to the west, and a reuse and renovation of the golf course clubhouse, possibly as a community center.
Classic has no plans to keep any portion of the golf course itself.
"We don't think there's a demand for golf there," Stimple said.
At the recent meeting with Springs Ranch residents, Stimple admitted he was trying to sell them on the idea that Classic is committed to developing a quality neighborhood.
Classic also will have to sell Springs officials on its plan, though it hopes another part of its proposal will appeal to the city. Classic is suggesting to swap a 23.5-acre portion of the Springs Ranch Golf Club's far north side in exchange for taking over a similar-sized parcel on the southwest edge of the golf course along Tutt Boulevard, which the city owns and has targeted for a sports complex.
The 23.5-acre northern portion of the golf course could be combined with the city's adjacent 54-acre Coleman Community Park, and give the city more options for sports and recreation in that area, Stimple said. In turn, Classic would develop the city's sports complex site on Tutt, where it envisions a 280-unit apartment complex and 60 townhomes.
Britt Haley, the parks design and development manager for the city's Parks, Recreation and Cultural Services Department, said parks officials are open to Classic's idea.
The site along Tutt is narrow and near a drainage area, making it tougher to design and use as a sports complex, which might have soccer fields, tennis courts, baseball diamonds and other uses, Haley said. At the same time, the golf course land the city would receive from Classic would be set back from major roads and would allow the city to consolidate the property with the Coleman site, she said.
A land swap would need to be reviewed by Parks, Recreation and Cultural Services Advisory Board and eventually approved by the City Council.
Not so fast, neighbors say
Classic officials held two meetings in May with Springs Ranch residents to explain their proposal; the company now is reviewing the input it received and will hold two more meetings June 12 and 17 at the Creekside Service Center, 3850 Pony Tracks Drive.
In objecting to the potential loss of the golf course, Springs Ranch residents say a 1999 agreement approved by the city guarantees the property always would remain as open space.
When Springs Ranch was built, its developer was required to provide a certain amount of park land as part of its project. The requirement is the same for all developers; they must set aside — or dedicate — land for parks, schools, public rights-of-way and other uses.
In the case of Springs Ranch, however, city officials allowed the then 210-acre golf course to substitute for a portion of park land the developer was supposed to dedicate — with the condition that the course remain open to the public.
Allowing the golf course to be sold and redeveloped would violate that agreement, residents contend. Eight Springs Ranch homeowner groups sent a letter to Mayor John Suthers, the City Council and city staffers to oppose the property's rezoning — although Classic hasn't yet submitted its plans and there's nothing for city officials to officially consider.
Morales said Springs Ranch residents have no complaints about Classic Cos. as a developer and can't get in the middle of a private deal between the company and Tauche.
"Our issue is with the city breaking a promise and eliminating the open space that was negotiated," Morales said.
In addition to commitments made by the city as part of the 1999 agreement, Morales said city officials in recent years have alluded to the need to keep Springs Ranch as a golf course. City officials signed off on Tauche's sale of pieces of Springs Ranch Golf Cub with the expectation that money he received would stabilize his finances and allow him to keep the golf course open, Morales said.
Haley, the city parks official, said the 1999 agreement regarding the dedication of Springs Ranch park land always recognized that the golf course might close some day. If that were to happen, she said, Springs officials then would require the golf course owner to pay fees to the city in lieu of providing the park land.
Stimple, Classic's CEO and an attorney, says he reads the agreement the same way. At a meeting with Springs Ranch residents, Stimple said Classic would have to pay fees to the city totaling about $4 million, based on today's rate of $76,602 per acre that's charged by the city in lieu of a park land dedication.
If Classic pays that $4 million, Stimple said, the city should immediately put that money toward the development of the golf course land the company would swap with the city.
Not all Springs Ranch residents say they're opposed to the proposed redevelopment. Tom Scriven, who spoke at one of last month's public meetings, said it's unrealistic to expect the golf course to never change. If the golf course is going to be redeveloped, Scriven said he'd prefer a company like Classic to take over the property instead of watching it close and deteriorate.
Scriven said he speaks from experience. Before he moved to Springs Ranch, Scriven lived on the No. 1 fairway at the Appletree Golf Course in Fountain at the time the golf course closed. He had a front-row seat as the property become little more than a field where people walked dogs and rode horses — leaving behind tons of manure.
"When the rains came, the lake that was there would fill up and turn rancid," Scriven said. "It was like living in a sewer."
"The last thing we want," he added, "is an unmanaged piece of property in our backyard."
Judd, the former Gleneagle Civic Association board member, said his organization and other affected community associations had input on the developer's plans to redevelop the former Gleneagle Golf Course. The Gleneagle group succeeded in achieving its goals of minimizing the impact of development, Judd said, while maximizing the availability of open space, Judd said.
"If I had to give two pieces of advice to any community that is facing this," he said, "one would be don't take an adversarial stance with the developer. Otherwise, you'll be shut out of the process. Use negotiation, partner with them and I think you have a much higher chance of getting a satisfactory outcome for the community, in the long run."
Stimple insists he's not assuming Classic's proposal will get the city's OK. The company is trying to assemble its best plan and solicit input from residents before submitting a plan to the city, he said.
Once that happens, a formal public process would kick in, which probably would mean weeks or months of review by city departments. The proposal then likely would go to the city Planning Commission and eventually the City Council.
"We believe our plan is responsible and what the market needs and what PlanCOS encourages," he said.
But it's not what many Springs Ranch residents thought would happen in their backyard.
"If that happens and if I lose my view, it's going to be really hard for me to sell," said Medrano. "But more than likely, if I'm going to be seeing rooftops behind my house after 20 years of being here to where it was open space, and if all I'm going to see is nothing but houses and rooftops, yes, I will sell. Without a doubt."