That's the tagline for RackStarz, a rack and hitch store that opened last spring in Colorado Springs and adds to the area's outdoor recreation industry — an industry gaining attention on the national, state and local stages.
The question for RackStarz owner Nick Bullion was: Where would his adventure begin? He had spent 18 years in California in the rack and hitch business before returning to his native Colorado to start his business. While he plans multiple locations for RackStarz, he had to choose his launch pad.
Colorado Springs was the logical place to start, says Jackson Thom, marketing manager for RackStarz.
For one thing, he says, Colorado Springs did not have a dedicated rack and hitch business. But more importantly, he says, RackStarz is all about getting people and their gear out into the great outdoors — and the Colorado Springs area is an outdoor mecca.
"Bikes, skis, kayaks, paddleboards, none of those things are fun sitting in your driveway," Thom says. "The only way they get to a trailhead, the only way they get to their destination, is through a roof rack, a hitch product, one of those things."
That image of the Pikes Peak region as an outdoor wonderland is key as Colorado cements its reputation as a leader, if not THE leader, in the outdoor recreation industry.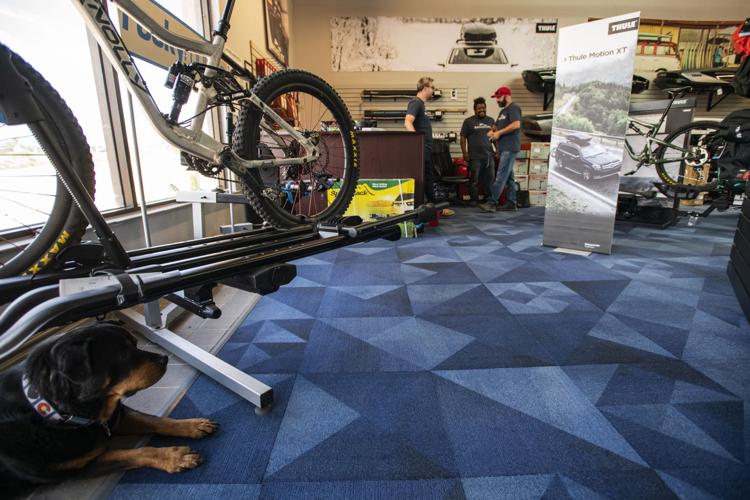 That reputation got an immense boost last year when Outdoor Retailer, the largest outdoor recreation expo and conference in the country, announced it was moving from Salt Lake City to Denver with three events a year. The Outdoor Retailer + Snow Show made its Colorado debut in January, the Outdoor Retailer Summer Market was in July and the Outdoor Retailer Winter Market is coming in November.
This year's events are expected to generate an economic impact of $110 million.
Last month, another big "get" was announced. VF Corp., the parent company of such major outdoor brands as The North Face, JanSport and Smartwool, announced it would be moving its global headquarters from Greensboro, N.C., to the metro Denver area.
Becky Leinweber, executive director of the Pikes Peak Outdoor Recreation Alliance, expected a ripple effect from Outdoor Retailer's move to Denver — and she sees VF's decision as proof.
"The fact that Outdoor Retailer moved here is definitely a catalyst for all sorts of things," she says. "We saw it in Salt Lake City — what it brought not only economically, but just the brands that moved to Salt Lake City over the years because of the location of Outdoor Retailer. We're hoping to see some of that migration here, and VF is definitely the first, and a pretty big one."
Luis Benitez, director of Colorado's Outdoor Recreation Industry Office, agrees that Outdoor Retailer's move played a role in VF's decision.
"I don't think it was the deciding factor, but it was definitely a factor," he says. "You can't have 30,000 people come to a town three times a year who are focused on thought leadership and innovation for your industry and not be interested in locating close to that."
VF also was wooed by up to $27 million in tax incentives. It also helped, Benitez said, that a component of the company, Smartwool, was already in Colorado, with offices in Steamboat Springs and Boulder.
Organizers of Outdoor Retailer, meanwhile, were influenced by Colorado's commitment to public lands when they were looking for a new home.
"Our industry is an interesting one," Benitez says. "We focus deeply on conservation and stewardship because our natural resources, and the utilization of those resources, really drive our economic engine." Outdoor Retailer wanted a new home in a state that was "philosophically aligned" on that devotion to natural resources.
Benitez expects that ripple effect from Outdoor Retailer's move — and now from VF's upcoming move — to continue. And that impact shouldn't be limited to just the Denver area.
"You don't just come here for a trade show and then go home. … I think over the next two or three years that there's going to be a lot of discovery by folks attending the show who just happen to be industry CEOs and thought leaders of our economy who are going to be exploring our state and checking out all of what we have to offer," Benitez says.
So how does the Pikes Peak region get some of that attention? Benitez points to the Pikes Peak Outdoor Recreation Alliance, founded by Becky's husband, David. (The two also own Angler's Covey.) The alliance is touted as "a collaborative of businesses and individuals who recognize the value of our region's incredible natural and recreation assets to our community, both as an economic driver and for our health and well-being."
"What they (David and Becky) have done with the Pikes Peak Outdoor Recreation Alliance is really what we are looking for across the state," Benitez says. "This is an important economy to your region. These moves aren't going to be made magically; you have to focus on them and you have to create sort of that nexus for telling that story of why an organization would want to move to your region. The Outdoor Recreation Alliance has done a tremendous job of shaping that story, telling that story, pulling in the political leaders, the business leaders, the nonprofit leaders."
In pursuing outdoor recreation companies — with a particular focus on manufacturing — the Colorado Springs Chamber & EDC teams with the Outdoor Recreation Alliance, the Colorado Springs Convention & Visitors Bureau "and those types of partners that are a little more dedicated to the space," says Tammy Fields, chief economic development officer for the Chamber & EDC.
"Economic development is truly around relationships that you build," Fields says — and the Leinwebers' networks "are deep and wide."
"We have to, as a community, coalesce together and take advantage of those resources and those relationships that we have, so we're working hard to do that with them," Fields says.
"I think certainly having the Outdoor Retailer show in Denver is paying dividends already, with the announcement of VF Corp. coming to Colorado. So I think it's continuing to build that awareness, that hey, it's not only Denver, here are these other communities in Colorado, particularly for us, the Pikes Peak region. We want to get some of that action, and we're a great location."
In working to "get some of that action," Fields and Becky Leinweber plan to meet this month with Rebecca Gillis of the Colorado Office of Economic Development and International Trade for a brainstorming session.
"What can we do to help elevate ourselves," Fields says, "and how can we use some of the state tools and resources to make sure we have a robust offering?"
Now's the time to act, Leinweber says. Nationally, the U.S. government this year tallied for the first time outdoor recreation's contribution to the economy — $374 billion in 2016, adding up to 2 percent of GDP. (In Colorado, outdoor recreation generates $28 billion in consumer spending annually and 229,000 direct jobs, according to the Outdoor Industry Association.)
In 2015, Colorado became the second state to have a state office devoted to the outdoor recreation industry; since then, it has been leading the way, Leinweber says. In July, Colorado was one of eight states to sign the Confluence Accords, which outline shared, best-practice principles in growing the outdoor recreation economy.
"There's just a lot of focus on Colorado right now, and we have a lot to offer in this region," Leinweber says.
It's easy for residents to forget that, she says. "We take it for granted — yeah, there's Pikes Peak, isn't it beautiful — and we don't really think about what that means to our community, the economic impact of being where we are. More and more, that's changing."