The first patients at Children's Hospital in Colorado Springs were dangerously tiny when born and still small when they arrived May 28 by ambulance from Memorial Hospital Central.
Twins Joshua and Caleb Stevenson were born prematurely March 20 at Memorial Central at 28 weeks, weighing just a few ounces more than 2 pounds. They spent 70 days in separate rooms within the neonatal intensive care unit at UCHealth Memorial Central until they were moved to a room designed for twins at Children's, about two hours after the 111-bed facility opened.
"I've only been able to hold them together three times, so my goal today is to hold them together again," Kelly Stevenson, mother of the twins and wife of deployed Fort Carson soldier Michael Stevenson, said on the day the twins arrived at Children's. "I'm just glad to have more space and a window. This room is at least four times as large as the one we left."
Children's Hospital Colorado opened on UCHealth's Memorial Hospital North campus nearly four years after plans were announced for the facility and 2½ years after breaking ground. The hospital is the first in southern Colorado specializing in pediatric care and comes after 17 years of serving Colorado Springs area patients through outpatient clinics and a series of partnerships with the UCHealth Memorial Hospital. Before the hospital opened, Colorado Springs was one of just three metropolitan areas — Greensboro, N.C., and Sarasota, Fla, are the others — among the nation's 80 largest metro areas without a pediatric hospital and health care system.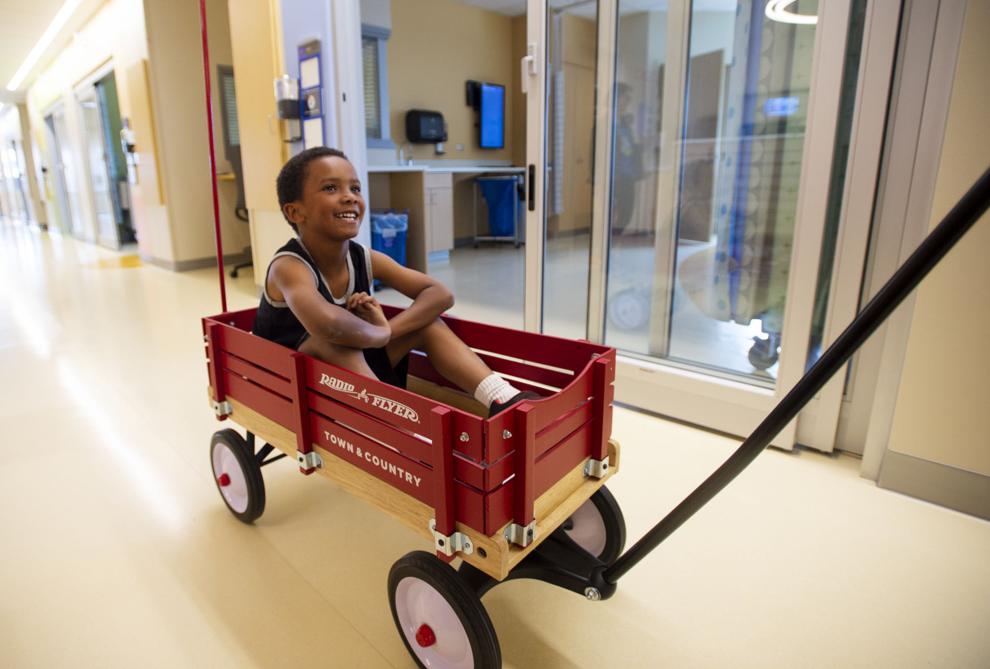 Greg Raymond, Children's chief operating officer, told  hospital staff that the opening was a "game changer" for Colorado Springs and that "today things change" for local kids.
Raymond said it was "satisfying" that the first two patients were children of an active-duty soldier, since one of the reasons Children's built the 294,000-square-foot facility was to meet the needs of current and retired military personnel whose children need specialized pediatric services.
The changes were welcome for Kelly Stevenson, who said the move to Children's was like "moving to the Ritz-Carlton."
"I'm so glad to have a bathroom" in the same room, she said, adding that the natural light in the Children's Hospital room would help her sons adjust to a more traditional sleeping schedule after spending more than two months in a dark room at Memorial Central.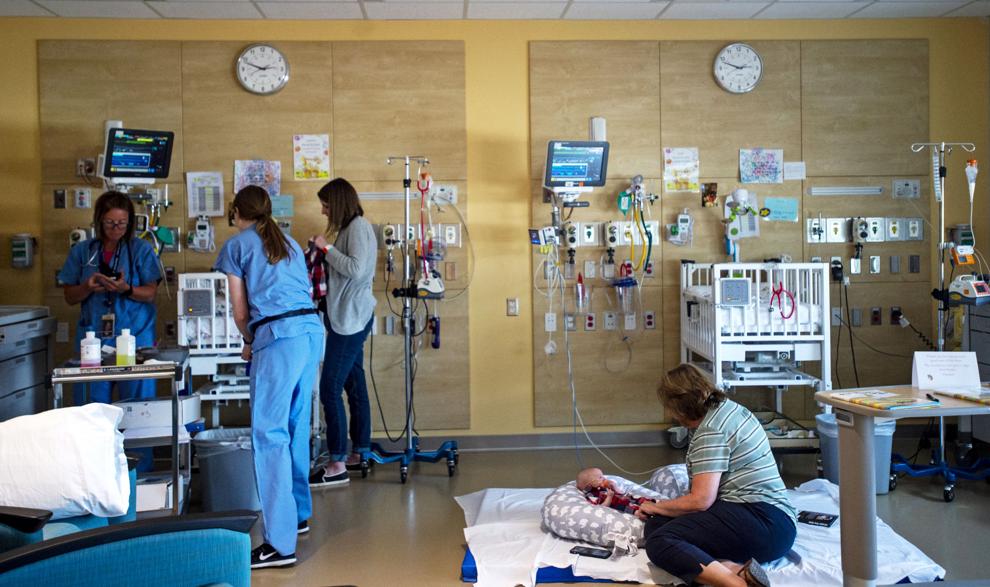 "The sunlight alone helped with my emotions — it had a big impact on my emotional health — and it helped to get the boys on a schedule. They were more alert on the first day at Children's than they had ever been before," Stevenson said.
Hospitals have become a second home for the Abrams Elementary School first-grade teacher since she woke up to bleeding because the twins' shared placenta had developed a small tear, forcing an emergency delivery after Caleb's heart rate began dropping. She and her mother, Terry Reonas, had spent most of every day at the hospital with the twins, who were in separate rooms until three days before the move when overcrowding required them to share a cramped room.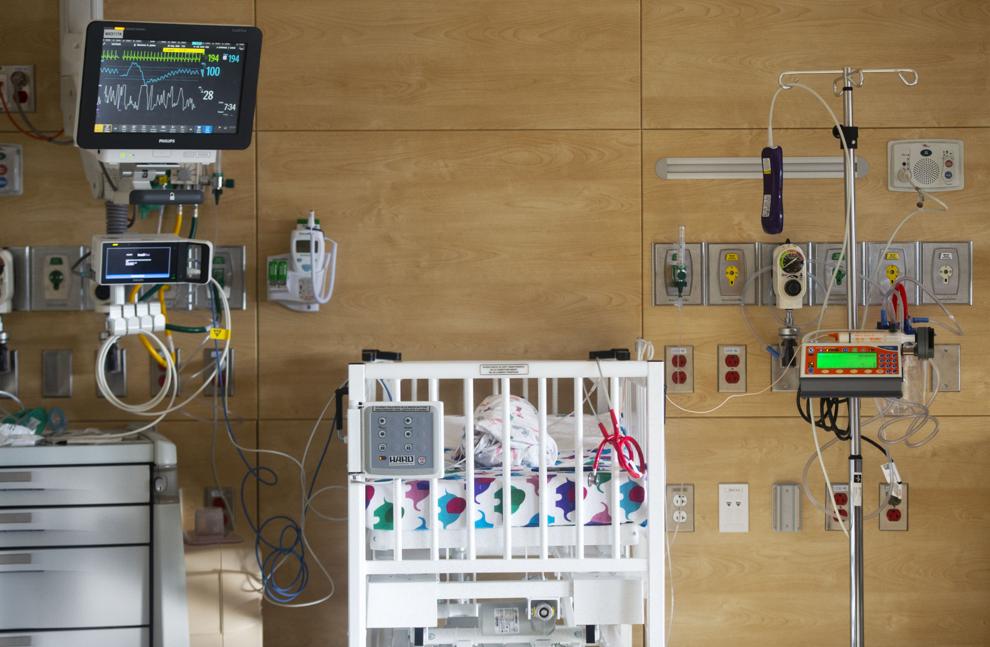 The twins had nearly tripled their weight by the time they arrived at Children's but would stay together at the hospital for more than another month to learn how to feed, suck, swallow and breathe without help. In addition to helping them build immunity to illness, they received treatments and other care every three hours. That included physical therapy exercising the twins' stomach and neck muscles as well as overall movement.
The hospital even helped Kelly Stevenson celebrate the boys' 100th day with doughnuts, decorations and visits by many of the doctors, nurses, therapists and others who had treated them over the previous 3½ months.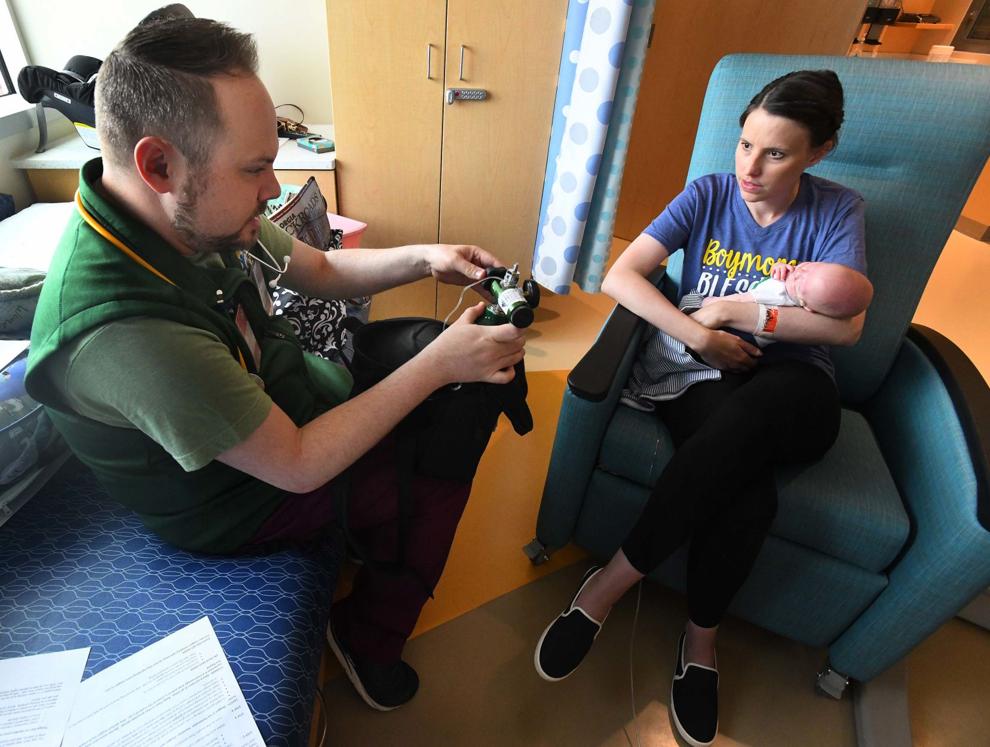 Joshua was sent home July 7 after 109 days at Memorial Central and Children's. He weighed 8 pounds, 2 ounces and remains on supplemental oxygen. He had spent the night before leaving disconnected from fetal monitors and was feeding normally. Caleb remains at Children's with continued work on feeding as well as a full schedule of physical, speech, respiratory, cardiology and audiology therapies.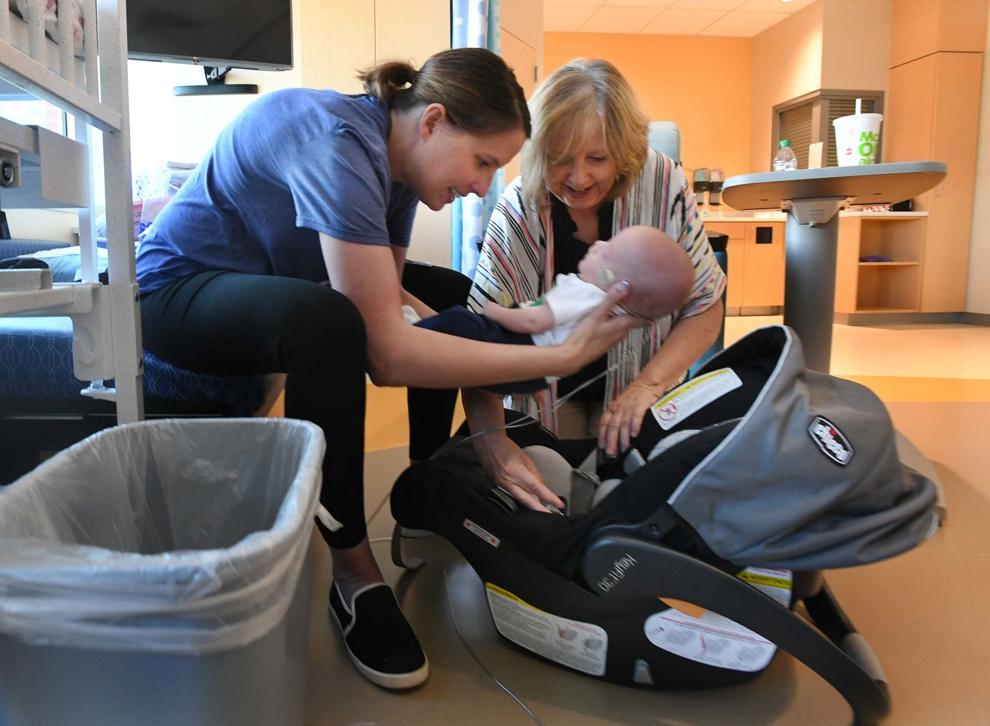 "It's incredible how far they (the twins) have come and the staff here has helped us through it all," Stevenson said. "They even helped us take our first family picture."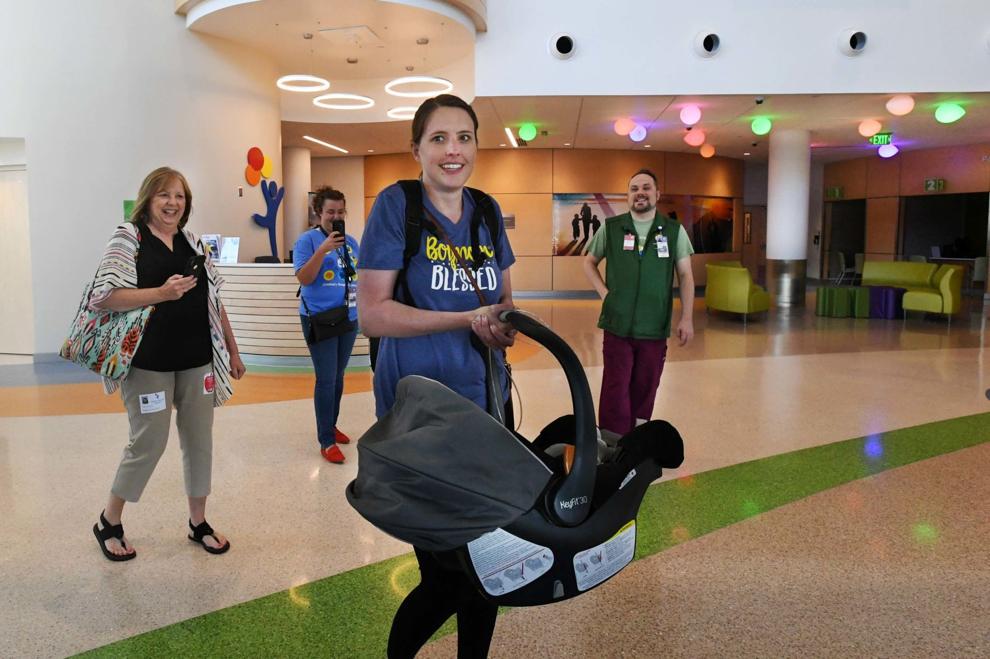 Joshua's "primary nurse walked us out. It was pretty emotional. I cried a lot. I am still trying to figure out the logistics of having one at home and one still in the hospital. It was bittersweet. I was excited because Josh was going home but sad Caleb was still here, and very thankful for the nurses. I bring Joshua with me every day to the hospital. They brought an extra bed for him and he has a travel oxygen tank for the trip. We still don't know when Caleb will go home."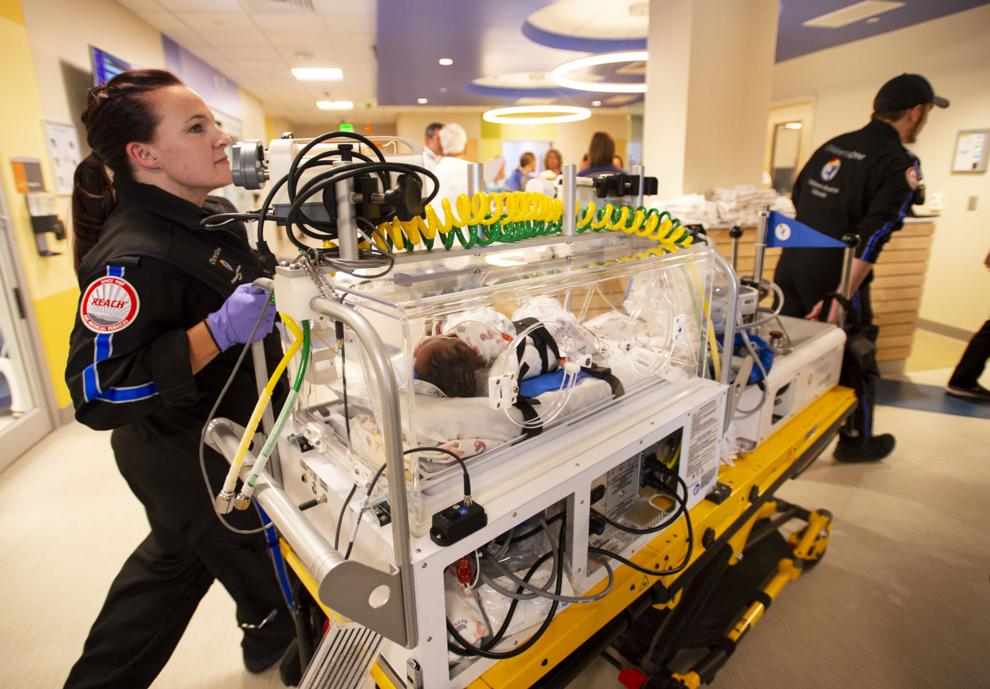 Joshua and Caleb Stevenson were among 30 patients transferred to the new hospital in a fleet of six ambulances on the first day, mostly from Memorial Central's neonatal unit. The hospital also saw 29 patients in the Emergency Department (the first arrived 12 minutes after the hospital's 7 a.m. opening), performed two emergency surgeries and at least one other scheduled surgery.
Another first-day patient, Athena Wade, had been in a "pod" with four other premature babies at Memorial Central and got her own room at Children's with a shower, window and a refrigerator for breast milk. She was born March 20 after 28 weeks during a premature delivery resulting from mother Tamika Caldwell's life-threatening complication that was causing liver and kidney failure. Athena weighed just 2 pounds, 4 ounces at birth, but more than doubled her weight to 5 pounds, 11 ounces after she was transferred to Children's.
While at Memorial Central, Caldwell said she "had to go outside every three hours" just to see daylight. The Colorado Springs resident also loved that she could bring food to Athena's room so she didn't have to leave to eat. She praised the staff at Memorial Central, who were Children's employees, for allowing her and husband Gary Wade, a Cañon City police officer, to bring their dogs to the neonatal unit.
Athena Caldwell was sent home after about two weeks in Children's.
One of the first emergency patients, 9-year-old Alex Marin from Peyton, arrived two hours after the hospital opened and was treated for a rash that spread over his face after a visit to a swimming pool. He had been in a hospital once before, two years ago in Miami, for finger surgery and had expected to be scared.
"It wasn't scary at all," Alex said as he played games on an iPad while he waited to be sent home. "I like this hospital because it is for children and they (the staff) were nice to me."
By the time Alex was ready to leave, he was trying to collect $1 from every hospital visitor to put in his piggy bank; he wants to buy a mansion for his family when he grows up.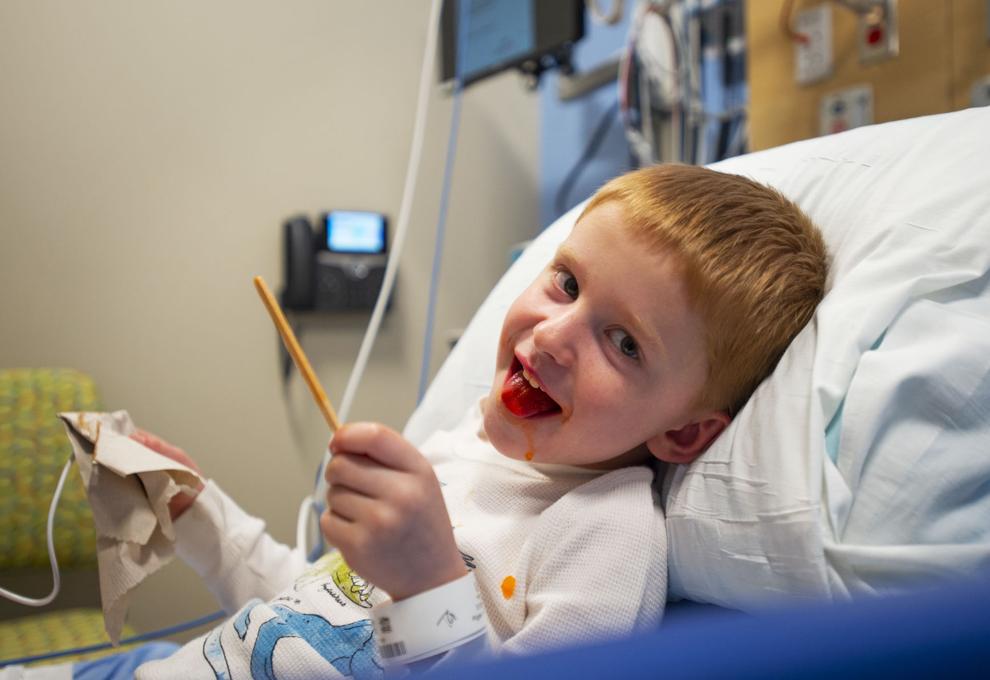 Another first-day Emergency Department patient, Lucas Gagnon, 5, of Colorado Springs, was treated for a sprained neck from falling off a bouncy slide at a playground. He gave the new hospital "two thumbs up" after nurses gave him an orange Popsicle, which he called "the best."