Amazon, the world's biggest name in online retailing, is coming to Colorado Springs.
While details are sketchy and city officials declined to comment, citing confidentiality agreements, the online giant that has established two mammoth distribution centers in the Denver area appears poised to bring a similar facility to a Colorado Springs Airport site that will employ 300 people.
Amazon officials didn't respond to an email requesting comment. But the Pikes Peak Workforce Center acknowledged Friday that it held a three-day hiring event in which it interviewed candidates for warehouse/distribution jobs for a facility to be built on airport property.
Although the Amazon jobs aren't high-paying — starting at about $13.75 an hour and possibly rising to $16 an hour — and the Springs facility likely will be much smaller than the ones in Denver, adding the Amazon brand would be yet another coup for Colorado Springs.
For months, the city has been riding a wave of favorable ratings from national publications that have praised its quality of life, surging economy and attractiveness as a place to do business.
Regional and national restaurant chains have been arriving in droves in Colorado Springs, and California-based In-N-Out Burger — a cult favorite — plans to build a distribution center and production facility on the city's north side to serve the Springs and the rest of Colorado.
At a time when the airport is enjoying rising passenger traffic numbers, adding a name like Amazon could boost the airport's commercial appeal. For years, airport officials have sought to establish a business park and Amazon's arrival could be a big boost.
The Powers Boulevard corridor that leads to the airport is home to warehouses and distribution facilities, manufacturing operations, hotels and the like; Amazon could help raise the profile of the area as a business center.
Jennifer Pierceall Herman, the workforce center's industry relations manager, said employees said the company planned to post additional openings on its hiring site (amazon.force.com) late Friday to fill any of the 300 positions still open after job offers from the hiring event are accepted or rejected. Nearly 400 people attended the event.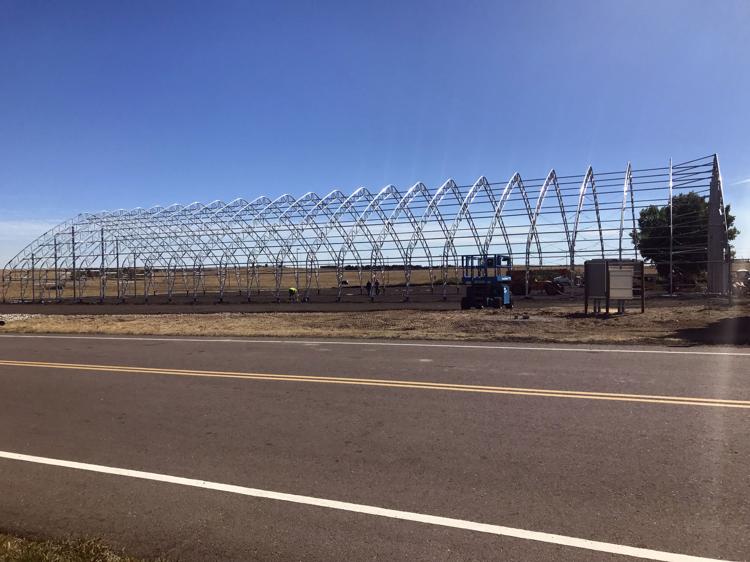 The Pikes Peak Regional Building Department issued a building permit Sept. 10 to Iowa-based Clearspan Fabric Structures International for a nearly 17,000-square-foot tent at 7704 Milton E. Proby Parkway, which is partially complete. While the permit doesn't mention Amazon, the only other structures on Milton E. Proby Parkway are the passenger terminal, rental car facilities and a cargo terminal for the airport.
Colorado Springs Mayor John Suthers and Greg Phillips, the city's aviation manager, declined to comment Friday on Amazon's plans, including whether a permanent facility is planned, citing a nondisclosure agreement the city signed with Amazon.
Amazon did not respond Friday to a request for comment.
Amazon's posting for the warehouse positions listed pay up to $13.75 an hour, which will increase to a maximum of $16 an hour after Amazon raises its minimum wage to $15 an hour on Nov. 1. The posting said the positions will cover overnight, early morning, day, evening and weekend shifts totaling 15-25 hours a week. Applicants must be 18 years old and have a high school diploma.
The company said duties for the warehouse workers will include manning delivery stations, which it said are "the final stop before an order heads out to the customer's door." The duties also include working on Amazon's Prime Now Shopping service from local stores, which allows customers to order online and have items delivered in fewer than two hours.
Craig Anderson, a veteran commercial real estate broker with NAI Highland in Colorado Springs who specializes in investment properties and land in the Pikes Peak region, said he doesn't know details of Amazon's plans for Colorado Springs, but members of the commercial real estate industry are buzzing that the online giant will establish a presence in the community.
"I don't know where and I don't when and I don't know how big. But it makes sense to me that Amazon is drilling down to smaller markets," Anderson said.
"It just makes sense that if they've got the bigger markets covered, or most of them, that they would start expanding to secondary markets like Colorado Springs."
Colorado Springs' economy is hot, and a distribution facility here of possibly 200,000 to 300,000 square feet would give Amazon the capacity to serve the Pikes Peak region's metro population of 750,000, along with Pueblo and the rest of southern Colorado.
"You've got probably 1 million people in this southern Colorado market that could be served by a distribution facility here," Anderson said.
A tentlike facility at the Colorado Springs Airport would allow Amazon to launch operations here while it constructs a permanent distribution center — possibly on the airport's business park land south of Milton E. Proby Parkway.
"In a nutshell, Amazon is growing so fast, it would just make perfect sense that they're going to be here," Anderson said. "And the question is, how long is it going to take before they do something? I wouldn't bet the farm on it, but I would bet a lot of stuff that Amazon's going to be here with a good-sized building."