Ever wonder if you found your calling? Ever hear the alarm ring at 5:30 a.m. and ask, "Why am I doing this again?"
Carlos Echeandia never wonders. He welcomes every ringing welcome to the day.
He's fully awake on this Thursday afternoon as he sips his cup of espresso. He went to bed at 2:30 a.m. after an 18-hour workday and bolted to wakefulness a mere three hours later.
Still, he blazes with energy and happiness as he takes a break minutes before opening Carlos' Bistro on South 21st Street. He's toiled here since 6:30 a.m. He will depart at 1 a.m. If the front door is unlocked, Carlos almost certainly is inside.
"This is my cave," he says. "My life is this restaurant."
This is more than his profession. It's his obsession, too.
He opened the bistro 15 years ago with $2,000 in savings. Before the opening, he was working as a waiter at Marigold Café and the North Academy Boulevard Red Lobster. He was 41 but already had sprinted through a quarter-century of restaurant work. He was determined to bring a fine dining restaurant with an immense menu to Colorado Springs. He was outlandishly ambitious.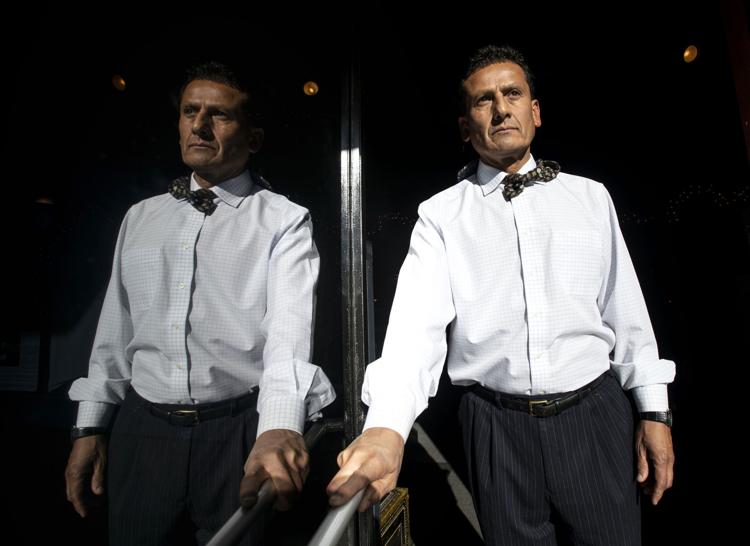 Two servers enter the dining room, and Carlos stands to greet them.
"Hello, ladies," he says. His voice, as usual, booms with excitement. "This is going to be a big night!"
He's probably right. His unlikely vision became an unlikely success in the viciously unforgiving restaurant business. Zagat's, Bible of the restaurant trade, awarded the bistro a 4.8 food rating in 2018, tying Carlos with Denver's Fruition for highest score in Colorado. Carlos charges, without apology, $84 for filet mignon stroganoff and $120 for tomahawk ribeye and on many nights still packs his bistro.
Brian Sack serves as executive chef at Famous Steakhouse in downtown Colorado Springs. He worked with Carlos at Marigold.
"He's just a salesman," Sack says of his friend of more than two decades. "He could sell you a boot off a troll and make you want to eat it. He's just that good. He makes it sound so good."
Carlos gazes around his cave with a satisfied yet hungry smile. He's a Christian who attends services each Sunday at First Presbyterian Church, where he listens intently to Pastor Tim McConnell. Carlos believes God called him to serve.
Serve food, that is.
"Before I open that door, I pray to God to give me one more day and I ask the Holy Spirit to give me more energy to make it better because you got to make it better every day," he says. "We all have problems. We all have drama, but you've got to forget the drama and enrich people and create happiness. That's who I am. I believe all the energy, all the extra energy, I got from God."
He was born in Lima, Peru. He remembers teeming crowds and his father telling him it was hard to make a living in a world crowded with strivers. You will thrive on your merit, his father said. No one will help you.
Carlos felt lost until he arrived in the United States, a go-go destination that suited his personality. At 16, he left school to work as a dishwasher at a hotel restaurant near Disneyland. He was instantly smitten by the dining business, and the romance never waned.
"I fell in love with tomatoes and onions," he says. "When I was 16 years old, I feel human for the first time. I feel the smell of something different than I ever experienced."
He never chased a different experience. He worked a half-dozen years in California before moving to Colorado Springs in 1985 to pursue romance with Marcia, now his wife. He labored as a cook at Chili's on Lake Avenue and remembers a frantic shift when he flipped 233 burgers. He worked more than a decade on the wait staff at Red Lobster and Marigold.
"He always wanted his own restaurant," says Jeff Jenkins, Carlos' friend for more than 20 years. When Red Lobster, which Jenkins managed, underwent an overhaul of its interior, Carlos took the discarded chairs, oven, and grill for his future bistro.
Jenkins, now managing partner at Biaggi's, noticed when Red Lobster diners, seeking his deeply attentive service, asked at the front desk for Carlos to wait on them. Jenkins later noticed dozens of those same diners following Carlos to his bistro.
"He's a great guy," Jenkins says. "He's a different bird, for sure. He knew what he wanted."
What he wanted was a restaurant that offered intense personal attention to diners. Each night at his bistro, Carlos strolls table to table lavishing attention on his diners. It's a rare night at most restaurants when diner meets owner, but Carlos visits three or four times. He remembers names of his diners for years. Wear the same tie for a visit, and Carlos will mention it looks as dazzling as it did 20 months ago.
"We get out of the house because we want to relate to another person," he says. "That's what it is about, relationships. You want to feel the energy. Maybe you have been married for many years, but you don't have the energy so you need to get out to feel it."
Restaurant owners possess immense power, he says, but only if they embrace their might.
"We are the people who actually can create happiness for couples or any group," he says. "They are looking for something else. Maybe they are looking for something they cannot find in their life.
"We are all born with a gift. There are some people who are working as a teacher or lawyer or carpenter and making money, but they never discover their gift. I discovered my gift, and I feel very lucky."
The bistro is open Wednesday through Saturday nights, which leaves Carlos three days to recover from his predawn to post-midnight schedule. On off days, he luxuriates at local restaurants, where he savors the priciest food and booze on the menu.
He doesn't care about his house in Green Mountain Falls or the flash factor of his car. (He's not kidding. He drives a 2001 Acura.)
"I care that when I'm dining out, people think I'm rich," he says. "They say, 'Oh, my god, this guy is paying a lot of money, we better take care of him.' That's what I do. I work hard to have the best meal, the best bottle of wine, the best scotch in front of me because that's how I please myself."
But, beware, local restaurant owners. As Carlos eats your steak or fowl or pasta, he's investigating, too. As a teen dishwasher, Carlos begged chefs to teach him their secrets, and he remains a diligent student of his craft. When he takes a bite of, say, duck at a fancy competitor, he analyzes each spice as he plots how he might improve the taste at his bistro.
"Oh, man," schemes the obsessed man who built an unlikely success story on 21st Street. "I can make this better if I throw in a little more paprika."