Strips of flypaper sway from Alma Cremonesi's ceilings and they hang like tinsel around the front porch of her home at the northeast corner of North 14th and West Kiowa streets.
She's used them for years, but Cremonesi said they don't really stop the invading horde of black stinging flies that accompany the raccoons nesting next door.
"They're these little black flies and their sting is as vicious as a bee sting," Cremonesi said. "And nobody's allergic to them, except me. My skin swells up and I've got these bites all over my body."
Cremonesi doesn't blame Douglas Bruce for her problems, even though he owned the raccoon-infested home for years and maintains that he still does.
Rather, she says the city's to blame for allowing the convicted felon, former state representative and author of the Taxpayer's Bill of Rights to do nothing about the decrepit and dangerous structure for so long.
Fire tore through 1326 West Kiowa St. in 1992, killing a 3-year-old boy. Cremonesi said she remembers the day well. Bruce bought the fourplex the next year for $9,500 and it was condemned in 2007.
After hundreds of conversations, talk of billing Bruce for inspection fees and intermittent complaints, city and regional officials are pushing to demolish the skeletal building, which residents say has become an infrequent shelter for the homeless and a kind of morbid tourist attraction.
Bruce is fighting back.
The fourplex and the example it sets leaves residents with the impression that the city is "inept" and unable to keep residents safe, City Council President Richard Skorman wrote in a Nov. 14 email. The council district he represents includes the Old Colorado City neighborhood.
"Doug Bruce (the Dougster) has filed another court appeal delaying the demolition of the abandoned house frame," Skorman wrote.
The conservative stalwart and convicted felon no longer owns the home, El Paso County assessor records show. He disagrees.
Bruce asked an El Paso County District Court judge last month to list the building under his ownership once more and to prevent Pikes Peak Regional Building from entering or demolishing the property, provided that he "diligently repair the carpentry conditions until they are completed, or the property is sold."
Bruce owns dozens of properties across the country and while pleading for his early release from the Delta Correctional Facility in 2016 he said he would sell them, pay overdue taxes and "lead a quiet life" in retirement.
Since his release, Bruce has thrust himself back into the political spotlight multiple times and held on to the majority of his properties rather than selling them.
Last year, Bruce bought a decrepit bar in Pittston, a small city in northeastern Pennsylvania. City officials there, however, moved quickly to cite him for the building's dangerous conditions and ultimately bulldozed it in June.
He quickly threatened to sue the city and called officials there "idiots," but they held firm and noted that the case could be turned over to police for possible criminal charges.
The case on West Kiowa Street, however, is years in the making.
Earlier this month, representatives of the Pikes Peak Regional Building Department asked a judge to dismiss Bruce's case, arguing that he didn't properly reacquire the fourplex last year after attempting to foreclose on the now-defunct corporation that bought it from him for $159,000 in 2016.
That buyer — Renovation Management Group 106 — is currently listed as delinquent by the Colorado Secretary of State's Office, and one of its principal officers last year declared bankruptcy, listing the West Kiowa Street building as an asset.
Because that bankruptcy proceeding was underway, Bruce's bid on the fourplex last year during a foreclosure sale is void, regional building's lawyer argued, adding that now that the bankruptcy case is closed, Bruce can once more bid on the property at a future foreclosure sale.
All the while, the fourplex is a nest to raccoons and place to drink for local miscreants, said neighbor Azure Stein, who said she has lived across from Cremonesi since 2011.
Empty liquor bottles — big and small — litter the property. Chain link fencing surrounds the area, bent back likely by intruders.
Criminal activity concerns Stein, who's called the police before, though she says the raccoons are fun to watch and she hasn't seen an influx of stinging insects.
Cremonesi, however, said she called Bruce over the furry mammals and the infestation they brought.
"You can't prove where bugs come from," Cremonesi said Bruce told her.
The Gazette also received a sharp reply from Bruce when he declined to comment for this article.
"I don't want to talk to you about anything, ever," Bruce said.
Stein has cutting words for Bruce, but also blames city officials for inaction.
"Apparently the city doesn't want to take anyone's rights away, even if it's a danger," Stein said. "It's disheartening that they're not going to do anything. I would buy it, tear it down myself with my bare hands."
Mitch Hammes, the city's neighborhood services manager, said since he was hired in 2017, code enforcement has treated every property the same.
"I don't adjust my enforcement policy based on who the person is," Hammes said.
City officials don't demolish homes lightly, Hammes said. Often the process can take up to three years.
"Once we tear it down, it's very expensive to put it back if we made a mistake," he said.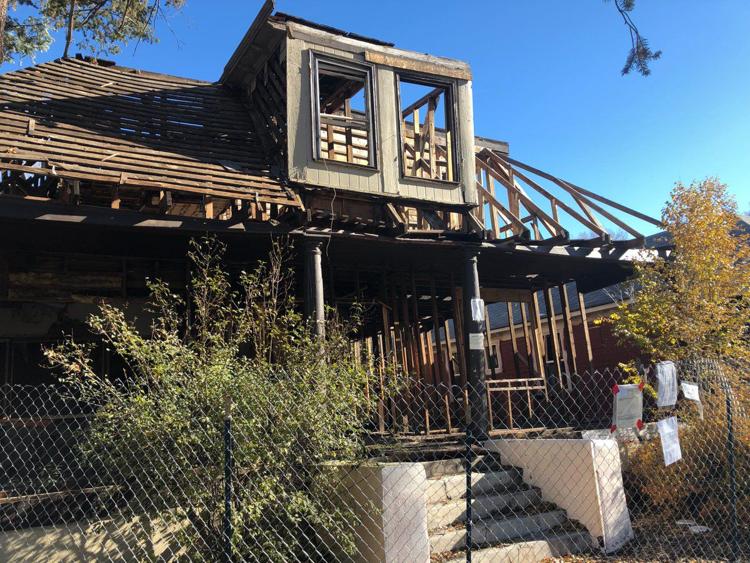 But the building has been condemned for a dozen years and severely damaged for even longer, and Hammes said he couldn't say why it's stood so long, noting that the issue predates his hiring.
Instead, he deferred questions to regional building, which is the local entity responsible for determining whether a building is dangerous.
That determination is then followed by a 30-day appeal period and officials have 60 days to acquire permits needed for repairs or demolition, said regional building spokesman Greg Dingrando.
He did not reply when asked why the process has taken years at Bruce's property.
Looking back, Cremonesi said she partially blames herself for a lack of action because she didn't complain enough.
"For many years, I was glad that nobody was living there," she said. "But it came back to bite me."
Cremonesi estimates she's spent over $30,000 on exterminators, replacing furniture, carpet, clothing and more.
"Every week I get a letter from someone trying to buy my building. The west side is hot," she said. "But they see all this flypaper ... would you buy a building with a bug infestation?"
Bruce has likely lost out as well, Cremonesi said, noting that investing in the property, rather than leaving it vacant and decrepit, could have netted him a tidy sum over the decades.
She shakes her head and predicts that if — emphasis on the "if" — the demolition ever moves forward, it'll take another two years.
conrad.swanson@gazette.com @conrad_swanson