I sat down with Ty Evans, his father Todd and Palmer Ridge football coach Tom Pulford for an exclusive interview on Ty's football commitment to NC State. Here are the extras you didn't get to read in Monday's breaking news story.
Q: You have had a wild recruiting journey. Do you have any regrets about your experience, and what advice would you give another athlete hoping to be recruited?
Ty Evans: I have some regrets, just committing so early because a lot of things can happen and a lot of things do happen. Any advice that I would give any recruit, my message would be, don't worry about stars. Don't worry about hype on social media. Don't worry about how many offers you have or how many offers the next dude has, because it's your life and only one school has to be interested. Opportunities are seldom perfect but you have to make the best out of every single one of them.
If you go out and ball out on Friday nights, someone is going to notice, someone is going to see it and want to take a chance on you. You just have to take that opportunity to run with it.
Q: With now two head coach-firings, and two decommitments, obviously the coaches at any program is important to you. Can you explain why coaching is such a driving force for your decision?
Ty Evans: It's easy for people to say commit to the school not the coaches, but how am I supposed to do that when I spend 75 percent of my time with coaches, and they're taking me where my life is going as a football player, and in my career. You wake up, you go lift weights with your coaches. You go to academic advisers your coaches bring in. Then you go to football practice — all coaches. How am I supposed to go somewhere just because I like the school?
Todd Evans: The Evans household is a little different because he will now be the third to go and play in college. And the girls (Morgan and Mariah) have taught him, it's a job. The general public thinks it's playing ball and going to school, but it's a job. Every day in the offseason the football team at State starts their day at 5:45 a.m. for treatment, meetings, practice, a team lunch and then you go to classes and study hall after that. It's 6 a.m. to 8 p.m. every day. The girls have talked to him a bunch. You need to make sure you have a good environment with your coaches.
Ty Evans: We've learned that every coach is two years away from being fired. Their well-being is on the line too, so they expect us to treat it like a job too. It's not just going out there and playing football and going to classes. It's what you do seven days a week.
Q: What made you want to make an official visit to NC State?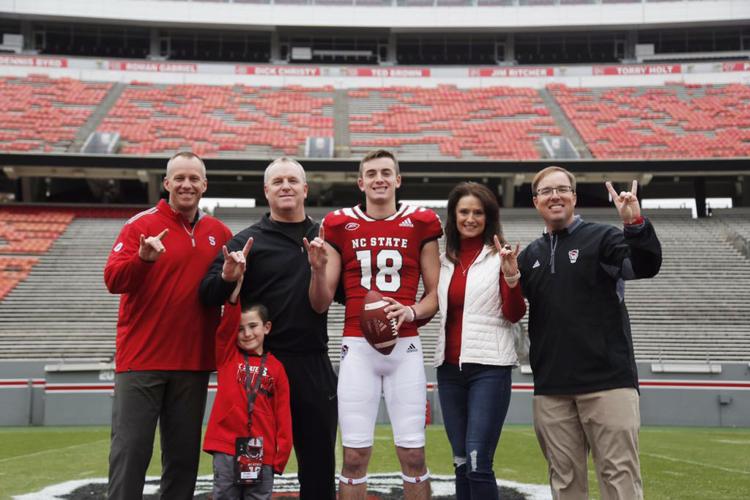 Evans: The relationships I had made with the coaches last year really stuck with me. They were genuine people, and I also talked to coach (Bret) Bielema and he told me how great they are. And that was really great to get a third-party confirmation on what I had already thought.
My sister being a few minutes away played a pretty big role with how close I am with her.
Just the culture down there, Pack football is important to a lot of people. And that was really important to me no matter where I went. I wanted football to be important to people in the community and the school. I didn't want to run out to empty student sections, I wanted to run out to packed stadiums and not be able to hear myself think. That's the stuff that gets me fired up and makes me want to be a better football player.
Q: ????
Evans: The food is so good. Oh my gosh we had fried chicken, and we went to Cookout, which is like fast food but it's so cheap and so good and it's open until 3 a.m. every night.
They had fried macaroni balls and I was going HAM on them and everyone was looking at me like … what? And I was like, we don't have food like this — we eat salads. It was like the greatest meal of my life and everyone else was just eating normally.
Q: It's been an emotional recruiting journey. How does it feel to finally, almost, be done with it?
Ty Evans: When I sign the paper, finally, I'll have a huge relief.
Q: For the last year you've been thinking that you're only going to have to move a few hours away, now you have only a few days to pack up and move across the country. What is that like emotionally?
Evans: It's scary. I'm not going to sit here and lie and say it's not scary, but sometimes in life you just have to trust yourself and believe in yourself that you can do anything. I have to believe the choice that I made was the right one. Six months from now I'm going to be sitting at NC State saying, thank God that I decided to take that leap of faith and thank God I believed in myself and the plan that God has for me. It's scary but I know that I'll get there and get to know the guys and get to know the campus and it will start to feel like home.
Q: Tell me more about your relationship with coach Bret Bielema and how he helped you land on NC State.
Evans: The first time I met Bret we walked into his office and he had reggae playing in the background and he was wearing shorts and sandals. And I was like — that is someone I can play for.
He's been a really good person to me, and a really good third-party opinion. He has no skin in the game of where I go to college so I can go to him for honest advice and when I asked him about NC State all he had was good things to say about it. He was raving about how genuine the coaching staff was. He knows a lot of people on staff, and getting that confirmation from Bielema meant a lot.
Q: Your goal is to go to the NFL. What did NC State coaches tell you about your path to the league.
Evans: Coach Doeren basically just said he's put four quarterbacks in the last eight years in the NFL. And they have four active NFL quarterbacks from NC State, and it's known as QB U.
Todd Evans: Ty was taking pictures and Philip Rivers called (quarterback coach) Eli Drinkwitz, and Drink looks at his phone and goes, oh, someone is calling for Ty. Now, he couldn't let him talk to him because that would have been a violation, but that's kind of cool to be out there when an NFL guy is calling.
Ty Evans: It was just so casual. It's Philip Rivers, whatever.
Q: ??????
Todd Evans: Ty has always wanted turtles, like Rocky.
Q (from Todd Evans): Tell us all how you feel about playing Clemson, Florida State, Virginia Tech and Miami every year in your division.
Ty Evans: I've never hid from competition. Competition is everywhere you go and it's what makes you better. So those are big programs but I believe NC State is a big program as well and I'm sure they're sitting there saying, 'Crap we have to play North Carolina State.' I think it will push me to become a better player and I know that I'm in a program that is going to succeed in those atmospheres.