Another afternoon finds Matt Zimbelman geeking out over wood.
In the humidity-controlled basement of his Colorado Springs home, he's pulling one slab and block after another off the shelves, all of them different shades of brown, all of them different for their density. Zimbelman feels around for the right spot. He taps with his finger. He brings his ear close.
"Listen to how long the sustain is," he says.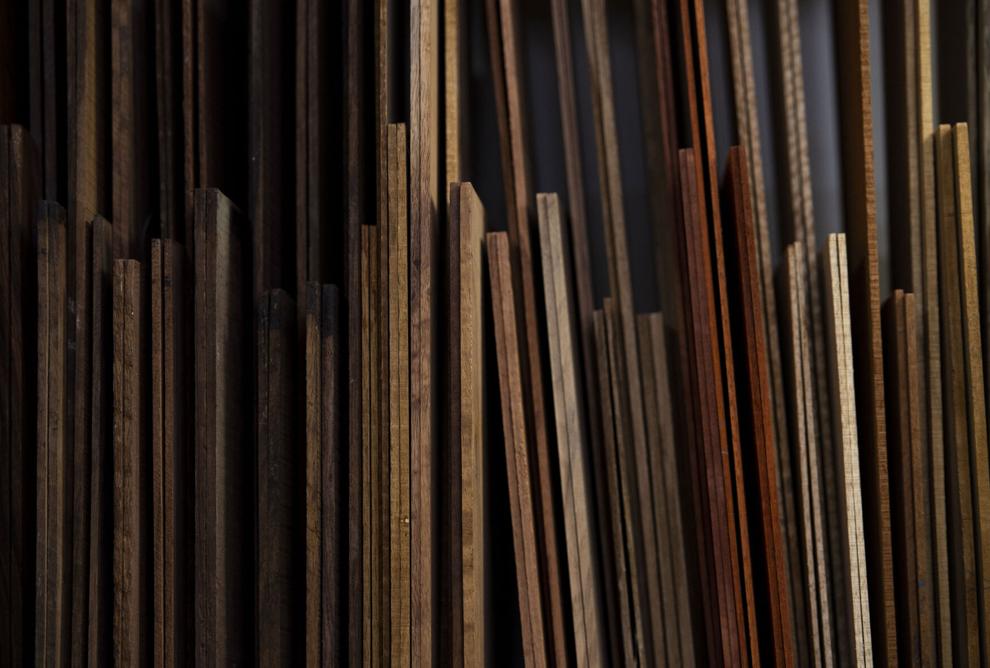 Listen to how long the vibrations ring and hum within these old parts of trees from around the world. There's Mexican Cocobolo and Honduran mahogany. Indian rosewood and Australian blackwood. Sitka spruce and German spruce. Ziricote and Port Orford cedar.
"Warm and earthy," Zimbelman says of some sounds. "Bright and glassy," he says of others.
Picking out the wood is the first step of his art.
His guitars are indeed art, admirers say.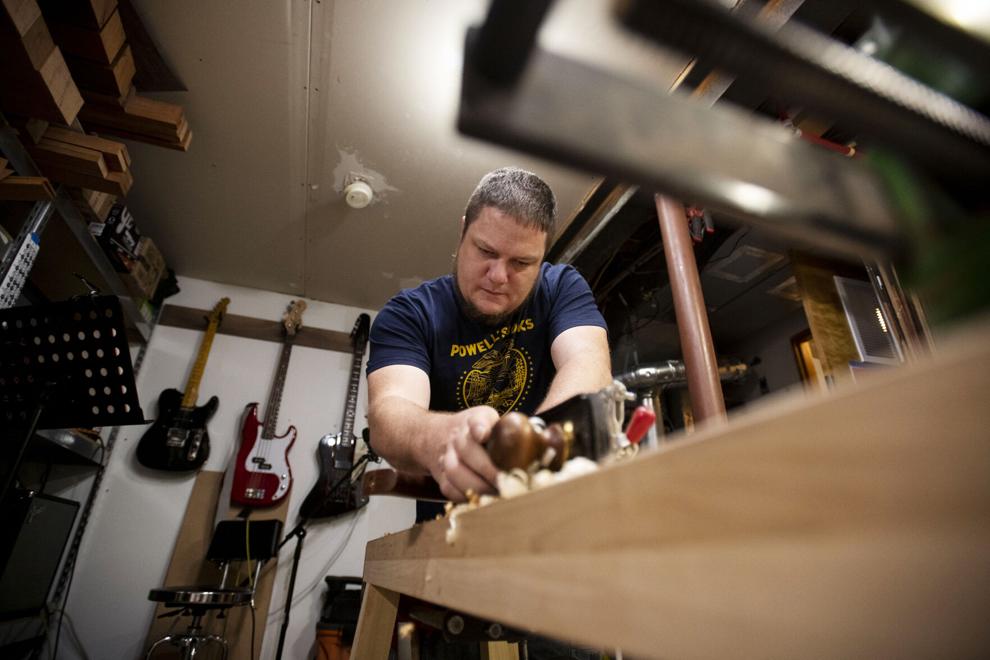 "Not the ones you see every day," says Mike Judge, owner of Moondog Music Shop, the local staple that recently added Zimbelman guitars to the inventory. Recently, Zimbelman has been the shop's sole representative of local luthiers — a niche bunch undertaking the fine, time-consuming craft of string instrument-making.
It's been about a year since Zimbelman stepped away from a steady career in cabinetry and focused on the less certain, less lucrative business of luthiery. Judge isn't the only one who has taken notice.
Ron Johnson is a longtime aficionado, having played guitar around the Springs since the '70s and collected from some of the industry's top national shows every year.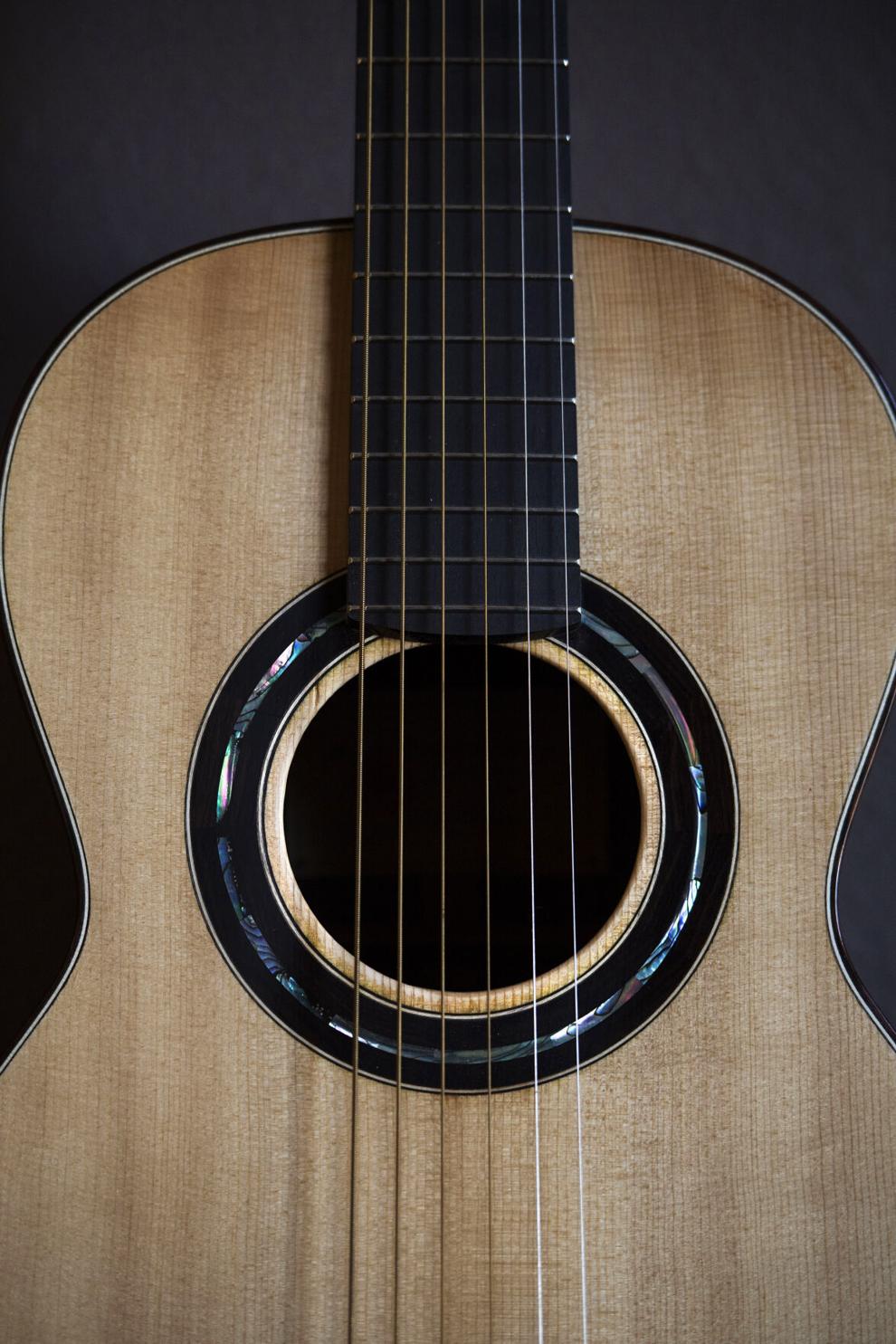 "I've played lots of good guitars," Johnson says, "but there's something about what Matt is doing with this old wood."
Zimbelman measures the lumber, cuts, glues, sands, shines and finishes with steel strings from his basement and garage along a neighborhood street fittingly called Churchwood. Church and wood are two things important to Zimbelman.
His wife, Amy, is minister of the regional conference of the Mennonite Church. She's also a lifelong guitar player.
"There's something different" about the ones her husband makes, she says. "Something different when you have an assembly line guitar, and then you have a guitar made from wood from this camp that you love on the backside of a mountain you love."
The camp is Rocky Mountain Mennonite Camp, the compound familiar to people en route to the Crags trailhead on the slopes of Pikes Peak. The Zimbelmans are intimately familiar with the camp. And Matt is intimately familiar with the timber.
His workshop is also stocked with the centuries-old Engelmann spruce from those high elevations. The trees stood before beetle infestation and harvesting by Mennonite crews that included Zimbelman.
"Acquiring that wood was once in a lifetime," he says. "You don't get a lot of chances to have 300-year-old trees in your life span. It was just an amazing opportunity to collect material that was already dead and standing and give it new life."
New life as a guitar. A "magic" guitar," Johnson says.
He, of course, owns a Martin, an industry standard. "Both of my Zimbelmans just dust it," he says.
Zimbelman has built his reputation fast, even while his guitars — which sell for $2,500 and up — are created slow, mostly by hand.
Luthiery is a practice of patience and precision. The process happens in phases; with the time it takes for glued parts to dry, the beginning and end are often seasons apart. And Zimbelman might wait months more before selling. Whatever it is — something about the wood and glue settling perhaps — he has found a guitar needs time to convey its true sound. It "needs to take some time to think and become the guitar it's gonna be," he says.
At his current pace, Zimbelman thinks he might finish three a year.
"I really do consider each instrument having its own voice, and I want to be honest with that," he says. "I'm not attempting to build hundreds of guitars. My guess for the rest of my life, I may build another 50 or so. And that way they'll all still have that unique personality."
Unique and mysterious. That's luthiery to Zimbelman. Much different from the previous world of woodworking he knew.
He started his own cabinetry business in 2008, continuing the practice he fell in love with as a teenager in his first shop class.
"I loved building cabinets, so I made it my full-time profession," he says. But eventually, "a lot of the excitement was gone, because it became more of a job."
All the while, Zimbelman fueled his creativity where he could: building sailboats, for instance, or a tear-drop camper or a playhouse. And yes, guitars. He built his first in 2009, learning by videos, books, classes and trial and error. Several were burned in campfires.
"I always wondered when I was building cabinets," Zimbelman says. "If I had more time to build guitars, what would happen?"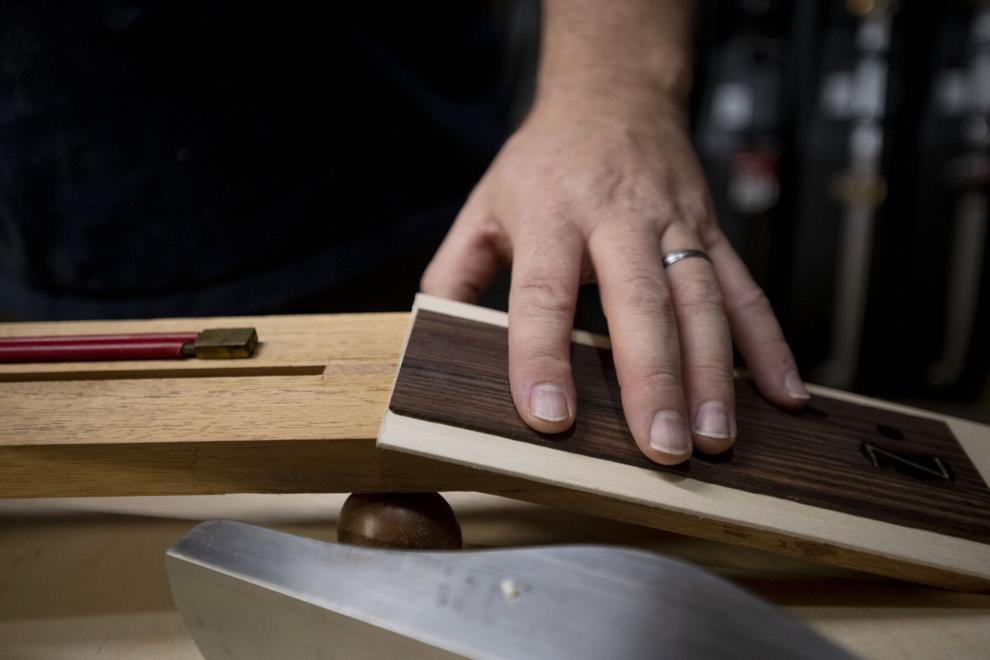 The cabinet business largely halted amid the pandemic of 2020. Also during the year, the Zimbelmans had their second child. The timing felt right for a new beginning.
As he's honed in on the craft, those campfire ends to guitars have been less. They were necessary, he says. "When you create an object, if the object is not acceptable, it can't be out there. ... If you don't destroy it, it hangs in your mind."
Amy gets it, an artist herself. Still, she hated to see them go.
"All of those were tragic to me," she says, "because there's always something beautiful in every guitar."