He's the adorable farm-boy winner of "The Voice," Sawyer Fredericks, and the popular "old soul" returns to Tri-Lakes Center for the Arts, 304 Colorado 105, Palmer Lake, 7 p.m., doors at 6, trilakesarts.org
Opening weekend: Colorado State Fair in Pueblo. Rodeo, concerts, champion livestock sale, horse shows, carnival and lots of food. Through Sept. 3. coloradostatefair.com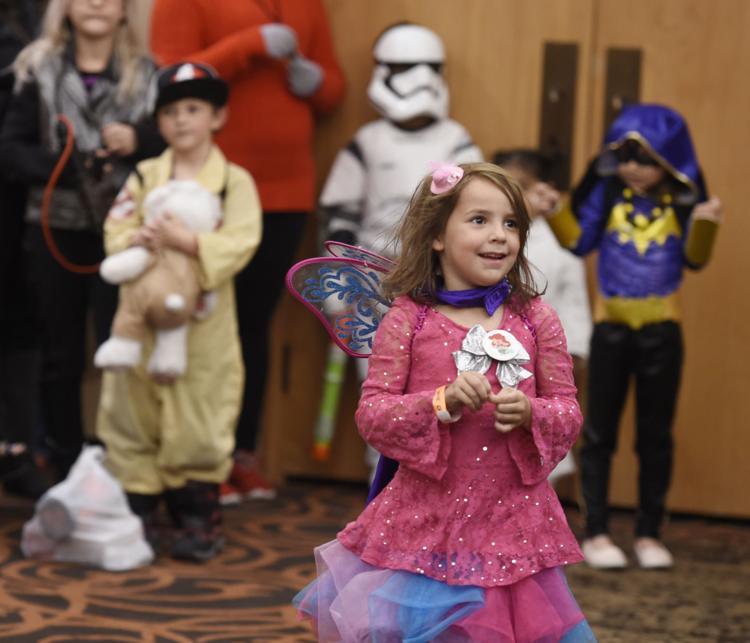 Three days of cosplay, creators, industry folks and fans, Colorado Springs Comic Con, Chapel Hills Mall Event Center. Celebs from "The Walking Dead," "Game of Thrones," wrestling and "Revenge of the Nerds." Schedule, tickets and info: cscomiccon.com
Brightly colored boats floating across a lake beneath a mountain setting. How pretty is that? Check it out at the all-day Colorado Springs International Dragon Boat Festival on Prospect Lake. 9 a.m.-4:30 p.m. Tickets:gwndragonboat.com
Just call it the Pikes Peak 5280 Chug Run, a combo of running and beer sampling, cornhole competitions, drift rides and go kart racing, 1-9 p.m. Pikes Peak International Raceway, 16650 Midway Ranch Road, Fountain. Concert by Bostyx featuring David Victor, formerly with Boston. 5280chug.com
Almost-end of the season Summer Smash and Fireworks in Cripple Creek with a Third Street party, Musso's Farm and Grey's Tavern food, beer tent and battle of the bands, visitcripplecreek.com
Empty bowls and poetry are an interesting combination from 4-7 p.m. at Manitou Art Center, 513 Manitou Ave. $20 for a Mark Wong bowl to be filled with wontons, noodles and other yummies. One of the groups to benefit: Poetry Heals, adding mentors for the creative writing of troubled, incarcerated, homeless or teens in recovery. manitouartcenter.org
An afternoon of deliciousness, Taste of Palmer Lake, 1-4 p.m., 10 favorite food spots, wine and 3 Hundred Days of Shine. $20 online, $25 at the door if available, tinyurl.com/y75dwwms
Lick an ice cream cone, just a nickel, on the lawn at the city's oldest house, McAllister House Museum, 423 N. Cascade Ave., in the annual old-fashioned Ice Cream Social. Family fun and local history, 11 a.m.-2 p.m., $5, $4 for seniors and $3 for youngsters.
Adding to the ComicCons around the state, rock band The Superheroes: In Concert, 7:30 p.m. Saturday at Ent Center for the Arts with Colorado Pops Orchestra. Heroes and villains, movie music and a costume catwalk. $20-30. They're in Fort Collins at Aggie Theatre on Friday, in Boulder on Sunday. coloradopops.com
A new jazz festival, the Salida Jazz Fest, headlines Gerry Gibbs Thrasher People Band with guest Nicholas Payton, trumpet. 11 a.m.-9:30 p.m. at the Steamplant, Riverside Park. Fireworks canceled on July 4 conclude the festival. Familiar to Colorado Springs audiences: guitarist David Musante with Bud Gordon Unconventional Wisdom, Dick Cunico and 21/30 and Brad Eastin with Equinox. Tickets: salidajazzfest.com
A creative, fun and free Family Adventure Day, 10 a.m.-1 p.m. at Colorado Springs Fine Arts Center at Colorado College. Art of the Dog activities include therapy and service Go Team Dogs, art puppy prints, clay mud puppies, glass blowing and throwing on the pottery wheel. csfineartscenter.org
Here's an outdoors opportunity, volunteering at the El Paso County Nature Centers. Orientation 10 a.m.-noon. For ages 18 and up. Bear Creek Nature Center, 245 Bear Creek Road. For an application or to register, call Paula, 520-6387, or email bcfcvolunteers@gmail.com.
Trinidad has a great case of the blues, thanks to the Trinidaddio Blues Fest, noon, gates at 11 a.m., Central Park, Robert Randolph and The Family Band, Kenny Neal, Los Albuquerque Blues Connection, Dave Specter's Chicago/New Orleans Blues Revue, Vanessa Collier, Tickets and schedule: Trinidaddiobluesfest.com
A beautiful evening in a castle, serenaded by romantic arias. The Chamber Orchestra offers concerts at 4 and 7 p.m. at Glen Eyrie Castle, 3820 N. 30th St., with soloists Jennifer DeDominci, Ian Buckspan and Jacob Klock. An added treat, an optional full-course dinner at 5:15 p.m. Concert $29-39. gleneyrie.org