NASHVILLE • Near the end of their first full show in five years, the trio known as the Pistol Annies are about to play a particularly direct new song, "Got My Name Changed Back," when Angaleena Presley tries to issue a disclaimer.
"This song isn't about anyone in this band," she says.
Miranda Lambert, standing beside her, immediately speaks up.
"She's full of (it)," Lambert says, and roars of approval rise from the pews in the storied Ryman Auditorium.
"Name Changed Back" is what the Annies are all about. When the song went online last month, the tabloid media reduced it to a blast at Lambert's famous ex-husband, country star Blake Shelton. And that might have been true, in part. Which gets to one of the trio's gifts, the ability to deliver songs that can be soul-baringly specific yet also universal. The audience at the Ryman responds to "Name" and the set's other tales of domestic dysfunction ("Unhappily Married") as if cheering on Lambert while also acknowledging their own struggles with this complicated thing called human relationships.
"It's girl power, it's real life, it's heartache, it's victories, it's all that wrapped up in one," says Tammy Winn, 50, a fan who came to the Ryman show from Cincinnati and is spending most of the time on her feet mouthing lyrics. "These girls have brought back what real, true feelings are to country music."
In an industry saddled with bro-country cliches, the Pistol Annies are an escape and a throwback. They are a reminder of a time when Kitty Wells didn't wanna play house and Loretta Lynn's love for you was as deep as your pocket. The group can go big, busting out a kind of bravado that borders on camp, or they can deliver perfect harmonies over simple ballads plucked on acoustic guitars.
There have been other all-woman supergroups, such as the 1980s trio formed by Dolly Parton, Linda Ronstadt and Emmylou Harris and the Honky Tonk Angels (Lynn, Parton and Tammy Wynette) assembled a few years later. But the Annies — Lambert, Presley and Ashley Monroe — probably have more in common with the Dixie Chicks. They're a group instead of a celebrity one-off, and they've packed their three albums — 2011's "Hell on Heels," 2013's "Annie Up" and the new "Interstate Gospel," released Friday — with originals that are unflinchingly honest.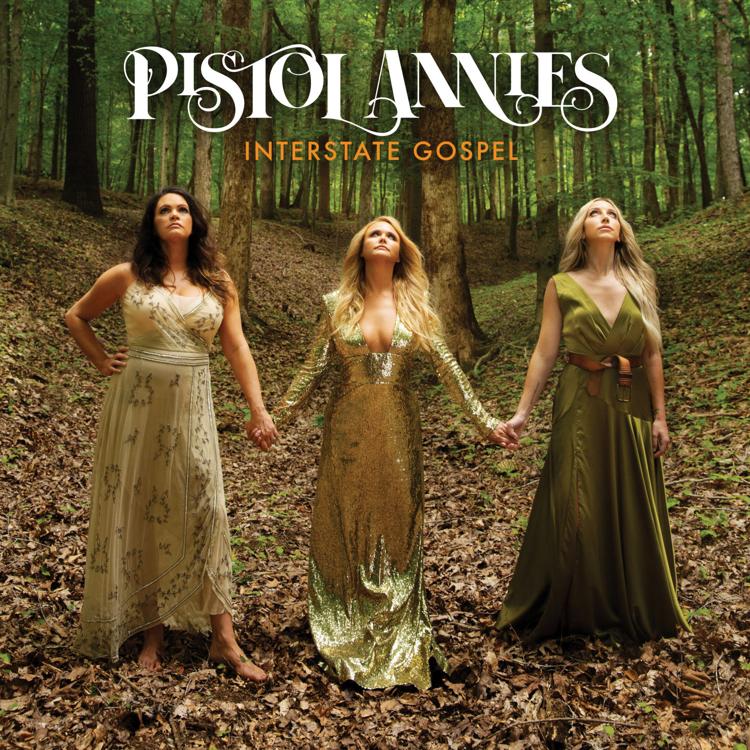 All three have solo careers. And even though the band is a huge critical and commercial success — their first two records were Top 10 on the Billboard 200 — their main formula is to have no formula.
"We don't ever talk about the technical stuff," Presley says. "Like, maybe we should do up-tempo or maybe it should have this fade. We just write songs."
"We don't even know when our next record will be, or if it will be or how it's going to sound or what it's going to sound like," Lambert says.
"We try not to think of any of the business stuff, nothing of that," Monroe says. "We just let the songs come. And then, once we have a big pile of songs, then we say, 'OK, this is what we have here.'"