Video Game Haiku Review - 'Sniper Elite V2 Remastered'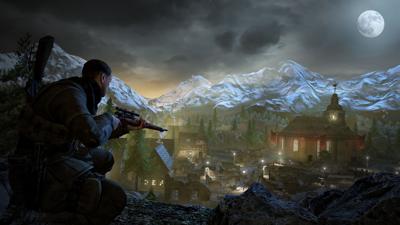 Title: Sniper Elite V2 Remastered
Format: PC, Xbox One, PlayStation 4, Nintendo Switch
Publisher/Developer: Rebellion
What is it? A remastered version of 2012's tactical shooter, "Sniper Elite V2." In the game, players take on the role of a World War II sniper and use stealth and strategic thinking to take down an array of enemies. New features in this remastered edition include enhanced visuals, improved multiplayer and includes all of the game's downloadable content.
Highs: Remastered video games can be a bit tricky proposition. They have to be done just right otherwise they can scare an audience away. Make too many changes and people won't recognize the original. Make too few and gamers will feel cheated. "Sniper Elite V2 Remastered" balances this precarious situation perfectly, managing to keep what made the 2012 version intact while dousing fans with quality content, all at an affordable price.
I've been a fan of the "Sniper Elite" series for awhile so I knew what I was getting into with this game, yet I was still struck with a sense of nostalgia as I remembered certain battles or where collectibles like gold bars or wine bottles were hidden. Of course, this doesn't look like the game I remember.
This newest iteration is stunning and performs great on my 4K TV. The X-ray kill cam, something unique to the series and a fan favorite feature, certainly benefits from the game's enhanced visual presentation. But so do simple things like buildings, vehicles and explosions. Everything just appears more vivid.
There are other new features that stand out (a fun to play with photo mode and new playable characters) but what makes this title truly enjoyable is the gameplay that resonated back in 2012. The "Sniper Elite" series provides some of the most intense and addicting sniping action you can find anywhere, and that's exemplified in this remaster.
Lows: While this game doesn't look it's age, there are certainly times when it feels like an older title. "SEV2R" controls work fine but manipulating your character isn't as smooth as it is in subsequent titles. Your in-game avatar moves a bit clunky, which he doesn't do in "Sniper Elite III" or "Sniper Elite 4."
The Grade: "Sniper Elite V2 Remastered" is a template for how to give an older game a freshened up feel without taking away its originality. If you enjoyed this title back in the day, you'll certainly want to jump back into the fray. If you've never played this game before, "SEV2R" provides a comprehensive sniping experience you won't want to miss. 


Gazette Media Columnist Terry Terrones is a veteran video game journalist. He has written for numerous publications including GamePro, GamesBeat, PC World, GameZone, and Official Xbox Magazine. You can follow him on Twitter at twitter.com/terryterrones.