GUNNISON • A peculiar, sweet sound drifts down Main Street.
Castle Creek Guitars is warmly lit and cedar scented, squeezed between the humble downtown's boutiques and bars. And inside, the owner cradles his creation.
"This is the Dobrato," Kent Viles announces, proudly introducing a dear friend, however awkward appearing.
It's got the look of the Dobro, the Gibson-owned resonator guitar with the wood body and metal plate at the base. Except the Dobrato is equipped with a tailpiece, a whammy bar lending the vibrato.
Viles, 65, plucks the strings and strums while lifting the bar with his pinkie, blending the chords. He waves it to send the notes dancing down a melodious stream.
The Dobrato crosses genres, bluegrass to jazz. It's capable of a tin twang to get crowds bouncing and a sad wail to hold them still in thought.
"What it essentially does is add a lot of feeling to your music," Viles says.
And it's been widely embraced in its early life. Born in his garage, the Dobrato has gone on to A-list celebrity. Mac McAnally, Jimmy Buffet's longtime guitarist, plays it in one picture on the wall, while Mike Campbell of Tom Petty and the Heartbreakers shreds in another. There's Mike Gordon wielding it on the funky Phish stage.
And there's fan boy Viles beside Jason Isbell last summer at Red Rocks Amphitheatre. The singer-songwriter took up the Dobrato to perform soul-filled numbers before Charlie Rose and Daily Show audiences last year.
Isbell discovered the strange instrument at Nashville's Corner Music "and bought it immediately, because it looked like the stupidest idea in the world," he says in an interview with Premier Guitar. "But when I got it home, I figured out that it really works."
Corner Music had been carrying the first, grayer prototype of the Dobrato since it caught the eye of a prominent producer on a visit to Gunnison. He dug it. He told Viles he'd have his friends at Corner Music call.
"I thought, yeah, sure, see ya, I'll never hear from them," Viles recalls.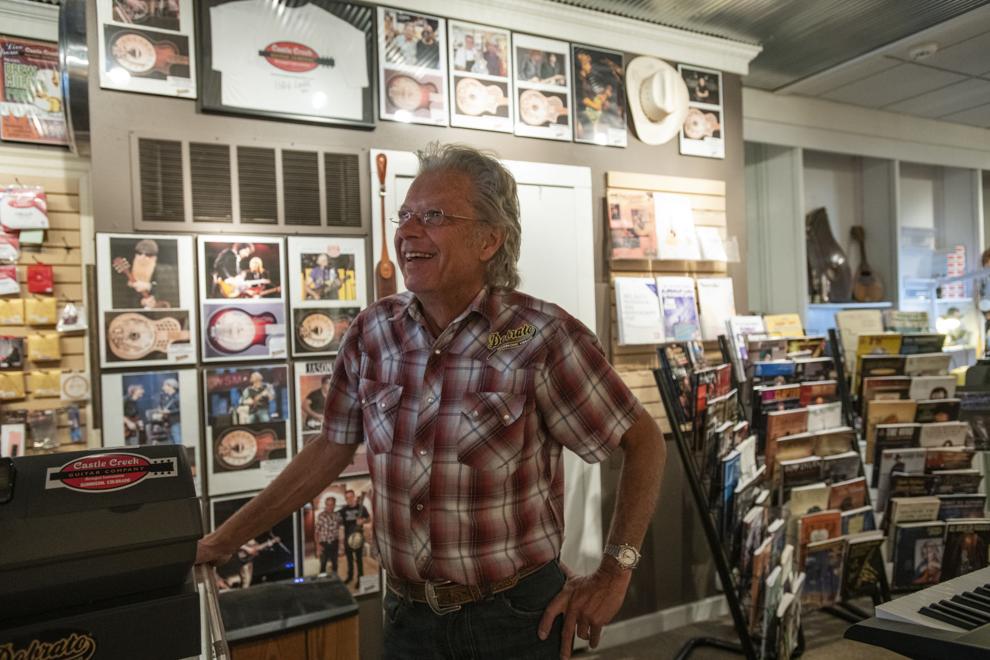 Then they called. Soon they ran out of stock, upsetting one customer, who took it upon himself to call Castle Creek Guitars.
Viles does his best Southern drawl: "I wuhnt ta buhy one of your geetars," said Billy Gibbons of ZZ Top.
"He starts giving me his credit card," Viles says. "He goes, 'That's B-I-L-L ... I'm like, 'Dude! I was listening to you in high school!'"
Viles was playing music well before then. For his first live show, he was 5, playing the ukulele for his mother's bridge club in Muncie, Ind. By middle school, he was on a rock tour of fraternities at Ball State University.
He honed his skills while attending Gunnison's Western State University, starting in 1971. "Everything he picked up, he could play it right away," recalls a classmate, Chris, who would be his wife four years later.
His favorite was jazz saxophone. He played it all around until life on the road took its toll.
Fortunately, he could stay around music. Throughout school he worked for a violin repairman, who upon falling on hard times decided to hand the shop keys over to his apprentice.
The entrepreneurial Viles had other ideas for the place. He knew a rock 'n' roll store could thrive in the college town, so he brought in the coolest axes of the day and amps and vinyl records.
But eventually, he noticed kids were far more interested in video games and computers. He held on to his belief that music will set you free.But eventually he felt forced to close.
Maybe he'd be like his dad after all. The old man was an electrician, and Viles thought of a return to those skills he was taught. He thought of adding fancy hookups to the fancy homes sprouting in nearby Crested Butte, and this proved to be a very profitable idea.
Then came the recession of 2008. Winter was harsh that year. Out of work, Viles went back to music, pouring himself into it again.
Fiddling around with a Dobro, he imagined how it would sound with vibrato. He started constructing in his garage until it got too cold, and then he moved into the utility room, and then the kitchen table.
"Is this ever gonna go anywhere?" Chris recalls asking herself.
The answer, as it turns out, is to the back of Castle Creek Guitars, where Viles now hand builds the Dobrato inside the storefront he moved into seven years ago.
The body's mahogany, the fretboard's rosewood, the brass and nickel of the plate, the strings and the tailpiece — it's all shipped to him, and he might spend four or six hours assembling the guitar so it's just right.
"They have to play like butter," he says. "That's my criteria."
He sold all 100 of the first prototype and all 100 of the perfected version after. He expects to have 100 more ready to go this fall.
"He loves what he does, and that's such an important part of life," his wife says. "He's so lucky."
Viles knows it. Which is why he's not thinking of retiring anytime soon, as he had maybe expected doing at this point in his life.
But life, he's learned, is all about the unexpected.
Here he is surrounded by pictures of famous people on big stages, playing his invention. There are also "all kinds of really skilled musicians that play the thing," Viles says, "but you don't know their names."
Those everyday people trying to make it — those are his people. "They do some of the coolest stuff."