The Television Critics Association, which I'm a member of, has two tours during the year. The first tour of the year is the winter tour, which is held at the Langham Hotel in Pasadena. The purpose of these tours is provide TV critics a chance to talk to network executives, producers and actors to ask questions about existing series or learn about upcoming ones.
We're here to get as much information as we can about something everyone does - watch television. 
During the tour there's a number of panels, interviews, set visits and the occasional cocktail party. Think of the TCA tour like comic con, except there's only about 250 critics and there's absolutely no clapping when people come on stage. We are critics after all, not fans. 
The winter tour started last week but I've only been here since yesterday. Wednesday was all about Fox programming. Here are the highlights from today.
Executive Session
Fox got the day off with a humorous start.
CEO Charlie Collier came out in a hippo mask, similar to what you'd see on the hit series, "The Masked Singer." But surprise! It actually wasn't Collier, it was actor Jonathan Banks ("Breaking Bad," "Better Call Saul") pretending to be Collier. Fox lives up to its reputation as a fun-loving network.
After a short introduction, Collier answered a number of questions about "Rent" (No understudy for the actor who broke his leg?), whether the network would reboot "Melrose Place" (they'd consider it for any Fox property) and the upcoming Disney takeover which will lead to Fox becoming Fox Entertainment ("It's like working for a start up.")
There were also several announcements. "The Simpsons" was renewed for two more seasons, its 31st and 32nd. Fox also announced a new one-hour drama in development called "Talent," here's a synopsis:
When Nicole Dane wakes up in a hospital, she learns she is the sole survivor of a tragic accident that claimed the lives of 148 people. As rumors around her "miraculous" survival begin to swirl, Nicole discovers she has inherited the talents of those who perished. Armed with these new abilities, she must use her second chance to bring closure to their unfinished stories and solve the mystery of the accident, all while trying to escape a past that continues to haunt her. Based on the graphic novel series, TALENT is a visceral, yet emotional, mystery about redemption and human connection.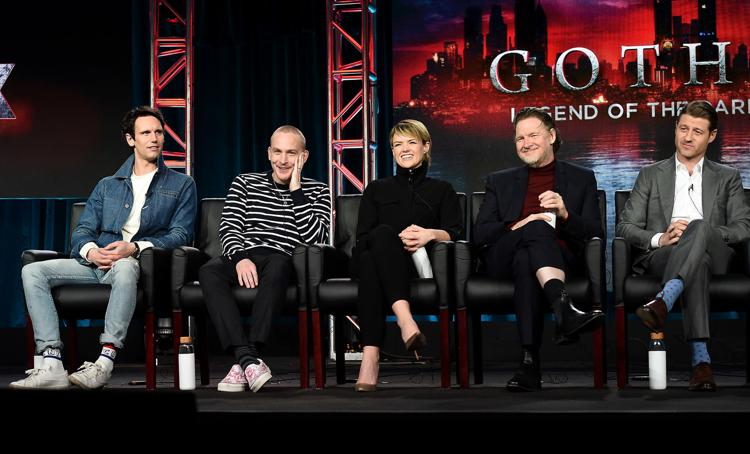 Gotham
The series wraps up in April so there were a lot of questions about what viewers can expect before the show ends. Critics were given a preview, with the series taking a 10-year jump forward.
We will see Batman in his full outfit. David Mazouz will be Batman, at least under the cowl. There will also be someone who fills out the suit a little more like Batman fans would expect. This means we'll see Mazouz as the face of Bats, with someone else playing the body. Considering young Bruce Wayne's current physique, this makes a lot of sense. 
The highlight: "The one thing I learned from Bruce Wayne is you can do anything if you set your mind to it," David Mamouz reflecting on what he's learned about being Bruce Wayne.
Then Mamouz gave an example of how he was at the doctor's office and was reluctant about getting a shot. Then he reminded himself that Bruce Wayne would do it and he took his medicine.
There were all sorts of hints to what kind of surprises viewers can expect to see at the end of this series (particularly interesting was what happens with Barbara Kean) but I won't spoil it here. I'll miss "Gotham," and it seems like it'll go out with bang.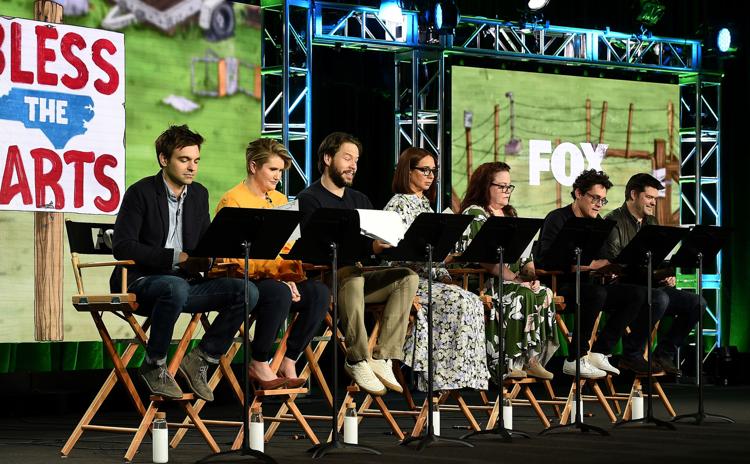 Bless the Harts
Next up was "Bless the Harts," an upcoming animated series that focuses on a family from North Carolina. The half-hour comedy features the voices of Kristen Wiig, Maya Rudolph, Ike Barinholtz and Jillian Bell.
The show is created and executive produced by Emily Spivey ("The Last Man on Earth," "Parks and Recreation," "Saturday Night Live"). Phil Lord and Christopher Miller are also executive producers.
Critics were introduced to the series with a table read of the first episode performed by the actors, with the exception of Kristen Wiig who wasn't present. Her character was read by Emily Spivey.
The table read was pretty funny and if the dialogue makes it through censors, surprisingly wild.
The highlight: When asked about the series animation style, Phil Lord deadpans, "It's all stills." Emily Spivey would later say, "King of the Hill."
Spivey would also go on to say that to her, "King of the Hill" and "Bless the Harts" live in the same universe. She was clearly a big fan of Mike Judge. In fact, she even asked Judge if she could use Megalomart from "King of the Hill" in her series and he said yes.
The Masked Singer
I don't think anyone has expected "The Masked Singer" to be as big a hit as it is, including Fox executives. So it makes sense for Fox to end their day of panels with this new reality singing series. 
The panel started with a screening of tonight's episode. I'd like to tell you who's out tonight but I've been sworn to secrecy. 
After the screening was a panel for "The Masked Singer" where they answered a number of lingering questions.
For characters, production came up from a wide range of identities and performers could chose something that spoke to them. Others asked to have their own ideas created. 
A question about the performances was asked. Everyone has to sing live, but producers were questioned if autotune was used. Execs mentioned that background singers were used but overall avoided answer the question if there competitors were given any vocal enhancements. 
A couple other questions answered: Most masks aren't as hard to get off as it seems (except for Terry Bradshaw's), the audience is present during the reveal (they all sign NDAs), the judges were asked what their costume would be (only Jenny McCarthy answered, saying cheeseburger), the contestants don't know who the other competitors are, the audience is mostly friends and family of the crew and staff, season two is already in production but new singers have not been selected yet and producers are still debating whether the series will air once a year or more frequently.
The start date for season two has not been determined yet.  
Coming up - There's a cocktail party tonight. I usually score some interviews from that. If you have a favorite Fox actor or show runner you want to hear from, hit me up on Twitter at @terryterrones and let me know.  
Gazette media columnist Terry Terrones is a member of the Television Critics Association and the Broadcast Television Journalists Association. You can follow him on Twitter at @terryterrones.