Greetings from Beverly Hills! I'm here for the summer TCA tour. It's the biggest, longest and most significant biannual television event you've likely never heard of.
The Television Critics Association, which I'm a member of, meets twice a year. It's an opportunity to get up close and personal with showrunners, producers and actors to learn more about the TV programming coming soon to the small screen.
The summer tour lasts 17 days but I'm just here for four. Today is a PBS today, tomorrow will be all about "Star Wars" (more on that later), Thursday is a CBS day and Friday is for Showtime. Here's part one of PBS's Tuesday presentation.
"Raúl Juliá: The World's a Stage"
The first panel for me today was for "Raúl Juliá: The World's a Stage." Most only recognize Juliá for his role as Gomez Adams in the "Adam's Family" movies but his distinguished career consisted of much more than that.
Edward James Olmos, a close friend of Juliá's, was quite passionate about both Juliá and the role of latinos in the world of entertainment. Juliá, a diverse actor, was one of the entertainment industries latino leaders and role models.
In an age when some latino actors disguised their heritage by changing their name to avoid being typecast, Juliá embraced his Puerto Rican ancestry and insisted on always being himself. Olmos and fellow actor Esai Morales shared stories of Juliá, who was like a brother to both.
The conversation was fascinating and it was a reminder of what an under appreciated performer Juliá was. The documentary arrives at the 25th anniversary of Juliá's death. Below is a synopsis of the doc which premieres on Sept. 13.
AMERICAN MASTERS and Latino Public Broadcasting's VOCES join forces to present the first documentary about Raúl Juliá, the brilliant and charismatic actor whose magnetic work on stage and screen took the world by storm. Juliá's journey from his native Puerto Rico, to the creative hotbed of 1960s New York City, to prominence on Broadway and in Hollywood, was one of passion, determination and joy – a groundbreaking career tragically cut short with his untimely death. This revealing portrait features Rita Moreno, Edward James Olmos, Anjelica Huston, John Leguizamo, Jimmy Smits, Rubén Blades, James Earl Jones, Andy Garcia, Esai Morales and more.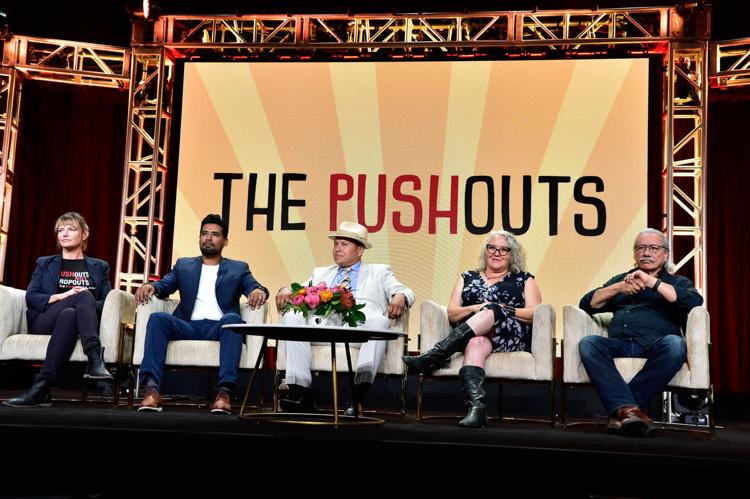 "Voces: The Pushouts"
The next panel was for "Voces: The Pushouts," which focuses on the life of Victor Rios, who was a three-time felon by the age of 15. Rios's story is fascinating and highlights what's possible when young people who've made mistakes are given an opportunity to straighten out their lives.
A synopsis of "The Pushouts" is below. It premieres Sept. 20.
"I was in prison before I was even born." So begins the story of Victor Rios, a high school dropout, Oakland gang member and three-time felon by age 15. But when a teacher's quiet persistence, a mentor's moral conviction and his best friend's murder converge, Rios's path takes an unlikely turn. Twenty years later, Rios, by then an award-winning professor, author and expert on the school-to-prison pipeline, rejoins his old mentor to work with young people who have been pushed out of school for reasons beyond their control. Featuring footage filmed over more than 25 years, "The Pushouts" weaves Rios's inspiring dropout-to-professor narrative with stories from YO! Watts, a youth center serving 16-24 year-olds who are out of school and out of work.
"McCarthy"
Four panelists came out to discuss this two-hour documentary on former Wisconsin Sen. Joe McCarthy, who would go on to have a one of America's most negative colloquialisms, McCarthyism, named after him.
McCarthy's easily understood, highly repeated message impacted a large number of people who were afraid of an enemy they didn't really understand. During the Cold War, McCarthy followers acted irrationally and believed outright lies, which prevented many from doing the right thing, mostly separating fact from fiction.
Some of the topics brought up during the panel President Eisenhower's unusual strategy dealing with McCarthy, the impact and damage of McCarthy's lies and how his influence is reflected in the politics of today.
"McCarthy" premieres on Jan. 7, 2020. Below is summary of the documentary.
"McCarthy" chronicles the rise and fall of Joseph McCarthy, the Wisconsin Senator who would test the limits of American decency and democracy. Free of restraint or oversight, he conducted a crusade against those he accused of being Communists and enemies of the state, a chilling campaign marked by groundless accusations, bullying intimidation, grandiose showmanship and cruel victimization. Finally, after years in the headlines, he was brought down by his own excesses and overreach. He died a broken man, but his name lived on. For more than half a century, it has been linked to an all-too-familiar phenomenon, the modern-day witch hunt we call McCarthyism.
"Woodstock: Three Days that Defined a Generation"
A complete change of pace was the "Woodstock" panel. A brief preview of the film, which premieres Aug. 6 and comes out on the 50th anniversary of the legendary concert, shows colorful people just looking to have a good time. And I do mean colorful. If you google Wavy Gravy and the Hog Farm you'll come across the most definitive group of hippies you could imagine. Of course they're featured in the documentary.
The size and scale of Woodstock is mind-blowing, even 50 years later, so the short excerpts I've seen really caught my attention. I'm looking forward to watching the entire documentary.
Gazette TV critic Terry Terrones is a member of the Television Critics Association and the Broadcast Television Journalists Association. You can follow him on Twitter at @terryterrones.