Greetings from the walk-in freezer, I mean the Beverly Hilton International Ballroom. This hotel is literally my home away from home and I love coming here but the ballroom is mysteriously kept at a frosty -23 degrees. I'm currently dressed like Sir Edmund Hillary during his Mt. Everest climb.
I suppose that could be a slight exaggeration as my iPhone doesn't have an app that can tell the temperature (Does that exist?) but I think that's a conservative estimate. But I digress.
Let's get to today's TCA day, which is all about CBS's new programs. I've seen every new series CBS is premiering this fall and much like every other network, there's some with potential ("The Unicorn"), some that are dreadful ("Carol's Second Act") and some that have promise or could get cancelled after one season (the poorly named yet intriguing "Evil").
Before we get to CBS's new slate of fall shows, there was an executive session with CBS president Kelly Kahl and senior executive vice president Thom Sherman where they addressed the network's long-running diversity issues, made announcements on new series and answered questions.
Executive Panel
Kahl and Sherman opened up with a number of announcements. Kaley Cuoco, star of "The Big Bang Theory," is producing a series for the network called "Pretty." It's a single camera comedy about a woman who wants to be the next Oprah. The network also announced a new series by David E. Kelley called "The Lincoln Lawyer," based on the novel of the same name. It's going to debut during the 2020-2021 season.
Execs also strived to point out the inroads they've made on the issue of diversity and inclusion. They mentioned that 54% of their shows writers are women or people of color as are 50% of directors. Despite these announcements, critics were still tough on the two execs.
Questions frequently came up regarding "Bull" star Michael Weatherly's lack of consequences for his behavior on set and the treatment of minority contestants on "Big Brother." This included one African-American reality show contestant that was asked to behave and talk in a more stereotypical manner. Kahl and Sherman mentioned that Weatherly and the showrunner for "Bull" are both undergoing leadership counseling. In regards to "Big Brother," execs said that all producers undergo "unconscious bias." As you might expect, critics weren't impressed with these responses.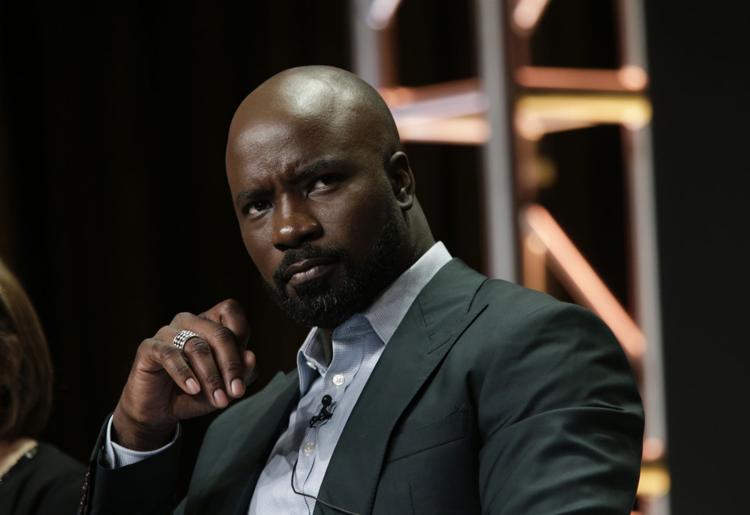 "Evil"
From the creators of "The Good Fight" and "The Good Wife" comes "Evil," the pilot of which felt like a horror version of "The X-Files." The series blends the supernatural with the psychological and stars Mike Colter ("Marvel's Luke Cage"), Katja Herbers ("Westworld"), Michael Emerson ("Lost") and Aasif Mandvi ("Blue Bloods").
I'm not really a fan of the horror genre but the psychological and supernatural elements in this series blend in a fascinating way. I enjoyed the pilot, even though it also had some moments that were terrifying. One issue I had with the pilot is the name. "Evil" just feels a bit too direct. After the panel I asked Robert King, who created the series with his wife Michelle, about the series name.
"We were effected by 'The Good Wife' which always felt like a soft title," said King. "And we were looking for something that was a little harder edged and would explain what we were after. And you're right, one word titles are more direct but with the 'V' it felt like it's something you could do a diagram with because it's such a sharp letter, visually."
So it sounds like the Kings wanted something to point and the image of the "V" in evil gave the rougher look the wanted. It makes sense but I'm not sure if the name serves the show that well for audiences. "Evil" premieres Sept. 26.
"The Unicorn"
The CBS sitcom "The Unicorn" focuses on a man named Wade (Walton Goggins). He's a widower and dedicated father to two girls. From the show's perspective, a man who's a good father, is single, attractive and doesn't sleep around is viewed as a unicorn by single women. The concept came from a friend of Mike Schiff and Bill Martin, producers on the show, who went through a similar situation to the main character of Wade.
Walton Goggins, known more for his roles as questionable characters, seems to be an odd choice for a sitcom like "The Unicorn." However, he pointed out himself onstage that this character is quite similar to himself and they have much in common. Seeing him on a panel it's clear that's true. Goggins appears to be a lot like Wade, who in the pilot is kind, thoughtful and honest. Goggins has gone through divorce and has a son and relates to the character. This is quite a testament to Goggins, who seems nothing like that in so many other roles.
The pilot was humorous and engaging, although seeing the normally rough around the edges Goggins in a wholesome role took some getting used to. Producers confirmed "The Unicorn" won't be a show only focused on Wade's dating life, so his daughters and friends should give the series plenty of other strong storylines. "The Unicorn" premieres Sept. 26.
"Carol's Second Act"
"Carol's Second Act" works in theory but not in execution. The story of an older person reinventing themselves and taking a risk by making significant career and life changes later in life sounds promising. However, this isn't the program to provide inspiration to people looking to do just that.
Of all the new fall series I've seen this fall, "Carol's Second Act" is the one that most lacked creativity. Unfortunately for this show, the panel was considerably more humorous than the pilot. This is shame consider the strong cast assembled for this series. "Carol's Second Act" premieres Sept. 26.
Gazette TV critic Terry Terrones is a member of the Television Critics Association and the Broadcast Television Journalists Association. You can follow him on Twitter at @terryterrones.