The PBS TCA day continues. Here's the breakdown from the second half of the day.
"Octopus: Making Contact"
Octopuses are fascinating creatures, which was well illustrated during the panel for "Octopus: Making Contact." An actual octopus was on stage and a short clip featuring David Scheel, an octopus expert and Alaska Pacific University professor and his teenage daughter Laurel, who had one as a pet, really emphasized how intelligent an octopus can be.
One of the more unusual things Laurel mentioned was that her pet octopus, named Heidi, liked to watch TV, particularly sitcoms. This quickly drew a laugh from the room full of TV critics.
"Octopus: Making Contact" debuts in October. Below is brief synopsis of the program.
"Octopus intelligence is well documented. They are able to navigate complex mazes, use tools, learn from each other and solve all kinds of puzzles. Octopus behavior has gone viral on the internet, showcasing their escape artistry with their ability to body morph and use camouflage. What is new in the world of octopus research is the extent to which these intelligent animals are individual personalities – able to recognize faces and interact with other individuals – all of which is an odd adaptation for an animal thought to live an asocial existence. NATURE follows this new science through the story of a pet octopus named "Heidi" and her evolving relationship with a passionate American marine biologist and his teenage daughter. Professor David Scheel of the Alaska Pacific University in Anchorage links his discoveries to octopus findings from all over the world and explores how we and a creature so different from us could have so much in common."
"Now Hear This"
Scott Yoo, Chief Conductor and Artistic Director of the Mexico City Philharmonic is the host of an interesting new upcoming miniseries called "Now Hear This." He was on hand to talk about this limited, four-episode program, where he travels across Europe to check out the influences of four famous composers. You'll hear some beautiful music and get an in-depth look at the thought process of four masters.
I don't listen to too much classical music but this miniseries seems to be part travel show part music documentary and looks quite engaging. Scott Yoo, a Juliard graduate, said that even though he's a professional musician, he learned a lot of surprising things while making this series. That's a ringing endorsement.
Check out the synopsis below. "Now Hear This" premieres Sept 20.
"Journey across Europe to discover how composers Bach, Vivaldi, Scarlatti and Handel created their timeless masterworks in a four-part miniseries. From legendary concert halls and backstreet jazz clubs to historic music schools and obscure archives, host Maestro Scott Yoo, chief conductor and artistic director of the Mexico City Philharmonic, encounters music virtuosos, local artists, artisan instrument makers, scholars, students and fans. Each episode is dedicated to a famed classical composition and proves how each piece is relevant to the culture of today."
"Much Ado About Nothing"
Set in contemporary Georgia, this version of Shakespeare's comedic masterpiece stars an all-black cast. Filmed at an outdoor theater in New York City's Central Park, "Much Ado About Nothing" is a unique take on a classic story.
Critics were given a short preview and it was quite funny. There's no premiere date for it yet but I'm certainly intrigued after sitting through the panel.
"Retro Report"
The PBS series is born from the website of the same name that takes a look at news stories from the past and shows their connection to the present. Topics previewed included climate change, experiments conducted in the 1950s that predicted our addiction to smart devices and how a discredited study in the 90s lead to a resurgence of measles decades later.
A view of "those who forget history are doomed to repeat it" was a bit of a theme for the panel. That said, this isn't a series strictly about hard news. "New Yorker" columnist (and much to my surprise) the co-creator of the "The Fresh Prince of Bel-Air" Andy Borowitz adds a dose of levity to the serious stories being told.
The idea of looking back at how things led to unexpected places was mentioned several times. An example Borowitz, an Ohio native, gave was the "Retro Report" team looking into the Cuyahoga River catching on fire due to massive amounts of pollution. This would eventually lead to the formation of the Environmental Protection Agency by Richard Nixon. These stories, where you learn more about a story you might have heard of before and learn about its impact today, is what this series is aiming for. Throw in some humor and you have unusual type of PBS program.
"Retro Report" premieres Oct. 7.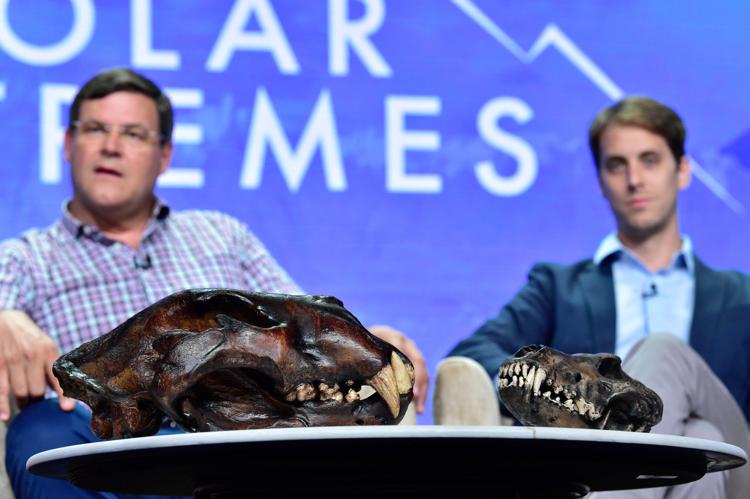 "Made in Boise"
The unofficial surrogacy capital of the United States is surprisingly Boise, Idaho. One panelist featured in the film "Made in Boise" has had six babies. The first two were her own and then she carried four others. In one instance, she became pregnant six months after giving birth.
I don't know much about surrogacy but those numbers, and the fact that Boise is a growing market in the surrogacy community, were surprising.
Of course, that's also one of the goals of the film - to inform viewers about the issue and its importance. As someone uninformed about the topic, I found the panel intriguing. Especially because the panelists felt so strongly about the topic. A couple of times panelists even teared up with talking about surrogacy.
"Made in Boise" premieres Oct. 28.
"Polar Extremes"
Hosted by paleontologist Kirk Johnson "Polar Extremes" premieres Feb. 5, 2020. The two-hour film goes on a journey around the world, finding fossils in what seem to be all the wrong places.
An example was brought to the TCA stage by Johnson, who had the skull of an American lion and a dire wolf on display. They were on loan from the La Brea Tar Pits Museum and were used to emphasize what kind of animals lived in the Los Angeles area. Granted, that was 12,000 years ago but that's also the point of the series. By studying the past you just might get a glimpse of our planet's future.
Some of the more interesting facts pointed out were that dinosaurs once lived by the South Pole and that Death Valley has rocks that could have only been placed by glaciers. The tease for the film was impressive.
"No Passport Required" and "South by Somewhere"
Celebrity chefs Marcus Samuelsson and Vivian Howard were on stage to discuss their PBS series. Both have a focus on American cuisine but with a twist.
In season two of "No Passport Required," Samuelsson is visiting six different cities and checking out food from the immigrant communities in each one. The cities he's visiting include Seattle (Filipino), Houston (West African), Philadelphia (Italian), Boston (Portuguese), southern California (Armenian) and Las Vegas (Chinese).
The series "South by Somewhere" is focused on food from the south. Howard, with a strong accent, is from the region but takes a tour of the south to learn even more about it. Air dates for these series haven't been released yet.
Gazette TV critic Terry Terrones is a member of the Television Critics Association and the Broadcast Television Journalists Association. You can follow him on Twitter at @terryterrones.