Today was all about Fox programming. As usual, it started with an executive session with Fox honchos Dana Walden and Gary Newman. Then there were panels for "9-1-1," "The Passage," "Proven Innocent," "Last Man Standing," "The Cool Kids," and "Rel." A number of previously unannounced series were also unveiled.
Also, as usual, was a bevy of food. Fox always goes all out when it comes to keeping critics fat and happy. Although most of us were in that condition before the Fox panel anyway. Here are the highlights from today.
Executive Session - New reality and scripted series, the Apu controversy and being bought out by Disney
Dana Walden, later joined by Gary Newman, opened by discussing Fox being bought by Disney. There weren't a lot of details but here are a few. Fox, which Walden called New Fox, said they'd be able to run their own house. They can choose their own shows and more or less run independently, although they are part of Disney and some management restructuring will take place. Walden announced two new shows are in production - one starring Kaitlin Olson and Leah Remini, the other with Liz Meriwether and Lake Bell. Walden also stated producers of "24" are working on two new spinoff concepts, one of them a legal drama.
Walden introduced three new reality shows. "Mental Samurai" is a game show hosted by Rob Lowe. A press release described it as an "obstacle course for the mind," whatever that means. "The Masked Singer," hosted by Nick Cannon. More on this is below. "Spin the Wheel" is executive produced by Justin Timberlake and hosted by Dax Shepard is a pop culture game show.
Walden and Newman addressed the Apu controversy. Their point of view? They're going to let Jim Brooks and his team deal with it. As studio heads, they could have taken any position they want but "The Simpsons" is a different kind of franchise. It's been on forever and makes a ton of money for Fox. It's an odd situation, but I'm almost certain (and I'm only basing this on my own gut instincts) the character is going to be retired, without being nudged to do so by management. I think we've seen the last of Apu Nahasapeemapetilon.
"9-1-1"
Connie Britton is no longer on the show, she was only signed to a one year contract. Jennifer Love Hewitt has been added as a 911 operator, playing Buck's sister. Britton's character of Abby could return in a cameo or some other way, but right now she's not scheduled to be. Britton is one of the leads of the upcoming Bravo series "Dirty John," which also stars Eric Bana so her availability is probably limited. Another addition to the cast is Ryan Guzman, who plays Eddie Diaz, a firefighter on the series.
The most interesting moment of the panel came when Aisha Hinds (Hen Wilson on the show), recounted a story of how she was shot by a stray bullet when she was 16. It surprised the audience and some of her co-stars, who had never heard the story before. A man with a gun was chasing another man in her neighborhood and was firing away. She was shot in the back and lost a kidney. 
Season two outlook: I'm a big fan of this series and based on the preview shown to critics the second season gets off to a thrilling start. I'm excited to see how season two turns out.
"The Passage"
This new series stars Mark-Paul Gosselaar as someone who recruits death row inmates to be part of medical testing and experimentation. This testing eventually leads to the end of humanity. The series is based on a series of novels written by, Justin Cronin, who was present and is also a co-producer. He seems to understand that the show will be heavily adapted, but still based on the novel. Cronin sees himself as a novelist, not a television producer, so he's more of an advisor.
The most memorable moment of the panel came when Saniyya Sidney, who plays Amy Bellafonte, a child on the series, was asked about working with Mark-Paul Gosselaar. Sidney didn't know about Gosselaar's acting history, so when she was told about him being Zack Morris she didn't know who it was. Sidney stated the only Zac she knows is Zac Efron. Sidney would later go on to admit that she recently started watching "Saved by the Bell."
Season one outlook: I thoroughly enjoyed the pilot and think this is probably Fox's best new series. It's always hard to tell how a show will perform based on the pilot, but I believe it'll do well.
"Proven Innocent"
This legal drama focuses on a team dedicated to defending people wrongly accused of a crime. The most surprising news from this drama is that Kelsey Grammer has been added to the show, replacing one of the previously cast actors. The roster for this series is impressive, with Russell Hornsby, Nikki James, Vincent Kartheiser, and Riley Smith in strong supportive roles, the cast stands out. And I've always been a fan of lead actress Rachelle Lefevre, who's quite underrated.
Season one outlook: I've seen the pilot, pre-Kelsey Grammer, and wasn't that impressed. It was a bit too preachy and formulaic. However, with Grammer added I'll give it another look once the pilot has been re-shot. He could just be a difference maker for this series.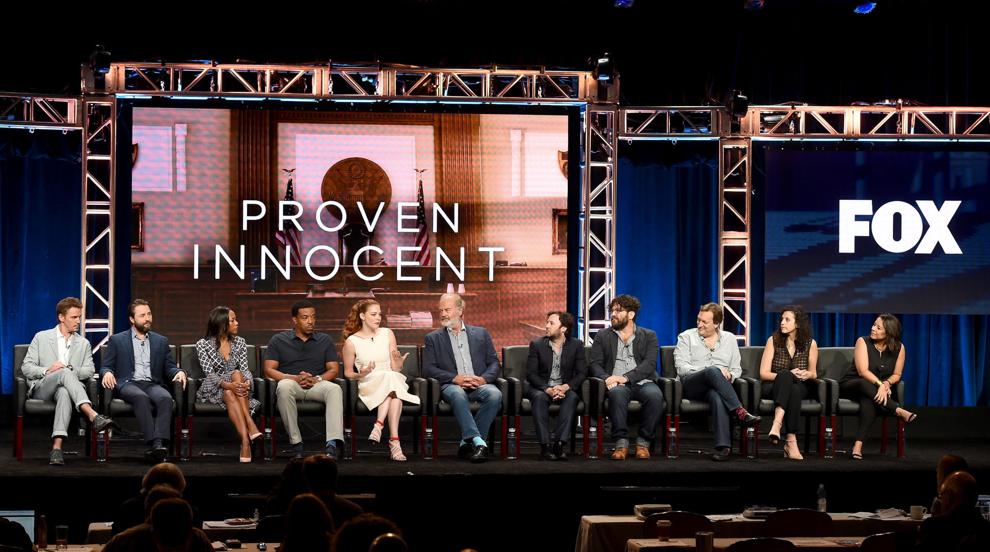 "Last Man Standing"
"Last Man Standing," which had a six season run on ABC, has now moved over to Fox. The first question asked of the cast was whether Tim Allen's character would be discussing Donald Trump. Allen, who's from Denver which is where the show is set, is conservative. The topic of an outspoken conservative on a sitcom is a hot one, with the Roseanne Barr situation fresh on everyone's mind. Allen was quick to point out that he isn't his character, who really only cares about politics in terms of how it can help his business. During the executive session, Fox honchos Gary Newman and Dana Walden were also asked if the president would be brought up in the series and said no. Executive producers Matt Berry and Becky Clements echoed this.
Season seven outlook: While I'm not the demo for this series (my parents love this show), I'm sure it will find success on Fox as its audience transfers over from ABC.
"The Cool Kids"
This new series, co-created by Charlie Day ("It's Always Sunny in Philadelphia") focuses on four senior citizens played by Martin Mull, Leslie Jordan, David Alan Grier, and Vicki Lawrence who all live in the same retirement community. During the panel, there were a lot of comparisons between this show and "The Golden Girls," both by panelists and by critics. I've seen the pilot and aside from the four leads being seniors and the show being a sitcom, there really aren't that many similarities, so it's a pretty lazy comparison.
The best quote from the panel came from Vicki Lawrence. When asked about if seniors are able to stay, um, intimate, she answered, "I play a lot of these retirement homes and they are busy out there ... smoking the weed and (playing) around. In retirement, there's no way you're going to get knocked up."
Season one outlook: The panel for "The Cool Kids" was great. All four of the leads are funny, especially Leslie Jordan who will likely be a viewer favorite. I'm also a big proponent of giving older actors a vehicle in which they can shine. Hollywood is not good at providing actors over 50 many opportunities (unlike the BBC, but that's another story), so "The Cool Kids" is refreshing to see. That said, the audience for this series is going to be quite niche. I'm uncertain if it'll find a large enough viewership to be given a second season.
"The Masked Singer"
"The Masked Singer" was just announced this morning. This celebrity singing competition series premieres in January and features celebrities facing off against each other. The twist is, the singers are completely unknown because they're wearing an elaborate costume. The series is hosted by Nick Cannon, with Nicole Scherzinger, Jenny McCarthy, Ken Jeong, and Robin Thicke serving as panelists who try to guess who the celebrities are behind the mask.
According to a Fox press release, celebrity competitors have earned a total of 65 Grammy nominations, 16 Emmy Award nominations, and 4 Super Bowl titles. This seems exactly like something Von Miller would do. And since it's already been taped, that's certainly possible. The series was first developed in Asia and has been a viral hit on YouTube. "The Masked Singer" has 12 singers competing against each other, with one singer revealed each week through elimination.
The panel ended with an actual competitor coming out in full costume, dressed as a golden lion. Her voice was disguised as she answered a couple questions but the gimmick worked. Now I want to know who it is.
Season one outlook: I enjoy "Lip Sync Battle," "To Tell the Truth" and shows of its ilk where celebrities compete against each other for fun. This series looks to add an air of mystery to the genre. I'll certainly check it out when it debuts in January.
"Rel"
This series is inspired by the life and comedy of Lil Rel Howery. It also stars Sinbad (a University of Denver alum), Jordan L. Jones and Jessica "Jess Hilarious" Moore. Jerrod Carmichael is an executive producer. When asked by a critic if he's concerned about getting criticism the series multi-camera format, which is known for being derivative, Carmichael answered, "I just want to make a show that doesn't f&%&ing suck." Sadly, that's not the case based on the pilot for "Rel" I viewed.
Season one outlook: For producers of the show, aspirations for "Rel" are high. Unfortunately, the premiere doesn't match the lofty goals of its producers. I found the pilot predictable and unfunny. If the premiere was as entertaining as the panel, I'd have a lot more hope for this series.
What's coming next?
Friday is an FX day. I'll post another travel log soon but for even more inside info you can follow me on Twitter (@terryterrones) or Instagram (terronesterry).
Gazette media columnist Terry Terrones is a member of the Television Critics Association and the Broadcast Television Journalists Association. You can follow him on Twitter at @terryterrones.