This is the latest in a series profiling Pikes Peak region and Colorado Springs-area bands.
Inaiah Lujan and Desirae Garcia harmonize beautifully on their first full album as in/PLANES.
The sweetly smooth track "Say You Want Me Too," for instance, is a crooner that conjures doo-wop, soul and vintage pop.
"Radio Wave" (Grouphug Records) is the first non-EP release from the talented husband-and-wife team, who have been making music as in/PLANES since 2013.
At the same time, the Pueblo couple have been furthering previous project the Haunted Windchimes with Lujan's sister, Chela, and Mike Clark. That band has been playing traditional folk, blues and gypsy music since 2006. It developed a huge following in the West and recorded three studio and two live albums. According to Lujan, the Haunted Windchimes are not done yet.
But his and Garcia's project with drummer Carl Sorensen, in/PLANES, is a different animal altogether.
"We're taking some time off from the Haunted Windchimes. We had our last show May 20, and now we're taking a breather," Lujan said.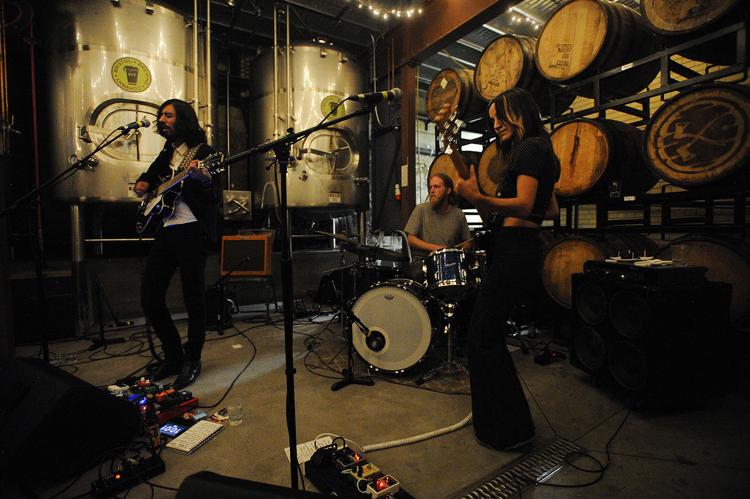 In/PLANES has been around since 2013, but the band "really started hitting it pretty hard the past couple of years," he said.
Sorensen also has been playing with the Haunted Windchimes.
While the Haunted Windchimes' music feels more like Americana, in/PLANES' sound is a mix of soul, rhythm and blues, and "midcentury rock 'n' roll," Lujan said.
"To me, this band has been more like the periphery, and now we're dedicated to it. I feel like in/PLANES is just getting there, for sure," he said.
Garcia added, "It's a bit like starting over."
To promote "Radio Wave," the band spent the summer on the road, touring mostly on the West Coast, with Oregon-based band The Harmed Brothers and later with New Orleans act Pony Hunt, with stops in the Midwest including Chicago and Kansas City. In August, they played the Whispering Beard festival in Friendship, Ind., and this month they are touring extensively in California.
"We're just excited to get new music out there, and this album seems to be attracting a new following," Lujan said. "We're excited this will reach new audiences and open up possibilities in new places."
They released the nine-track album "full of love songs" on 100 limited-edition cassette tapes (yes, cassettes, as in 1980s music vehicles). Those have sold out, but the album is available digitally through iTunes, Spotify and Apple Music. The tapes, which came with a digital download of the album, were a nod to mix tapes Lujan loved to put together, once upon a time. He's not a huge fan of the CD format.
"We have a follow-up EP release planned for early 2019 and another full-length around summertime 2019," he said.
Lujan and Garcia started dating about the time the Haunted Windchimes started and later married.
"I found out she could sing, and we started a band," Lujan said.
When it comes to songwriting, "we pride ourselves on being minimalist, we embrace the space," he said. Sorensen also helps arrange tunes.
Music and art are the couple's full-time occupation. Garcia is a ceramicist and owner of Sew&So Pottery in Pueblo. Lujan is a graphic designer. Sorenson, who's been called "Denver's hardest-working drummer" by Westword, is a member of a few Denver bands, including Dragondeer. He's been making music full-time since 2010.
"We all live off of art," Lujan said.
Goals for in/PLANES: "We've taken more time to be intentional about our goals. We already have enough material to release a follow-up recording," Lujan said. "We're working on a publishing contract to get our music into television shows and commercials. We want to find different avenues for our music. When it comes to streaming, you want to put yourself in a position to get the maximum revenue."
Garcia said, "The music industry has changed so much in the last two decades. It's all about placement."
The long-term goal is to tour in other countries.
In Colorado, in/PLANES plays mostly in Denver clubs and occasionally in Pueblo. "Denver definitely fills our music community at the moment," Lujan said. The band performs in Colorado Springs about once every three months, most recently on June 10 at Ivywild School.
"We've been integrating into this (Colorado Springs) area for so long, people may know us better than they think they do," Garcia said.
(Check their website, inplanes.com, and Facebook page for updated show listings.)
Genre: Soul, R&B, rock, "vintage pop"
Members: Desirae Garcia, guitar, vocals; Inaiah Lujan, guitar, vocals; Carl Sorensen, drums
Number of gigs per year: 100+
Plays mostly at: Denver venues Syntax Physic Opera, Bluebird Theatre, Lost Lake Lounge and the Hi Dive; also, Brues Alehouse Brewing Co., Pueblo.
Albums: Single, "Hallways" (2017); Five-song EP "Everything EP" (2018); "Radio Wave" (2018)
Listen: "Say You Want Me Too," off "Radio Wave," recorded at Colorado Public Radio's OpenAir — goo.gl/zn5zeo
Buy: iTunes, Spotify, Apple Music
Next show: Check their website