Q&A: Actor Jerry O'Connell talks about his fun new series, "Carter"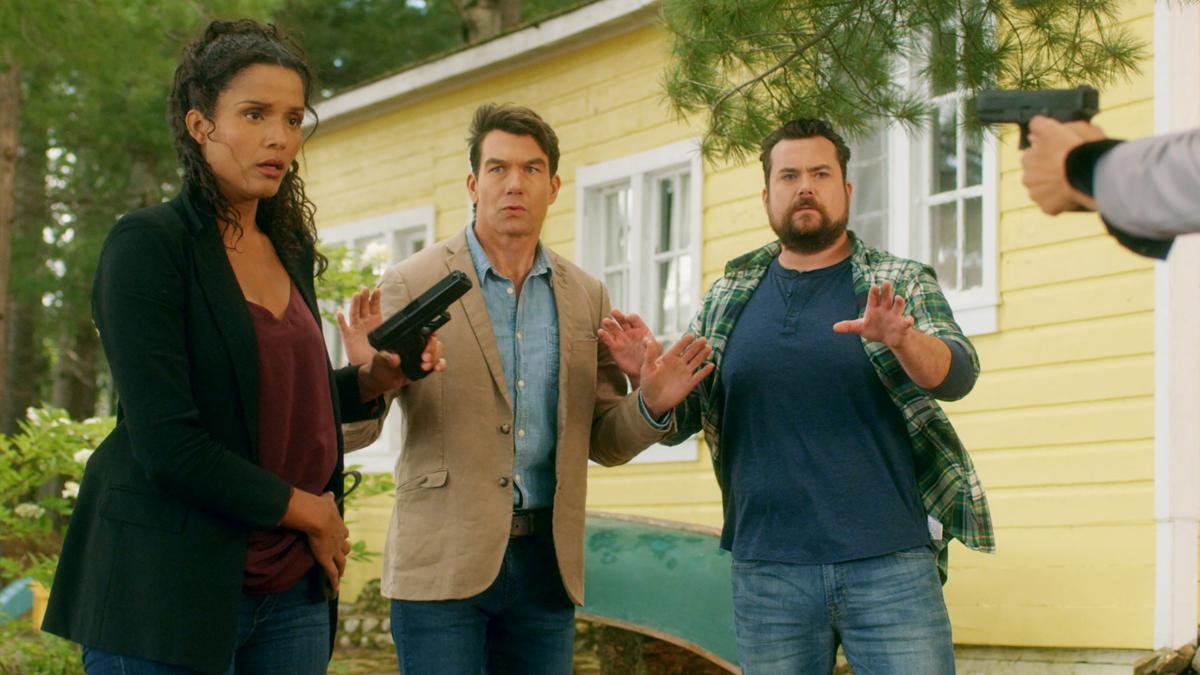 Recently I sat in on a conference call with actor Jerry O'Connell ("Stand by Me," "Sliders," "Crossing Jordan"). The veteran actor has shown his versatility in film and television for decades. He's now starring in a new TV series, "Carter," that premieres next week on WGN America. In the series, O'Connell player Harley Carter, an actor who plays a cop but believes he can be a detective in real life when he goes back to his hometown. You can read my review of the series later this week. Below is a transcript of the conversation.
Q: Is Carter looking to rehab himself as a person, like his character personally, or is he trying to just rehab his image in the public? What motivates him to kind of go down this path?
O'Connell: It's funny, I don't think it's a way to rehab his image. He hasn't done anything damning, I don't think. I think it's more rehab for his soul, sort of go home.
I will say this, where we shot in Northern Ontario, oh, man, it was almost like rehab for my soul, it's so gorgeous. It's just lake country in Northern Ontario. It's a town called North Bay. It's super gorgeous and calming and soothing, and everyone was so happy that we were shooting there. I'm just not used to that. I'm used to shooting—not to call out cities, but I'm used to shooting in the city where people are always yelling at you for shooting in front of their store or blocking their driveway with a camera truck. It was just so refreshing to film in such a non-hostile environment. It really became sort of like a character in the show, the fact that we were shooting in a small town, and North Bay is just such a cute, quaint place.
But I don't think my character's trying to fix his image. I think it's more about him getting his head straight.
Q: I'm a huge "Sliders" fan. I know it's a bit of a dated reference, not really applicable to what we're talking about today, but I—
O'Connell: It's funny, I was trying to get on a flight and I was a little bit late, and I was like, oh man, I'm going to have to take the next flight, and the guy at the desk said, no, we can get you on this flight. I mean literally the flight was leaving in 35 minutes. He put me on that early flight and then I made it through the security and I finally got to the gate, and it was the same guy who was at the ticket counter at the gate. I gave him my ticket and I said, "Hey man, thanks for getting me on this flight. You didn't have to do that." He went, "Hey man, I was a huge 'Sliders' fan." Can't believe Sliders is 20 years later getting me on flights. It really made me laugh. Hey, there might be a reboot. There's been a couple of phone calls made.
O'Connell: Yes. No phone calls returned, but a couple phone calls made.
Q: My question for you regarding Carter is, I've seen you in a lot of different roles but Carter is a little bit different. How much of you is in Harley Carter?
O'Connell: Man, it's so embarrassing to say, but a lot of Carter is like me. Thankfully, I'm not as vain as the character of Carter is. He's always worried about how he looks in situations, or that could just be my version of Garry Shandling's old joke, "How does my hair look?" Harley Carter is a television actor. I'm a TV actor. I like to think Carter is a little more obsessed with himself than I am. I'm not wearing makeup right now and I have a feeling that Carter is always wearing, not a lot, but some form of makeup when he leaves the house, at least concealer.
Q: What is it about this series and the character in particular that appealed to you when you looked at the project?
O'Connell: I think it's just because I'm, A, a fan of all these procedural shows. I've admittedly seen every episode of "Monk." I loved "Castle." I thought Stana and Nathan just had the best rapport. I'm a huge "Moonlighting" fan. Dave and Maddie were the best. I think it's like Carter pays homage to all those shows, but it's even a little more inside because what if someone who works in and grew up watching all those sort of procedural homicide shows, what if they helped solve crimes?
It's just like the jokes really made me laugh. When I'm explaining to the cops that the one who did it is going to be one of the suspects that we met earlier that we didn't think did it, that's always the case, and then it doesn't turn out that way. Then everyone's like, see, it's not all like television. But then in the twist it does turn out that it's them and I go, ha-ha, I told you. It just really made me smile and I thought it would make a fun hour of television.
Q: As one of the executive producers, do you approach the series differently than you did just on a show that you weren't involved on the other side in?
O'Connell: No. First of all, I was shocked that they did that (ed. note: O'Connell is referring to getting an executive producer credit). I think it just happens. When you get older, I think they have to do it eventually. I didn't even ask for it. To be honest, I didn't even know what was happening until it happened. I think it's just because I'm on set all the time. I'm just there and I don't really do anything with that position. I think it's just something they give you when you get old, it's like a participation trophy.
I wish I could tell you how busy I was and how, yes, this is all part of the plan, and we all—I sit down and we really map out the entire season. I'm not sure why they gave that to me. I guess I'm supposed to get cards made. I guess I'm supposed to go to Kinko's and go get some cards made up that say like, Jerry O'Connell, Producer, but—
Q: You haven't been stuck in drama or comedy, and now you're doing animated films, talk shows—what is your secret? How have you avoided being typecast as one thing or another?
O'Connell: I don't know. It's funny, I'm getting ready to start work while we're here talking about Carter, which airs on WGN America Tuesdays at 10. Everyone's excited. I'm starting to work on this sort of Bravo show where we're going to sort of talk about highlights of what happened that week in the Bravo verse. Oh man, and it's going to be so fun for me because while I love all the shows on WGN America, I really do love me some Bravo. I watch every Housewives show. I go deep. I go "Below Deck." I watch "Shahs of Sunset." I'm just a huge fan and we're going to have so much fun doing a show talking about it.
One of my coworkers here was like, hey how did you first get into this racket? It really happened because of Kelly Ripa. Before there was any sort of—when it was Regis and Kelly, if people recall, Regis had a heart procedure or something, where he took some time off. It was really Kelly Ripa who was like—I was doing a play here in New York—hey, come on the show. I had known her a little bit ironically through Andy Cohen, through Mr. Bravo himself. She said, hey come on the show. We need some co-hosts while Regis is on leave. I went in a bunch of times.
It was just like blind luck that I did it and I really enjoyed it. I really enjoyed—it's so easy when you do it with Kelly Ripa. She's just such a natural and just so amazing at bringing the best out of anyone she's on screen with or anyone she's with, period. It was really Kelly Ripa that sort of got me into—I didn't even realize I could—that was another avenue of the entertainment industry that I could do.
I thought I'd just go on auditions and get acting jobs, and it was really Kelly Ripa that really not only first asked me to do it, but then encouraged me to keep doing it. While I act in a scripted show like Carter—and I love doing it and I have a good time there—man, it's going to be also another passion of mine to talk about what's going on with "The Real Housewives of Orange County" because, man, that's like my hard news.
Gazette media columnist Terry Terrones is a member of the Television Critics Association and the Broadcast Television Journalists Association. You can follow him on Twitter at @terryterrones.