Peaks N Pines' Fountain expansion began with a vision and, perhaps, selective blinders.
The structure now housing the new brewery — Fountain's first — wasn't always so sweet on the eyes.
It didn't say craft beer so much as scream 1980s bus garage.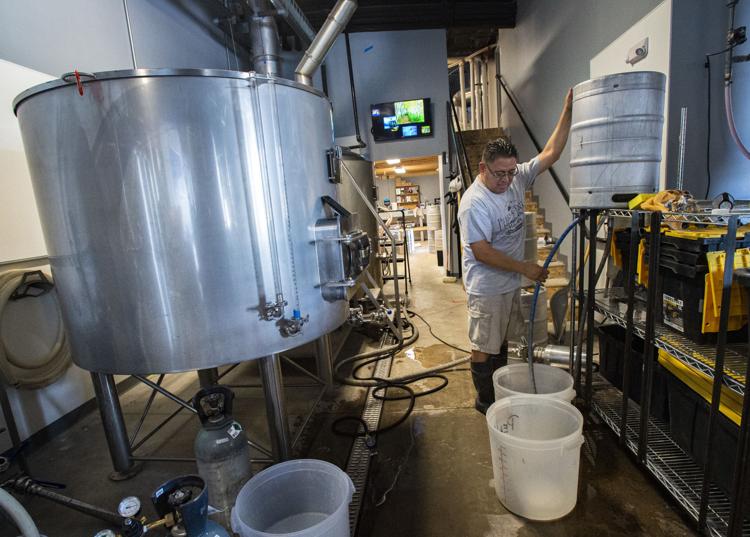 "It was a dumpy old metal building, mechanics and tow companies," said co-owner and general manager Teresa Vieira, whose brewery celebrates a grand opening Saturday. "And the parking lot was a mess."
But Vieira and the PNP team saw beyond the utilitarian bones at 212 W. Illinois Ave., to a new home base with boundless potential and a panorama on Colorado history. Literally.
In the wee hours of a May morning in 1888, a runaway freight train loaded with 17,000 pounds of dynamite slammed into a passenger train, triggering an explosion that shook the city like an earthquake. The "dreadful disaster" killed three people, leveled buildings and damaged nearly every house in town.
"The blast, the train wreck, it was right there," said Vieira, pointing to the tracks running just west of the brewery. "We wanted to tie into that, the history of this area, so we're doing one room as a train theme."
After a nearly $400,000 remodel, the place still has lots of garage doors. The style holdovers stop there, though.
"These two in the middle, you can sit on either side at a poured concrete bar top," Vieira said. "It's 150% transformed."
Vieira and her husband, co-owner and brewmaster Paul, and a team of partners opened the original Peaks N Pines in 2015, brewing on a three-barrel system and serving patrons in a 1,600-square-foot space on Tutt Boulevard in northeast Colorado Springs.
The Fountain location now houses the main brewhouse, with a 10-barrel system and 4,000 square feet for beer-making and seating, not including the patio.
"This equipment is three times bigger than what we had. And as for space, we're almost 2.5 times bigger," Vieira said. "We can do more keg filling for personal and restaurant. That's kind of what spurred some of our growth is that we were getting requests for our beer that we just couldn't fill and be able to still serve our customers in the taproom."
Vieira said upgrades are planned for the Tutt location, so the loyal patrons who helped build the business don't feel left out of the love.
"It's either never sell beer in restaurants or never grow, and that wasn't the direction we wanted to go," she said. "It's not been a cheap excursion, but it's come out so nice."
Eventually, it'll be even nicer.
The leased property flanking the BNSF Railway is part of a urban renewal project that will change the look and vibe of downtown Fountain. Long-term plans by the city include turning Illinois Avenue into a dead-end road just west of the brewery, and creating a north-south pedestrian area extending to Aga Park, said Kimberly Bailey, executive director of the Fountain Urban Renewal Authority.
"We'll create two activity areas with a pedestrian corridor connecting them," Bailey said. "We bought it in 2016 because we knew the type of dwelling it had can be used in multiple uses. We didn't know it was going to be a brewery when we bought it ... (but) it fits in regards to offering a new lifestyle service for the community. Colorado is well known for its craft breweries and the sense of place they provide. This is us filling that void for our community."