The store's shelves are so pretty that owner Kit Hutchinson sometimes can't help it. There needs to be a "shelfie" taken.
Each level is perfectly organized, yet overflowing with colorful items, from candles to prints to mugs to greeting cards. The tables have a similar look, as Hutchinson often has to play a version of Tetris to fit everything. Plants seem to sprout from everywhere, and more dangle from above hanging branches.
There was a time, just three years ago, that Heartshake Studios was empty. That's when Hutchinson came up with a vision for the shop.
"I asked myself, 'How do I want people to feel?'" Hutchinson said. "I wanted them to feel a little bit magical. Like they walked into this other little world."
In other words: "Just very good vibes."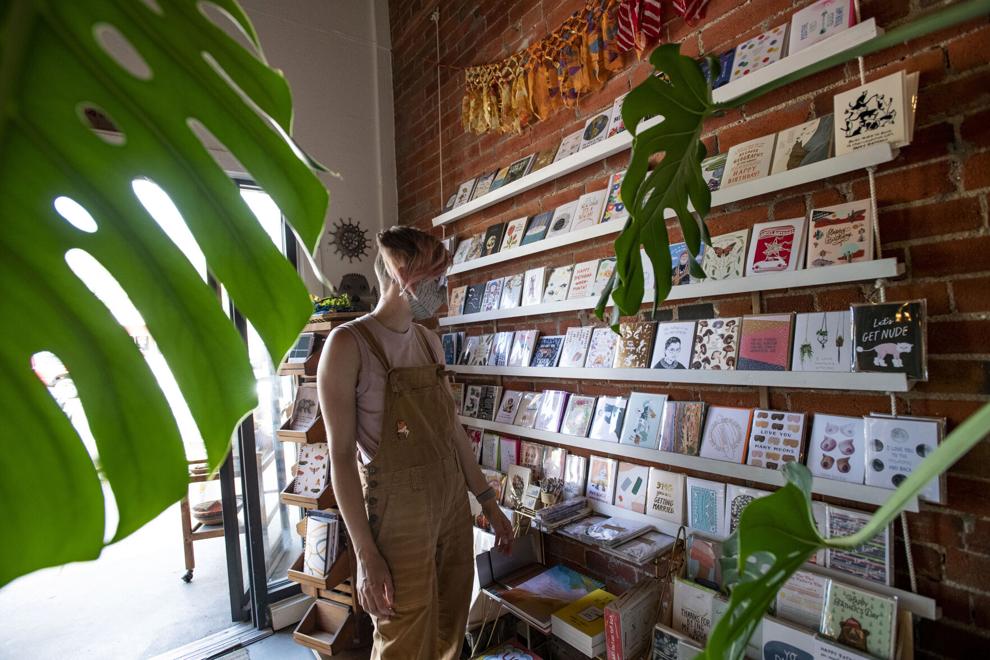 The Old Colorado City store offers a mix of Hutchinson's creations, as well as oodles of products from Colorado makers and brands from across the country. As a self-described maximalist, each nook and cranny of the shop is full of pretty things.
Here's a sample of the eccentric things you might find: macramé plant hangers, a book with the title "A Cat's Guide to Money," a bottle opener in the shape of an astronaut and dinosaur coloring books. "The more you walk around, the more you'll find," Hutchinson said. "It's kind of like a treasure hunt."
Along the way, you'll find Hutchinson's work, like decorative deer antlers and art prints of animals or cacti.
Art has always been around for the native of Portland, Ore. The artsy kid turned into a college art student and then, for a couple of years, a middle school art teacher.
"I started to think about how I could work art into a career without just being an artist, because that sounded scary," Hutchinson said. "As a 22-year-old in 2010, it was not a good time to just be an artist."
Then there was a part-time job at a boutique shop in California. Which left room for a side hustle in the form of an Etsy shop, selling art and handmade crafts.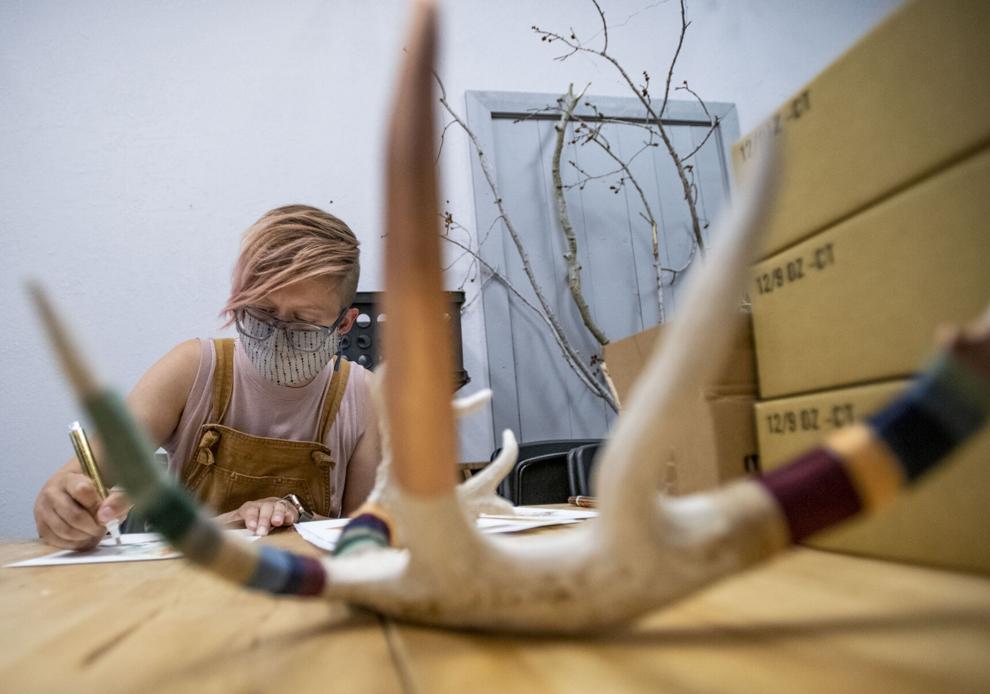 Hutchinson got some wholesale clients for the antlers, which are wrapped in stripes of colorful felted wool and painted with metallic copper leaf. Soon, Hutchinson had a new dream: owning a store.
In July 2018 came a move to Colorado Springs because Hutchinson's husband got a teaching job in the area.
By August, Hutchinson signed a lease for the store. And by October, Heartshake Studios was open.
You'll find a lot of Hutchinson's personal style inside, meaning lots of color, natural elements and bohemian-esque items.
"I like things that have heart to them," Hutchinson said. "You can feel the maker's hands on them."
Plus, the store houses Hutchinson's studio, where Hutchinson is often working on new gouache illustrations that are turned into prints or tea towels.
One cute example is a Father's Day card showing an illustration of a papa bear and his cub. Hutchinson also does some fine art photography.
All of this is somewhat of a far cry from how Hutchinson started out: as a fine oil painter who created abstract nudes.
"It was not quite as commercial," Hutchinson said.
The 33-year-old has long been on a search to do what Hutchinson loves while making money. With Heartshake Studios, even during the challenges of the pandemic, Hutchinson has found that.
"I want to be a safe, happy haven," Hutchinson said. "It's just a happy place."