Matt Farmer's culinary roots are clearly Cajun.
The new executive chef at Phantom Canyon Brewing is a recent transplant from Louisiana.
"I grew up in New Orleans," he said. "I have Creole in my blood. I've worked in several eateries around Louisiana. I went to the culinary school at Delgado Community College in New Orleans."
Farmer and his girlfriend were headed to Denver, but when they passed through Colorado Springs, they preferred the closer proximity to the mountains and decided to make the city their home.
He will be overhauling the menu at the downtown brewery at 2 E. Pikes Peak Ave. "You can expect to see gumbo and other Louisiana dishes," he said.
Wine dinner winners
When Jay Gust, owner/chef at Ascent Restaurant Group, puts out the notice for one of his Pizzeria Rustica Passport dinners, you better act quickly. To say they are popular is an understatement.
Not only are the five-course dinners reasonably priced at $59 (plus tax and tip), a portion of the proceeds benefits a nonprofit. Brian Blasnek, executive chef at Pizzeria Rustica, 2527 W. Colorado Ave., and Tapateria, 2607 W. Colorado Ave., gives the wood-fired oven a workout, delivering creative dishes that pair beautifully with featured wines.
Next up is Passport to Northern Italy at 6 p.m. Tuesday. It will benefit Happy Cats Haven. Reservations can be made at Coaltrain Fine Wine, Craft Beer and Spirits, 475-9700.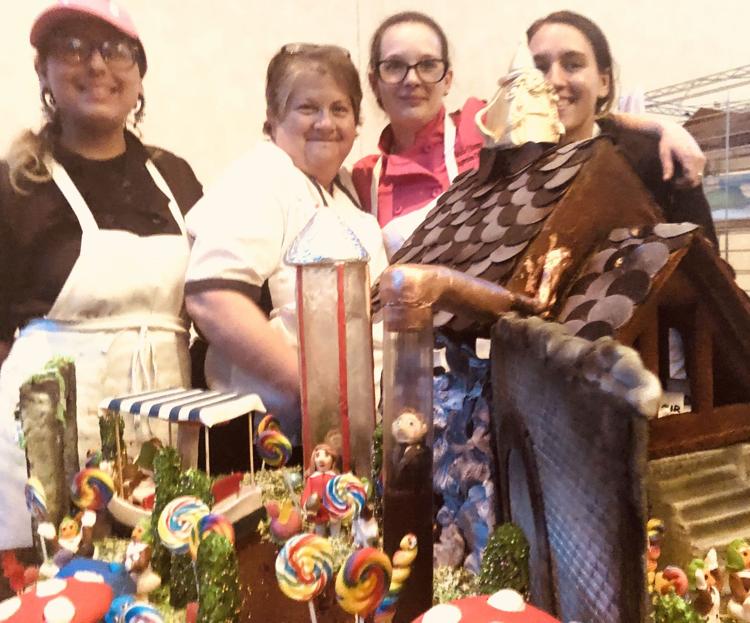 Sweet competition
Early Connections Learning Centers' Gingerbread & Jazz 25th Silver Anniversary Ball, held last week at The Broadmoor, was an exquisite event. The gingerbread decorating contest featured teams from Hotel Elegante, Phantom Canyon, Icing on the Cake and The Sugarplum Cake Shoppe & Bakery.
Judges were Heidi Trelstad, Chef Sugars; Michelle Asher, former bakery owner; and yours truly.
While all four teams performed well, Phantom Canyon won top honors from the judges while The Sugarplum Cake Shoppe took home the people's choice.
New wine
Patrick and Krystyna Garnier, owners of La Baguette French Bistro, 4440 N. Chestnut St., will have their Beaujolais Nouveau dinner from 5 p.m. to 9 p.m. Nov. 21. For $49.50 (plus tax and tip), you get soup, salad, choice of boeuf au Beaujolais Nouveau, Poulet chasseur au vin du Beaujolais or salmon beuree rouge, and dessert. Two glasses of 2019 Georges Duebeouf Beaujolais Nouveau are included. Details: 599-068, labaguettefrenchbistro.com.
Pop-up dinner
Susanna Maestas, owner of Susanna's Comfort Cuisine, will offer a five-course Classic French Cuisine dinner for her monthly pop-up event at 6 p.m. Nov. 22. Cost is $65 (plus tax and tip) and includes three drink pairings. Reservations required at susanna@susannacomfortcuisine.com.
Crab special
Fresh jumbo stone crab is being featured at Carlos' Bistro, 1025 S. 21st St. It will be available for a limited time. Details: 471-2905, carlosbistrocos.com.