Jax Fish House and Oyster Bar, 11 S. Tejon St., has officially opened. And I must say what's going on at the fish-centric eatery is praiseworthy.
Sheila Lucero, executive chef, has been in town a few weeks training the culinary crew to ensure her recipes are executed to perfection. After a recent dining experience, I can give a hearty shout-out for Lucero's bold flavors and unique techniques she combines for award-winning dishes.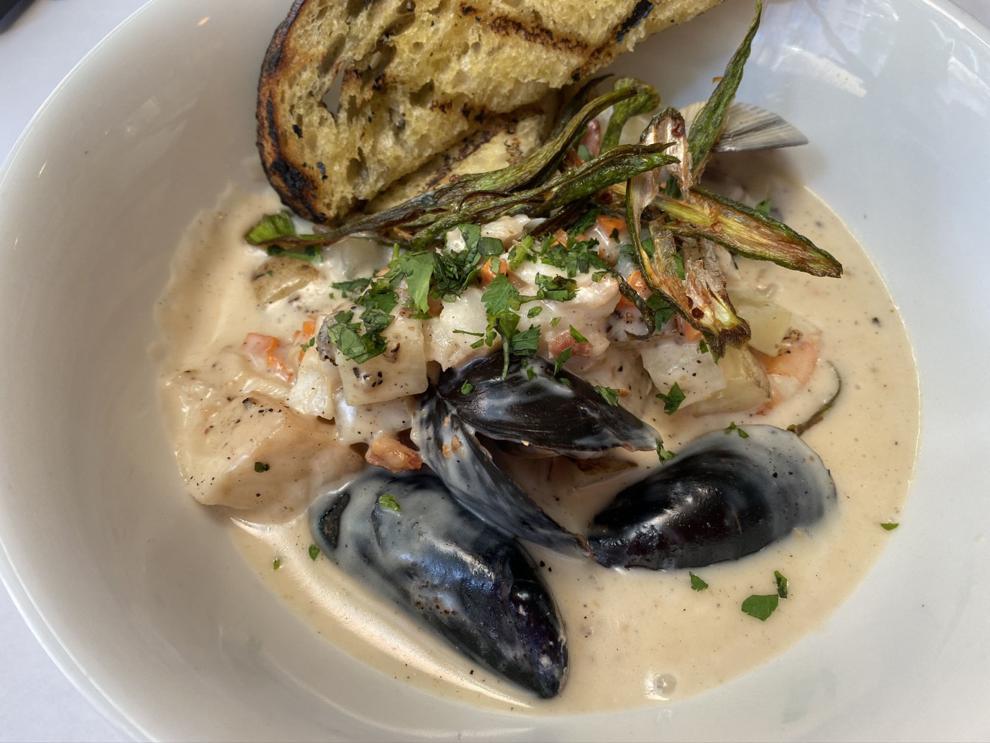 For instance, it was interesting to learn of the details that go into making the Jax Caesar Salad ($7 for half, $14 for large). The baby romaine was as fresh and crisp as you could ask for. The dressing was creamy yet light, with a kick from whole-grain mustard. What really stood out were the croutons. The bread was deliciously crunchy on the outside and slightly moist inside. You could actually taste the bread. It wasn't just a thoughtless, flavorless, greasy bricklike cube on the salad, so common at many cafes.
"Croutons are often not thought about," said Dave Query, owner of Big Red F Restaurant Group. "We make fresh croutons daily so they are not standing around for days drying out."
Query opened the first Jax location on Pearl Street in Boulder 25 years ago and has since opened outposts in Denver's LoDo neighborhood, Glendale, Fort Collins and Kansas City, Mo. These successful dining establishments — with more to come — say something about his know-how for hiring and keeping outstanding employees, like Lucero.
He hired Lucero when she was still a culinary student in 1998. Jax has earned acclaim under her guidance, winning Best Seafood Restaurant in 5280 Magazine, Westword Magazine, City Search and the Rocky Mountain News. Not surprising, with her culinary talent and interest in sustainable fishing practices, Quary named her executive chef in 2009.
Ready for Lucero's food?
Don't miss her Lobster Mac N Cheese ($36), a large bowl of cheese-bathed pasta topped with a buttery, poached lobster tail finished with truffled breadcrumbs and amazing, mild-flavored, house-made pickled mustard seeds. Also, the Thai steamed mussels ($17), an appetizer, will not disappoint with the exotic, spicy flavor of bivalves floating in the fiery curry sauce, topped with candied coconut, thin wheels of red Fresno chiles and cilantro. The dish is easily shareable or large enough to be an entree.
Hours are: 11 a.m. to 10 p.m. Monday through Friday, 10 a.m. to 10 p.m. Saturday, 10 a.m. to 9 p.m. Sunday. Dinner is at 4 p.m. daily. Happy hour 3 to 6 p.m. daily and all night Mondays. Brunch 10 a.m. Saturdays and Sundays. Details: 357-4554, jaxfishhouse.com.
Chow down on crawfish
Robert Brunet, owner of Momma Pearl's Cajun Kitchen, has a soft opening of his new place at 162 Tracker Drive, in the Polaris Pointe Shopping Center behind Bass Pro Shop, with half-price specials 6 to 10 p.m. Friday. Reservations only at mommapearls.com for this event.
His famous crawfish boil will be back on the grand opening of his new operation at 11 a.m. Saturday.
"We are getting 300 pounds of crawfish shipped in from Louisiana," he said. "No reservations for crawfish boils. It's first come, first served. We will be doing Sunday starting Jan. 26."
The restaurant previously was in the Rockrimmon neighborhood at 6620 Delmonico Drive.