"Godzilla vs Kong"
Cast: Alexander Skarsgard ("Big Little Lies") Millie Bobby Brown ("Stranger Things"), Rebecca Hall ("The Town"), Brian Tyree Henry ("Atlanta"), Julian Dennison ("Deadpool 2"), Kyle Chandler ("Godzilla: King of Monsters"), Demian Bichir ("The Hateful Eight"), newcomer Kaylee Hottle
Airs: The film premieres in theaters and on HBO Max on Wednesday.
The premise: Kong and his protectors are on a journey to find his true home. However, they quickly find themselves in the path of a perturbed Godzilla. The clash between the two apex titans begins to unravel a mystery that lies deep within the Earth's core.
"Godzilla vs Kong" is directed by Adam Wingard ("The Guest," "Your Next") from a screenplay by Eric Pearson ("Thor: Ragnarok") and Max Borenstein ("Godzilla: King of Monsters," "Kong: Skull Island").
Highs: "Godzilla vs Kong" is epic — epic in size, scope and ambition. Big, loud and brash, it's exactly the type of kaiju film fans of Godzilla and King Kong have been waiting for. It's the full-course dinner being served after the appetizers of "Kong: Skull Island," "Godzilla: King of the Monsters" and the 2014 reboot, "Godzilla," which started off tasty but left a bad taste in your mouth.
The movie begins with Kong waking up in what appears to be a tropical paradise. When he arises, he does what most of us do. A bit groggy, Kong gets up and stretches, scratches his butt and takes a shower.
The story of the film is told primarily through the giant ape's eyes and it's easy to see why. Although enormous and incredibly strong, Kong just wants what any human would want — to feel at ease and not be pestered by tiny critters creeping around his house. Kong is essentially a homeowner with an insect problem.
Unfortunately for Kong, his home on Skull Island has been limited to a man-made containment facility. The powers that be have decided that, for everyone's safety, he has to be hidden from Godzilla. Since the events of "Godzilla: King of the Monsters," the giant lizard has been keeping an eye out for any threats and keeping the two separated is paramount. Naturally this plan won't last.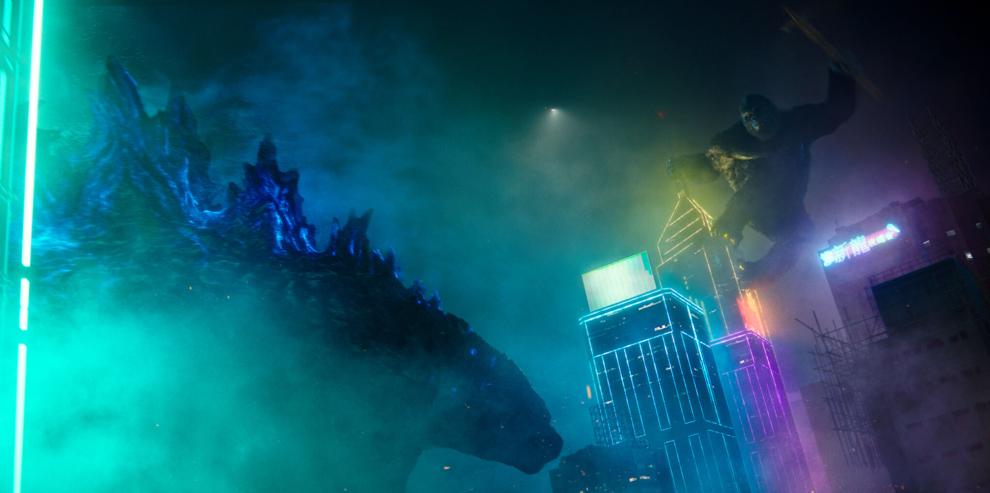 Eventually Kong has to be moved and this is when the action of "Godzilla vs Kong" kicks into high gear. Previous films in the series have offered some great kaiju battles, but this movie finally gives people what they want, Godzilla and Kong going toe-to-toe, which they do multiple times.
The settings for these massive fights change, but the results are always the same — colossal clashes, plenty of destruction and a lot humans running for cover. Each battle manages to intensify the action, wrapping up with a climactic matchup that will leave Hong Kong destroyed and fans feeling like they've just left an all-you-can-eat buffet.
The final act offers a clear answer to who rightfully owns the monster crown. It also provides a surprising overtime battle that longtime Godzilla aficionados are sure to appreciate.
Lows: There actually are humans in "Godzilla vs Kong" but only two of them shine. Brian Tyree Henry plays a conspiracy theorist who does a good job of moving the plot along while adding touches of humor. Newcomer Kaylee Hottle, a deaf actress, plays an orphan named Jia, the one person who can communicate with Kong. She helps add a sense of humanity to the titan and is impactful whenever onscreen.
The rest of the cast, however, is just scene filler. Get ready for a lot of shots of worried faces and people staring in awe.
The plot of "Godzilla vs Kong" follows two storylines and, while serviceable, each has a Swiss cheese level of holes. But let's be honest, when watching a movie like this the real protagonists are the monsters; the machinations of puny humans have minimal value.
Grade: (A-): While it has some minor flaws, "Godzilla vs Kong" is a ton of fun. Massively entertaining, this film has a fight card you won't want to miss.
Gazette media columnist Terry Terrones is a member of the Television Critics Association and the Critics Choice Association. You can follow him on Twitter at @terryterrones