Meteorologist Jeff Matthews, who joined KOAA-TV in 2017, is no longer employed by the station. His departure was confirmed Monday by station marketing director David Reeve. 
Although KOAA provided no additional information, Matthews move comes after a Twitter controversy that erupted on April 20, when a post he wrote received widespread criticism.
Matthews' tweet stated: "having spent a ton of time in hospitals/rehabs for my mother, I can say factually, you r correct. Nurses=not what the used to be, Its all cell phones, gossip, cards. Patients routinely have to make 3-5 requests for things to get done. If reverse, things wud change."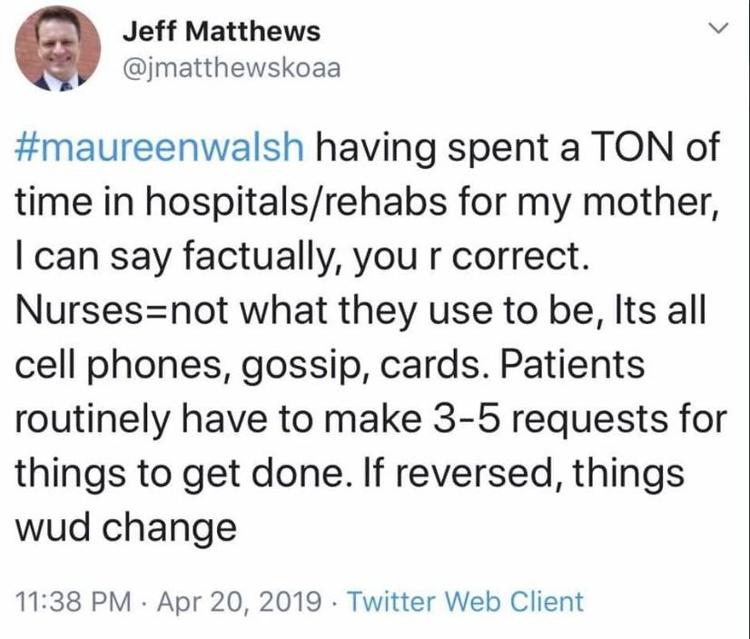 Matthews hashtagged Washington state senator Maureen Walsh, who had drawn ire from those seeking support for SHB 115, which would provide nurses with uninterrupted meals and rest periods. The Republican senator is against the bill, claiming during an April 16 debate that nurses, "probably play cards for a considerable amount of the day."
Matthews' comments were immediately rebuked with hundreds of comments on Twitter. One individual even started a petition to have Matthews follow a nurse for a standard shift to help show him the challenges of the profession.
KOAA-TV quickly posted the following statement on its Twitter and Facebook pages: "A KOAA employee made a tweet this morning that is not supported by KOAA and its employees. The employee took it upon themselves to post an apology. KOAA is addressing this issue internally and apologizes for this tweet and clearly supports nurses and all they do for our community. We hope this helps clarify our position on the tweet as we address this issue internally and thank you!"
The tweeted apology from Matthews stated, "My apologies to those I have offended regarding nurses. I had to care for my mother for 23 years in & out of hospitals/rehabs. She had many bad experiences, but I apologize for generalizing everyone into that."
The message was met with a mix of compassion and disdain, but the Twitter avalanche didn't relent. The following week Matthews did not appear on camera for KOAA. His Twitter account has since been deleted and he hasn't posted on his Facebook page since June 21.
A veteran meteorologist who had previously worked at stations in Wyoming, Maine, Philadelphia and Wisconsin, Matthews departure leaves KOAA's weather department temporarily short staffed. 
Mike Daniels and Sam Schreier are the only on-air forecasters left at the station. Jessica Van Meter left KOAA in March to take a position at a station in Ohio. Her replacement, Alex O'Brien, won't begin her tenure at KOAA until June.