The day that comic fans eagerly anticipate arrives Saturday with another annual Free Comic Book Day.
Several comic book shops around Colorado Springs will celebrate the national holiday by coaxing in faithful fans and reaching out to first-time comic readers in one of the industry's biggest events.
Depending on which store you visit, you might see artists, professional cosplayers and face painters. While the day is exciting for patrons, no one seems more thrilled than store owners.
Muse Comics will host the 501st Legion, an organization dedicated to wearing screen-accurate "Star Wars" attire, ready for photographs. Radio station 103.9 RXP will broadcast live from the store. Snacks will be free, and the first 200 people to arrive will get goody bags.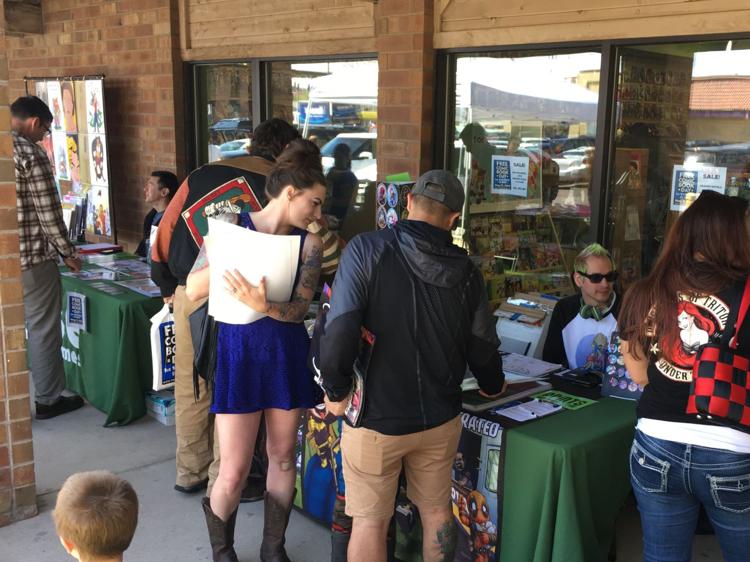 Escape Velocity Comics & Graphic Novels' downtown shop will have a food truck and a lightsaber demo, courtesy of the Gracie Barra jiu-jitsu school. About 6,000 comic books will be given away between the two Escape Veolocity stores, said owner Douglas Scott.
Free Comic Book Day doesn't mean you can walk up to a shelf and grab whatever you like. Retailers, publishers, suppliers and comic distributors work together to come up with a special list of comics specifically for the day.
The first Free Comic Book Day only featured four titles, but 51 will be available this year. They include comics for "Deadly Class," recently turned into a television series, "Star Wars Adventures," "Spider-Man" and "The Avengers." Also sure to be popular: free comics based on the Netflix series "Stranger Things" from Dark Horse Comics and a crossover comic from Boom! Studios featuring "Buffy the Vampire Slayer" and "Firefly."
Free Comic Book Day has been held on the first Saturday in May since its inception in 2002. Although it coincides this year with Star Wars Day (May the fourth be with you), it was designed as a tie-in to the opening weekend of "Spider-Man" starring Tobey Maguire and Kirsten Dunst. The idea was suggested by Joe Field, owner of Flying Colors Comic and Other Cool Stuff in Concord, Calif. Field noticed the increasing interest in comic books as enthusiasm for the "Spider-Man" film was building. The movie's success spawned a significant interest in comic-book themed films and comics in general. The concept of Free Comic Book Day exploded nationwide after that.
A number of Colorado Springs comic book shops are taking part in this year's festivities. To see if your favorite store is participating, visit freecomicbookday.com. Local comic shops, however, aren't the only ones encouraging aspiring Peter Parkers and Carol Danverses to come out and mingle. The Pikes Peak Library District has joined in the fun for years. Library branches hold their own events. The Ute Pass, East, Old Colorado City and Manitou Springs libraries will give away comics through the day. At the Ruth Holley Library, you can grab a free comic and make your own magnetic bookmark from 10 a.m. to 5 p.m. The Monument Library will give away comics from 3 to 5 p.m., and you can make a comic book coaster to take home.
"Free Comic Book Day is a wonderful holiday for us every year, and the best part about it is that the whole day is a celebration of reading," said Muse Comics owner Amanda Salmons. "The event has books for every family member, and it's heartwarming to see them in the hands of brand new readers. How wonderful is it that pop culture has a gigantic, citywide party every year to celebrate art and reading? It's an amazing thing to get to be a part of."