Supansa Banker had left the cooking circle at The Taste of Pikes Peak cook-off April 28 before the final award, Chef de Cuisine, was announced.
"I figured we hadn't won anything since winners for the best appetizer and best entrée had already been announced," Banker said. "I was astonished when I heard my name called."
The Chef de Cuisine award was established in 2002 as a traveling trophy, displayed in the winning chef's restaurant for a year. Banker held this honor before, in 2015, when she was a chef at the now defunct 2 South Food & Wine Bar. Now she's a chef for Sodexo, a food service management company at Province Springs retirement community. Her sous chef at the event was Jeremiah Farnham, also with Sodexo and working as a chef at UCHealth Memorial Hospital Central.
Chefs try to outdo each other with creative takes on mystery ingredients. Fresh fennel was the surprise ingredient for the appetizer round. Tyler Peoples, a chef for Mission Catering with Springs Rescue Mission, won that one. Bone-in pork loin was the mystery ingredient for the entrée heat. Brian Blasnek, executive at Tapateria and Pizzeria Rustica, won that round.
But Banker's tempura twist with fresh fennel and her clever way with a pork roulade, filled with roasted pineapple, wowed the judges and sealed the deal for the coveted Chef de Cuisine trophy and a $500 check.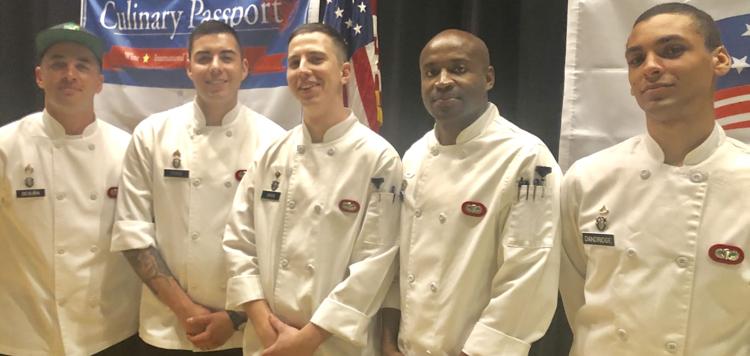 Soldiers make the rank
An amazing culinary journey around the world commenced at the 2019 Culinary Passport event, with cuisines from 12 countries highlighted by chef members of the Pikes Peak Chapter of the American Culinary Federation. Diners voted for their favorite dishes. The top favorite? Colombia-style empanadas and arepas con chorizo prepared by soldiers from Fort Carson's 10th Special Forces Group (Airborne) LaRochelle Dining Facility. Staff Sgt. Carlos Segura, dining facility manager, led the culinary team of Sgt. Jesse Perez, culinary noncommissioned officer; Spc. Jonathan Simon, culinary specialist; Staff Sgt. O'Brian Palmer, advanced culinary noncommissioned officer; and Pfc. Jacob Dandridge, culinary specialist.
Money raised at the event benefits the chapter endowment fund. This year's recipient is Silver Key Senior Services.
Something cheesy
Devour quarter-size grilled cheese creations paired with 4-ounce pours of suds during the Colorado Springs Gourmet Grilled Cheese and Craft Beer Fest from 5 to 9 p.m. Saturday at Hillside Gardens and Events Center, 1006 S. Institute St. Limited early bird tickets cost $30, or pay $40 for general admission at the door. Better yet, be a big cheese and spring for the $50 VIP ticket to gain entry at 4 p.m. The fest benefits Ascending to Health, a local nonprofit helping the homeless community. Visit athrc.com.
Eat out for good cause
The Chef Showcase runs from 5:30 to 8:30 p.m. May 16 at Hotel Elegante Conference and Event Center, 2886 S. Circle Drive. The $250 benefit for Rocky Mountain Health Care Services lets you sample dishes prepared by local chefs who compete for your vote in a People's Choice contest. Details: 466-8777, tinyurl.com/yy7cje4o.
Contact the writer: 636-0271.