Dog lovers and comfort food aficionados will feel right at home at Lazy Dog Restaurant & Bar; although the canines and their parents are relegated to the large patio.
This is an expansive building, with a capacity of 447. As if to match its surroundings, the menu, too, is sizable. Not only is it extensive, but it features a range of cuisines, with an emphasis on American classics: meatloaf, fried chicken, pot roast, burgers, the list goes on — and on. Asian, Mexican and a few Italian options are also featured.
We started with calamari ($13.95). Battered and lightly fried, it's coated with a sticky, sweet and sour plum sauce, then topped with finely chopped peanuts, red pepper flakes and bell peppers. It's served over rice; I could have easily made this my entree.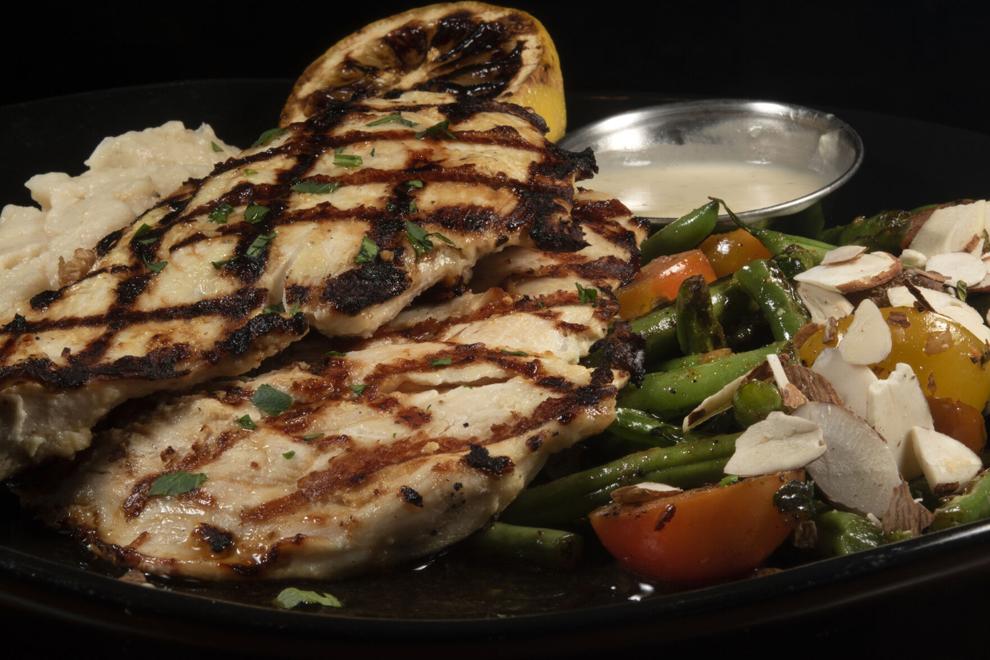 Our previous, and only, experience with Lazy Dog was midpandemic when we ordered frozen TV dinners ($10 each) to cook at home and eat on trays in front of the television. Complete with compartments for each item, the food was surprisingly tasty and filling — otherwise it was suggestive of another era.
The large servings aren't restricted to those frozen meals. In fact, our server described the Campfire Pot Roast, served with mashed potatoes and sauteed spinach, as "a very large plate of comfort food" ($18.50). Nonetheless, he said the pot roast beef dip ($14.25), made with the same slow-roasted beef as the entree, was among his favorites. It's easy to see why.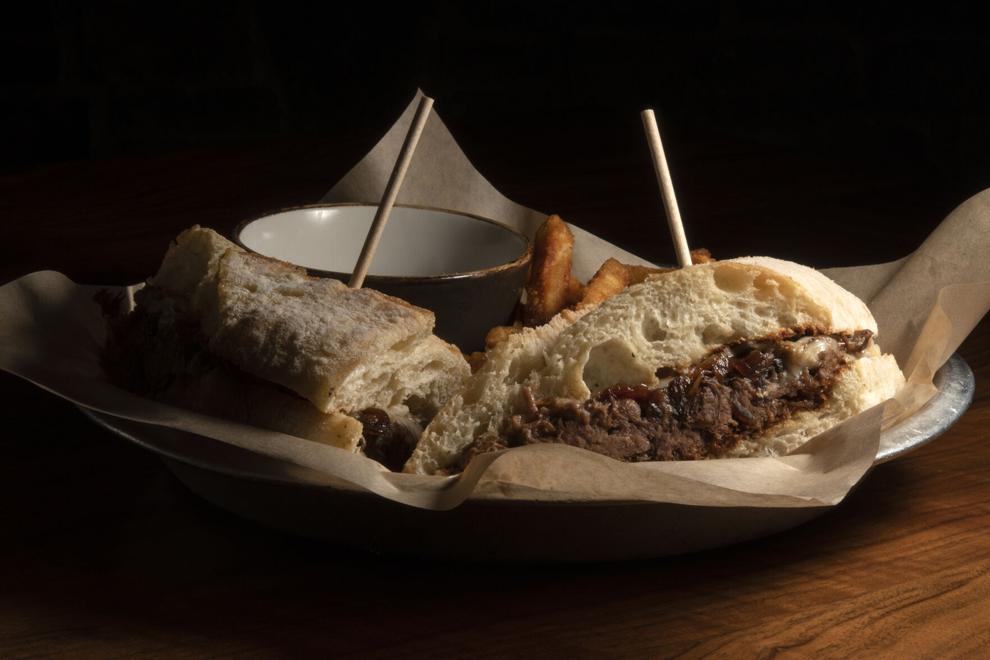 An impressive amount of slow-cooked, shredded, tender beef is topped with melted mozzarella and caramelized onions, all tucked between slices of toasted ciabatta roll. This is a substantial sandwich, although the roll got soggy much sooner than expected. It soon became easier to forgo the bread and simply dip the meat in the au jus with a fork. This wasn't necessarily a bad thing since it was the beef and onions with all the flavors.
The sandwich wasn't the only recommendation offered by our server. The barbecue ranch burger ($13.75), ham+broccoli mac n cheese ($13.95) and the lemon grilled chicken ($17.25) were also high on his list. (Later I heard him recommend the fish and chips to another table.) He swore, in the politest way, that the lemon chicken was not at all dry as some is wont to be. Noticing my skepticism, he offered to replace the entree with another if he was wrong. Challenge accepted.
Two large chicken breasts with picture-perfect grill marks are served over creamy cauliflower mash. This alternative to mashed potatoes helps keep the meat moist as does a silky lemony sauce. Adding color to the plate are sauteed green beans with sliced almonds and charred cherry tomatoes. I didn't need a replacement. I did take a lot of food home because, again, it was a lot of food. And it was just as good a day later.
Even though the place is spacious, it isn't cavernous. Large wood ceiling beams, a few stone walls and picture windows make it feel less massive. A few poster-size photos of dogs are on the walls, and several TVs are placed mostly near the bar. Service was attentive and plenty of staff was on hand. The noise level was not excessive, but neither was the restaurant full.