Some teaching still takes place in the old Lincoln Center, the repurposed elementary school north of downtown, where the new subject is Scandinavian Smorbrod.
Chef Jay Gust, whose other restaurants include Tapateria and Pizza Rustica in Old Colorado City, has turned his culinary attention to Northern Europe. Gust has taken open-face sandwiches on thinly sliced rye, the literal meaning of a smorbrod, to an eye-popping, mostly palate-satisfying level.
The restaurant's mainstays are sandwiches, which is not an apt description. At Smorbrod, they need to be eaten with a knife and fork because they're a far cry from two pieces of bread slapped around some food, any food. Instead, everything is decoratively piled high on one piece of rye. And, as reflected in the appellations given to each creation, the entire Nordic region is well-represented from Iceland to Finland and points in between.
Pickled herring, smoked and cured salmon, crab and shrimp are the closest one gets to the North Sea. Nonetheless, the menu options offer a variety of flavor combinations unlike most stateside sandwich shops.
We hosted an exchange student from Gothenburg who became a de facto member of our family. It was a no-brainer to order the sandwich ($8.95) bearing the name of this western Swedish seaport. Yet it didn't contain any seafood. It's composed of rolled slices of Jarlsberg cheese, pickled mustard seed, watercress, two gherkins and smoked sausage. The bread beneath it all is almost inconsequential. Almost. Even in its diminutive role, it contributes texture thanks to its composition of seeds and grains. The smoky, thick slices of sausage were offset by the creamy Norwegian cheese, similar to the Swiss variety. I especially liked the pickled mustard seeds for the small bite of tartness they provided.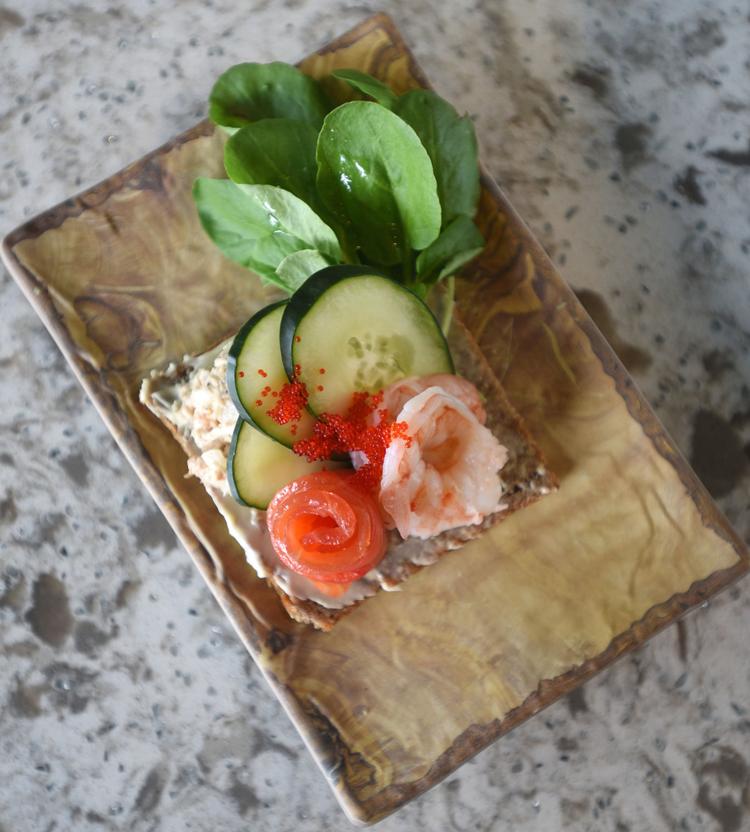 Smoked salmon is familiar, so the beet-cured salmon was something we felt we needed to try. The Helsinki ($9.95) highlights a rose-shaped, and rose-colored, piece of salmon with cucumber, shrimp, crab and a dollop of caviar. Although no trace of beet flavoring was in the salmon, it had a fresh texture and taste. Since it was cured, it was like eating a Nordic version of sushi.
Patrick, our fun-sock clad and friendly server, recommended the Alto and Lilehammer ($8.95 each). We opted for the former, though the latter was tempting. The Alto featured more of the smoked sausage, potato slices, colorful and tangy pickled onions and toasted hazelnuts. The creamy dill sauce coating the meat and potatoes was off-putting due to its dull, beige color.
Soup and Swedish meatballs are also available. And the bar offers an array of cocktails, many with a Nordic spin, such as the lingonberry mojito.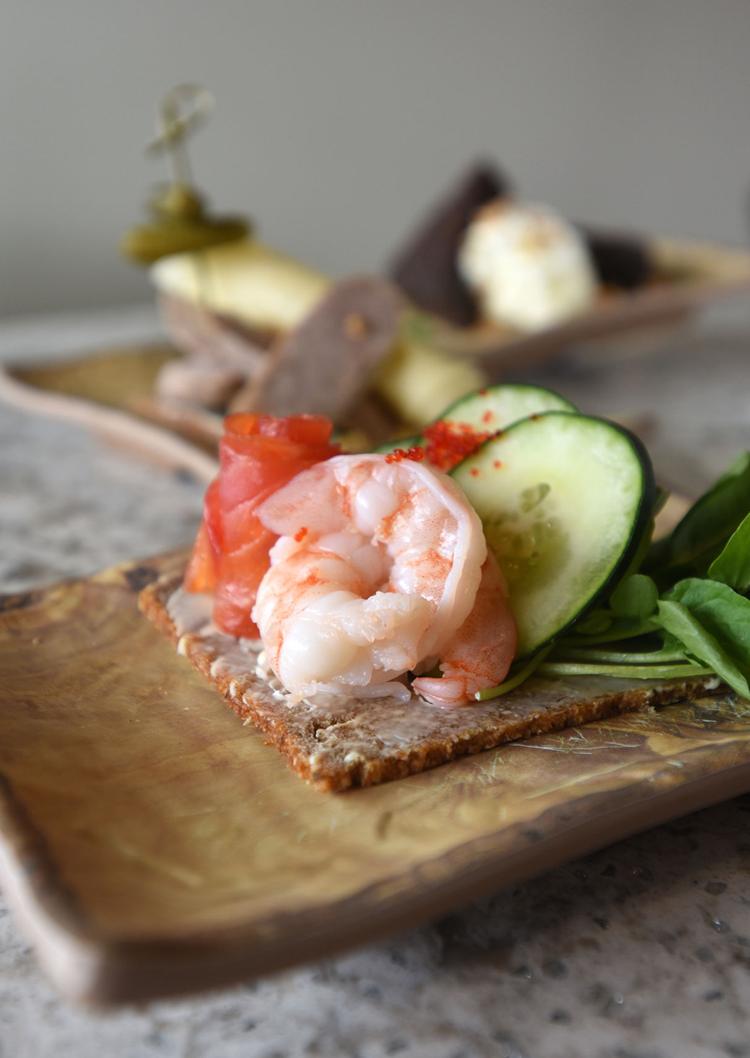 Each sandwich is beautifully plated on what looks like a piece of wood but isn't. As pretty as each sandwich was, none was overly filling. This is a good thing when there's a dessert that catches your attention. The Kladdaka ($5.95), a name that belies its chocolate decadence, was all I needed to be sated. The name in Swedish is sticky cake, but it would not be misleading to add the word gooey. The cake is slightly crispy on the outside and oozes melted chocolate when cutting into it. Toasted hazelnuts and the generous serving of whipped cream on the side are a bonus.
Smorbrod offers a good representation of Scandinavian tastes and a few lessons in geography.
Smaklig maltid! (Enjoy the meal.)