Colorado Springs is fortunate to have several praise-worthy Middle Eastern restaurants throughout the city and I seek the fare out often. Partly because I've traveled to the region a few times and was enamored by the culture, the people, and yes, the food. And also because it's a cuisine that naturally includes many vegan options.
Fala-Filo is my newest obsession. Chef and owner Simood Gorguis, formerly of Arabian Nights Café (reviewed for this paper in December 2016) has struck out on her own to create a space and dining experience that's truly authentic to her background: She is of Turkish descent and born and raised in Iraq. Chef Gorguis serves dishes with ingredients and flavors that are unique to countries throughout that region.
A good number of items on the menu are vegan as is — Gorguis doesn't use feta cheese in any of the dishes you might normally expect. She uses a house-made syrup instead of honey. Extra-virgin is the flavorful fat for this type of cookery, so no butter is required. The one thing to be sure to ask about, however, is the pita. When made in-house, it contains milk and eggs; on the occasions I've dined in, the pita was sourced elsewhere and vegan.
On my first visit, I opted for small plates from the lunch menu (12 to 2:30 p.m.). The Vege Combo Plate ($9.99) requires just one adjustment: Hold the tzatziki and add falafel. Served with vegan pita (always ask to confirm!), I smothered the warm piece of flatbread with creamy chickpea hummus and a thin layer of the smoky baba ghanoush. Typically the base of baba ghanoush is eggplant and tahini, but not Turkish-style and not here. The lemon and olive oil with roasted vegetables, versus sesame seed paste, made it almost like an entirely new dish to me and I rather liked the light bite. The falafel was one of the best I've had in Colorado Springs (or even in Egypt and Turkey). As I pushed my fork through the crisp, round, fried bean patty, a puff of steam escaped and the inside was tender and flavorful.
I should note that I'm not a huge eggplant fan — unless it's fried — but after tasting the baba ghanoush, I simply had to try the Macdouce ($8.99). The piping-hot mini eggplants are stuffed with fresh cilantro, parsley and garlic and are rounded out with roasted red peppers. The crunchy surprise? Pecans instead of the traditional walnut. I loved it.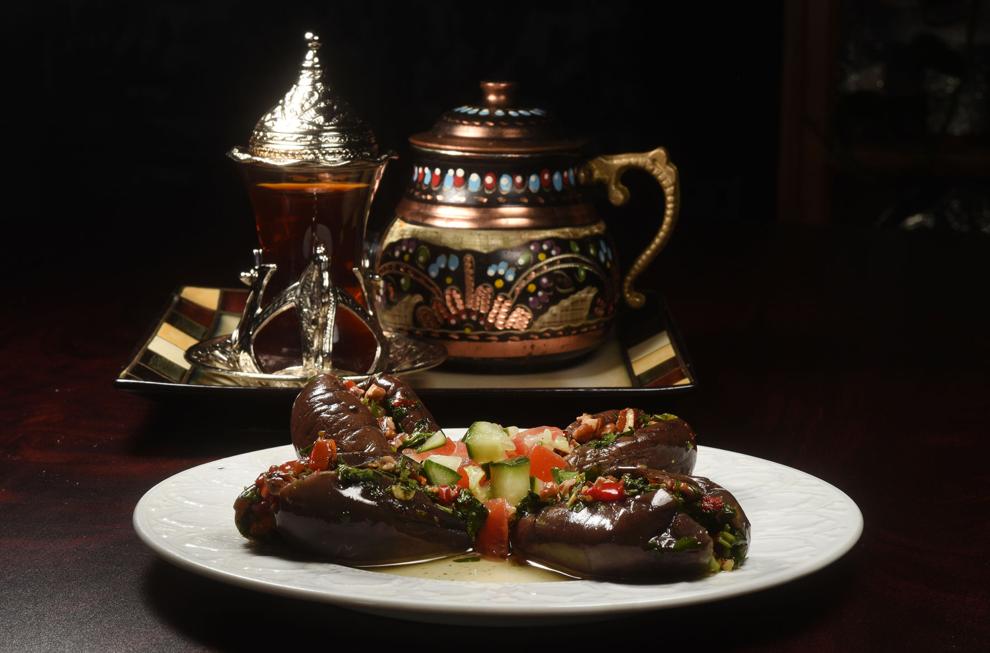 For dinner, the Vege Plate ($13.99) offers an entirely vegetable texture: The zucchini, eggplant and cauliflower are fried and served with a rich tomato sauce and rice. Fresh greens and french fries (I mean, why not?) give you just about everything you want from a vegan meal. But I do love me some legumes, so I started with the lentil soup ($6.99). Simple, flavorful and filling.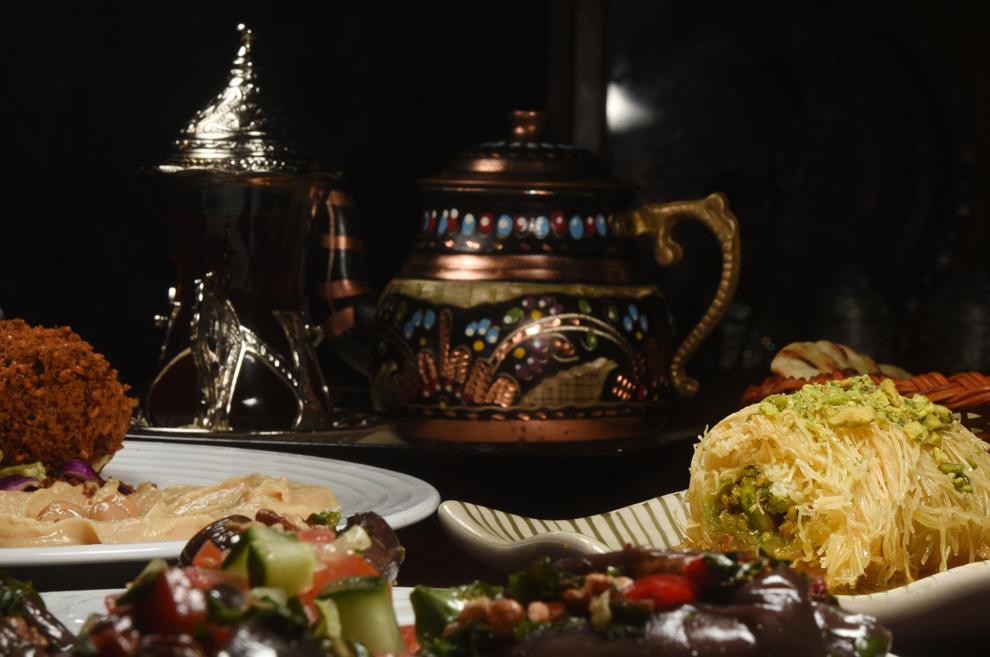 I have shared in past reviews (OK, complained) that vegan desserts are rare in this city. Not so at Fala-Filo. With several variations of baklava in the dessert case, Gorguis uses a house-made syrup. The bird's nest phyllo stuffed with pistachios is as pretty to look at as it is delicious to eat. It was my great delight to see the dessert plated with a modest piece of Turkish Delight — a traditional confection that she makes vegan, in-house, with less sugar, but all of the gummy texture. That small bite of candy and the generous portion of syrupy baklava is brilliant with a cup of hot tea ($4.99), fragrant from a blend of spices ranging from tarragon to cloves.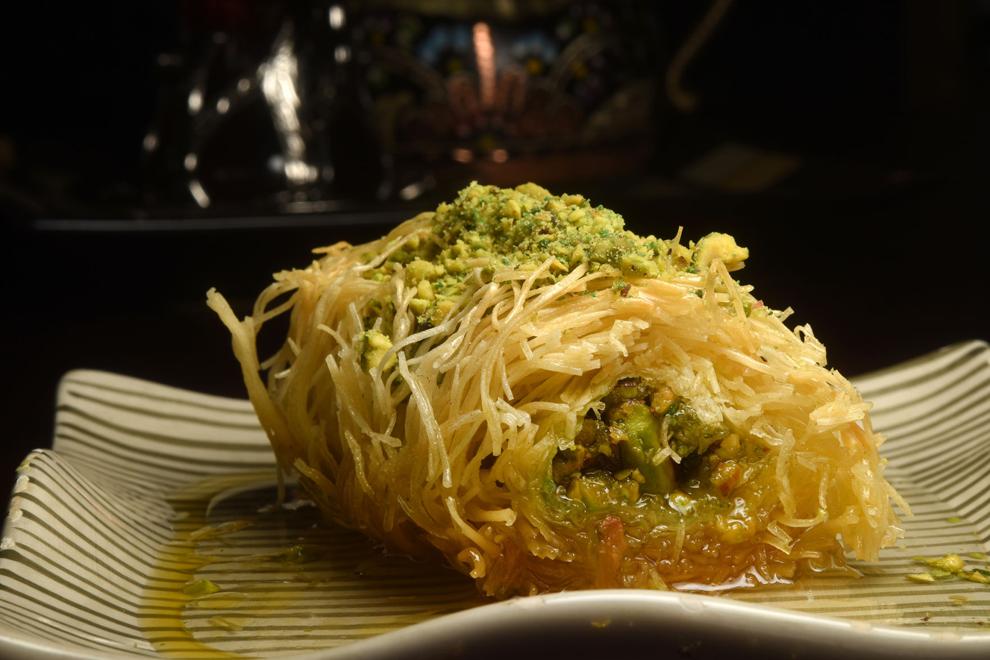 The lush plants and hand-detailed painted walls transported me to a quaint courtyard dining meal I once had in Istanbul. Visit Fala-Filo when you have the time to sit back and enjoy the experience. Currently running with a small staff, you might consider ordering ahead or take-out for lunch. But do treat yourself to dinner for delightful conversations with the chef and server. While the food doesn't always come out fast, it does come out fantastic.
Rating total: 4.9 of 5 forks
Food: 5 of 5 forks
Ambiance: 5 of 5 forks
Service: 4.8 of 5 forks
Venue character: Middle Eastern country cafe
Address: 6050 N Carefree Circle
Contact: 358-7865
Hours: Daily 12 – 9 p.m.
Alcohol: No
Credit cards: Yes
Non-vegan options: meat, poultry, animal-based dairy
Gluten-free options: Yes
WiFi: No
Outdoor dining: Yes
Active on Facebook
What's online as of Feb. 11:
-5 of 5 based on 81 reviews on Yelp
-5 of 5 based on 11 reviews on TripAdvisor
-4.8 of 5 based on the opinion of 78 on Facebook
Good rating Nov. 5 by El Paso County Public Health.