The exterior of Arceo's Mexican Family Restaurant on South Nevada is reminiscent of a popular pizza chain establishment, but one step inside makes it clear there's no room for nostalgia here since diners are met by enticing aromas, colorful serapes over the windows and bright papel picado (cut-paper banners) hanging from the ceiling.
Along with the décor, the hefty menu is the exclamation point to the south of the border cuisine. It's no secret I'm not a fan of multiple-page bills of fare. Yet they apparently go together like chips and salsa when it comes to Mexican restaurants. Based on our sampling of numerous dishes, it seems Arceo's can do it all well. Even the crispy chips with a soupy salsa and pico de gallo were more than predictable palate pleasers.
Two people handled the front of the house, while others worked the magic in the kitchen. With nearly every table full, the two managed drink and food orders and kept water glasses filled doing so with efficiency and smiles.
The fajitas were recommended, which helped narrow the choices, even though this entrée had several options: beef, chicken, bacon-wrapped shrimp or a combination. We ordered the beef ($11.95). The thin slices of carne asada (marinated skirt steak) with sliced green peppers and onions arrived at the table with the requisite sizzling sound effects. The grilled, al dente vegies were not simply on the hot cast-iron plate for looks; they were infused with the same savory flavors as the meat. The entrée includes rice and refried beans, flour or corn tortillas and fresh, chunky guacamole.
Mole is served with either chicken or in enchiladas ($9.65) filled with either the poultry, beef or cheese. Large amounts of shredded chicken wrapped in corn tortillas and covered with a rich, nutty mole make these exceptional enchiladas. Thankfully, they were not hidden beneath an armor of melted cheese. The beans had a pleasant, earthy flavor, while the rice was fine but not memorable. Appropriately, that designation belongs to the main course.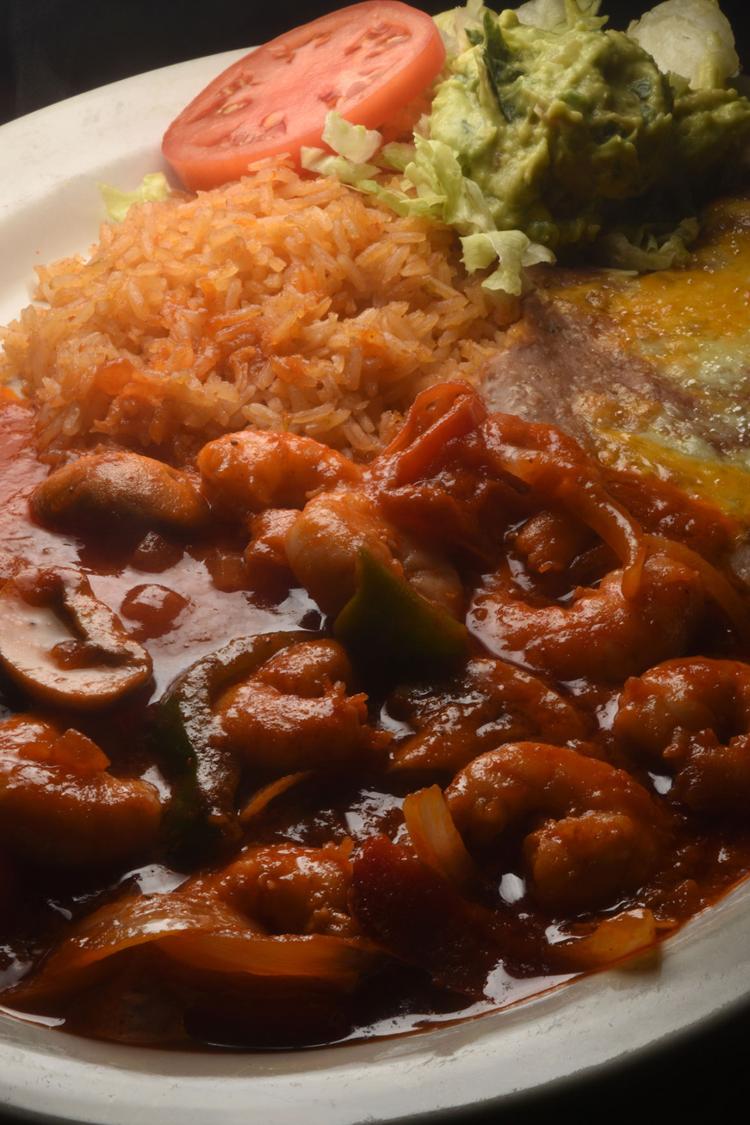 Camarones Mexicanos ($12.50) is a vibrant-looking dish with green and red peppers, onions and sautéed shrimp in a red sauce. Guacamole, corn or flour tortillas and the usual sides complete the entrée. The shrimp are plump and while the sauce looks like it might overwhelm the taste buds since it is so plentiful, it doesn't.
Chimichangas often pose a challenge. The exterior of the fried flour tortilla can often be greasy, but the trick is to create a crispy shell without an oil slick. Arceo's does it right. We opted for the shredded beef ($9.85) filling; chicken and ground beef are other possibilities. Two plump, brittle-shelled burritos with the house-made guac made this another successful selection.
A small blackboard lists specials, both for meals and drinks. Pozole ($8) was among the items. However, it's always available, according to our server. This is a large (think mixing bowl) serving of hominy (large, white corn kernels), shredded pork and onions in a chile-based broth. Shredded cabbage, sliced radishes, pico de gallo and lime wedges are served on the side to garnish the stew-like soup.
A variety of margaritas, Mexican and domestic beer and house-made desserts can complete any meal. We were tempted by the churros and sopapillas, but resisted.
Arceo's warrants return visits. The savory blend of spices highlights the main dishes; they aren't hidden by heaps of lettuce or mounds of melted cheese.
Plus, the servers do a lot of juggling with no apparent misses.
Arceo's Mexican Family Restaurant Address: 1605 S. Nevada Ave. Contact: 442-2626; arceos.biz Restaurant character: Traditional Mexican cuisine, family-friendly Rating total: 4.4 of 5 forks Food: 4.5 of 5 forks Ambiance: 4.25 of 5 forks Service: 4.5 of 5 forks Hours: 10 a.m. to 10 p.m. Sunday through Saturday Entrees: $5.50 to $20 Alcohol: Yes Credit cards: Yes Vegan options: Yes Outdoor dining: No Gluten-free options: Yes Wi-Fi: Yes What's online as of Jan. 9: • 7.6 of 10 votes on Foursquare • 4.5 of 5 stars based on 42 reviews on TripAdvisor • 3.6 of 5 rating based on 15 votes on Zomato • 4 of 5 stars based on 42 reviews on Yelp • Active on Facebook Good rating on July 30 by El Paso County Public Health.