I suggest checking out Zomo's website before visiting the restaurant, if only because its background is interesting. Otherwise, the staff is happy to fill you in.
Family-owned Zomo opened in May 2019, so it had a little time to build a fan base before the pandemic hit less than a year later. It remains a popular little bistro in downtown Englewood with sleek decor and a tantalizing menu of items that "all come with a story," the website notes.
The cuisine is self-described as Asian American. Consider the oddly named Kansas State Fair egg rolls ($11). These beg for an explanation. Suffice it to say the owner's grandmother, a Vietnamese immigrant, lived in Kansas where she sold the rolls at the fair. (Many of the recipes are the grandmother's.)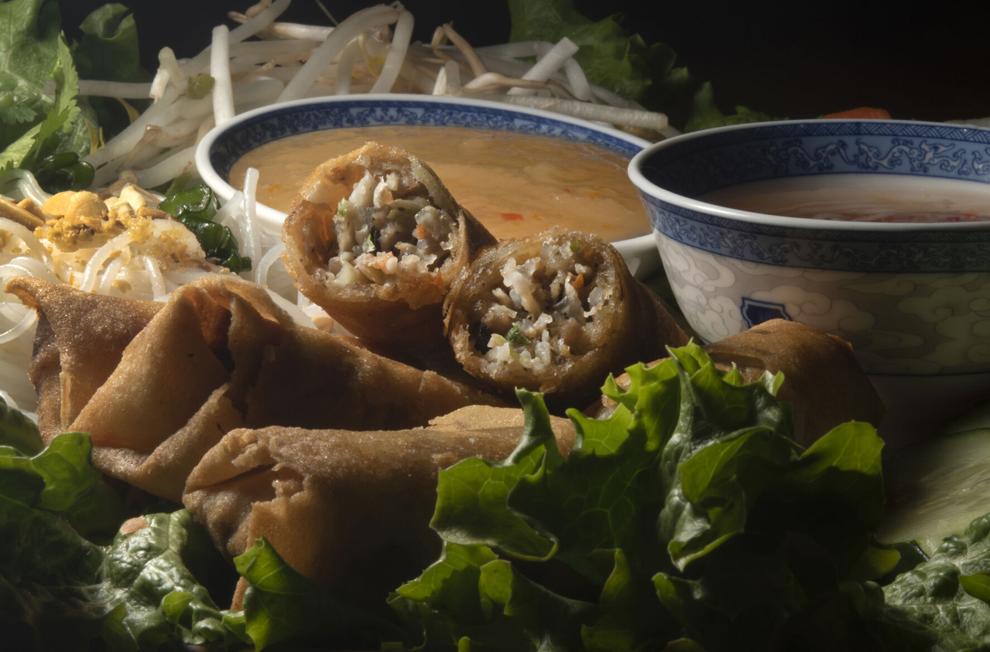 Golden, crispy egg rolls are filled with seasoned ground pork. Rice noodles, chopped peanuts and cilantro are served on the same platter along with lettuce, bean sprouts, cucumbers, carrots and lettuce. This comes with house-made savory fish sauce and a sweet sauce.
Bahn Mi Bites ($15) are four slices of baguette topped with a choice of protein (beef, pork, chicken, tofu or shrimp), loaded with julienned carrots, jalapenos and rice noodles. They're an Asian version of crostini or bruschetta. This dish works well to share or not— it makes a nice entrée. It's served with Zomo sauce, made with habaneros.
Entrees range from stir fry to pho, from meatloaf to noodle bowls and much more. The noodle bowl with chicken ($15) is an all-in-one meal. It could be described as a salad, since it features an array of fresh veggies, including carrots, cukes, sprouts and cilantro, but that isn't accurate enough, nor is calling it a chicken dish with noodles. Yes, there are plenty of rice noodles and thinly sliced pieces of lightly breaded/fried chicken topped with chopped peanuts, fried onion strips and sliced green onion. Whatever the name or description you ascribe, this is a refreshing meal augmented by fish sauce.
Pho ($13) is another dish — in this case, a bowl — that is more than a soup. The dark, rich broth teems with slices of tender brisket, onions and chopped scallions. Per tradition, it's accompanied by a plate of fresh herbs including mint, cilantro, Thai basil, bean sprouts and lime wedges. Two serving sizes are available. The smaller is a massive amount; it's difficult to envision the larger offering ($15).
In addition to the pho and noodle bowl, the yellow curry ($18) and Ba's Shrimp ($15) are among the more popular items, according to our server.
The apple pie egg rolls ($8) were too intriguing to ignore. The shape and size of traditional egg rolls, these are filled with cinnamon-spiced chopped apples, drizzled with caramel sauce and served with vanilla ice cream. They're like an apple turnover, but cylindrical in shape and better tasting.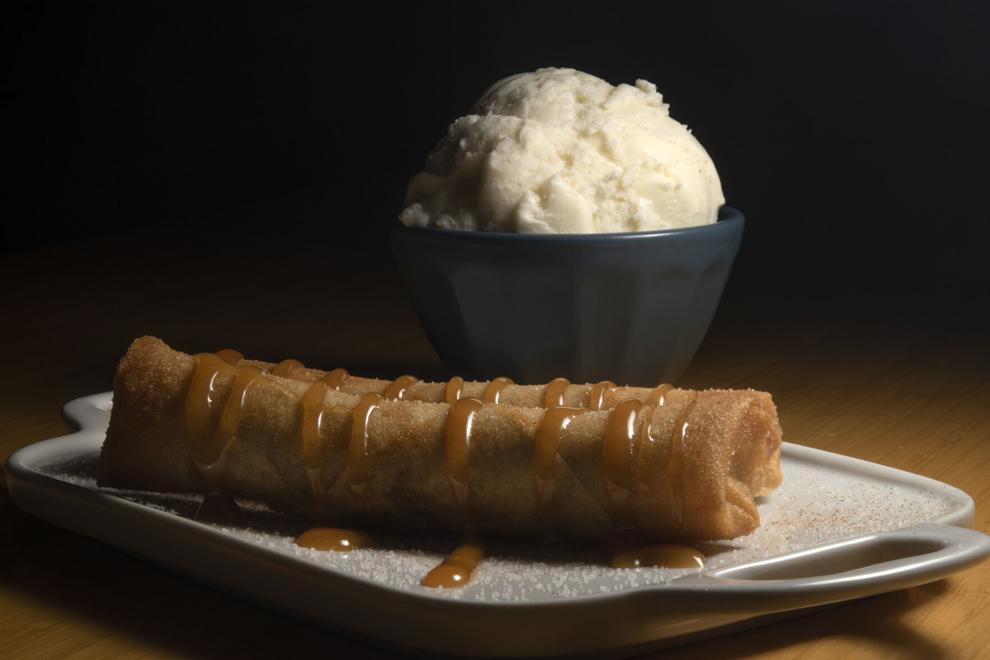 Service was exceptional, outmatched only by the food. The minimalist decor is monochromatic whites and browns. The exception is a back wall adorned with a rainbow array of large hand fans. I look forward to returning to Zomo to sample what I missed on my first visit and to hear more stories about the food.
Zomo
Asian American cuisine
Location: 3457 S. Broadway, Englewood
Contact: 1-720-739-8882; zomoeats.com
Prices: $8- $18
Hours: 4 to 9 p.m. Monday, Wednesday and Thursday; 11 a.m. to 9:30 p.m. Friday and Saturday; 11 a.m. to 9 p.m. Sunday. Closed Tuesday.
Details: Credit cards accepted. Alcohol. Wi-Fi. Outdoor seating.
Favorite dishes: Kansas State Fair egg rolls, Bahn Mi bites, noodle bowl
Other: Gluten-free and vegan options available