The line outside the door was like a throng of kids around an ice cream truck in the heat of summer, except the clientele at Colorado Mountain Brewery at the Roundhouse was taller, had credit cards and represented a range of ages.
CMB on 21st Street at U.S. 24 is in the old Midland Railroad roundhouse, later long-time home to Van Briggle Art Pottery.
And this brewery knows how to attract a crowd — with good reason. Beer is cold, service friendly and food is generally well-prepared.
The menu is sizable, with many gluten-free, heart-healthy and house specialties options. With one exception, we ordered only the latter.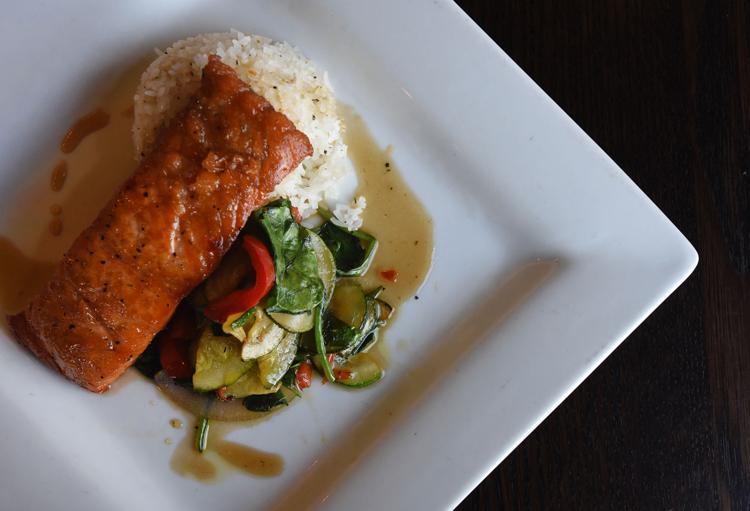 We began with a few house brews and an order of caramelized Brussels sprouts ($5.95) glazed with Thai sweet chili sauce. This was the only dish that did not rank as a specialty, though it should. Our server said this is her favorite starter.
The tangy, smoky glaze provided a pleasant trace of heat. Yet there were some issues. These would be better served in a bowl with a serving spoon since the sauce is runny and thus messy. Providing appetizer plates would also be helpful. Otherwise, the sprouts are worth the visit.
A friend had recommended the beer cheese soup ($4.50 cup/$5.95 bowl). Plus, it met our self-prescribed criteria, as a CMB specialty, for what to order. Creamy and appropriately cheesy, the comfort food soup was decadently rich with a subtle amber ale aftertaste.
When told the fish and chips ($13.95) are battered in-house, that sealed the deal. The not-too-thick, ale-infused coating was crispy and not oily. It was the ideal balance of textures and a plentiful serving of fish and french fries.
Several burger possibilities are available, but only two are specialties: the Mt. Bierstadt and the San Luis Peak (each $11.95). The latter, according to our server, is an award winner highlighting green chili: green chili cream cheese, beer-battered fried poblano peppers and cilantro crema. Since it has already garnered a lot of attention, I chose the Bierstadt.
First, I believe sliced, fresh onions have a place on every hamburger, but I may have to amend my thoughts to include an alternative: fried onion straws. The crispy, thin strip versions of onion rings impart crunchy and savory elements. A sharp blue cheese spread ratchets up the flavor profile. The brioche bun is almost unnecessary. The side of sweet potato fries with granules of sea salt complemented the atypical burger. This wasn't the juiciest burger I've had, but the toppings made it memorable nonetheless.
It was a tough decision between the pepita-crusted salmon salad ($14.99) and the chipotle maple-glazed salmon ($16.95). Both are gluten free, and we ultimately selected the seared salmon entrée. It's served with rice and sautéed veggies. The glaze was barely detectable, and the salmon was a bit dry. We requested the mango salsa, which comes with the salad. That contributed to our enjoyment of the flaky fish.
The wait after placing our order was longer than expected. We could see the place was busy, but a lot of time had passed since the Brussel sprouts had whetted our appetites.
I'd be remiss if I neglected to mention the beauty of the building. The quarried-stone walls, expansive windows and old railroad photos create a unique ambiance. The room was loud, but our conversation didn't require yelling to be heard.
Colorado Mountain Brewery accepts reservations through Open Table in case you want to avoid waiting.