The only things not comfy and cozy at Cucuru Gallery Café in Old Colorado City are some of the chairs, but they shouldn't deter you from sitting at one of the tables in this colorful, homey restaurant for some well-prepared, flavorful dishes that make you want to dine the night away.
It doesn't hurt that owner Guillermo Alvarado and super server Lupita take obvious, well-deserved pride in the food. The pork for the Cubano sandwich and some entrees is slow-cooked overnight. Everything else is prepared fresh daily, beginning when Lupita arrives in the morning. For someone who cooks and serves most of the day, her smile and warmth never wavered.
The menu is a mix of cuisine with influences from Spain, Central America, South America and the Mediterranean, according to Alvarado.
Small plates dominate the offerings, and the Tapas Combo ($25) is a great way to sample several things on one dish. This includes tri-tip, Gambas Diablo and tomato and pesto crostinis. Four servings of each could make this a meal in itself. Thin slices of beef topped with sun-dried tomato and roasted red pepper pesto are served on toasted medallion-shaped pieces of bread. A small amount of chimichurri, the herb-infused olive oil-based sauce, further enhances the tender meat.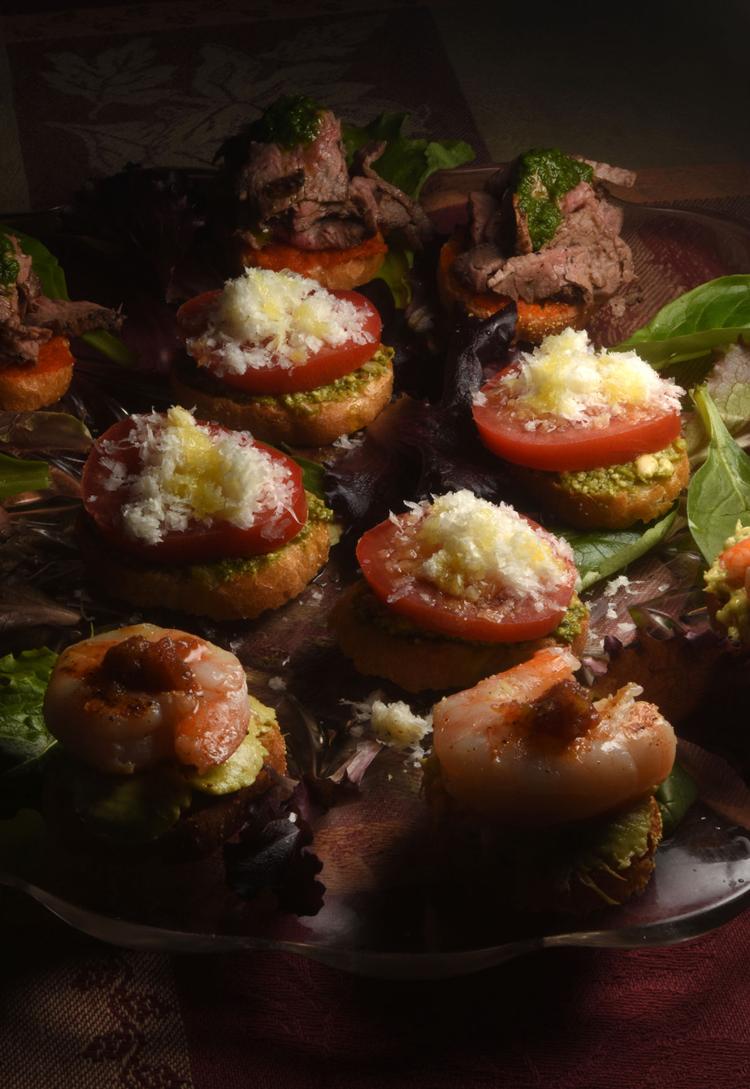 Gambas Diablo are simply grilled shrimp. These, too, are served on crostini with a small amount of avocado. The tomato and pesto crostini are just what you'd expect, except the flavors are fresh enough to evoke images of a summer garden.
At Lupita's casual suggestion, we ordered the patatas bravas ($7). Thin, crispy potatoes boast not one but three types of Spanish paprika, so each bite is a blend of sweet, smokey and spicy. That mix of savory bites works surprisingly well; one doesn't overshadow the other. A small serving of house-made aioli for dipping is the equivalent of a culinary bonus.
We could have ended the meal there and been perfectly content, except too many other items attracted our attention. We settled on the El Cubano sandwich ($11.99) after hearing Lupita's cooking process: slow-roasted pork and mojo sauce. We had to ask about the latter; it's oregano, cilantro, garlic and citrus. Ham, kosher pickles, melted Swiss cheese, along with the pork and mojo sauce, are pressed together between pieces of ciabatta bread and grilled. It's a gooey beautiful mess of a sandwich, thanks to the blend of flavors and textures. It's served with a lightly dressed coleslaw that merits recognition.
Several other sandwiches, quesadillas, soups and salads are on the menu. Not listed are nightly specials, which you might have to ask about. We were told about an artichoke dip not listed but overheard mention of a pork dish with mashed potatoes. We were happy sticking with tapas and the El Cubano, but I do like to know of available options. Alvarado said the specials are "based around Spanish manchego mashed potatoes or saffron rice pilaf, with seasonal grilled vegetables, paired with your choice of paprika chicken, Portuguese pork, lemon caper tilapia, Argentine chimichurri beef." The cost is $14.99 to $16.99.
Live music is featured Friday and Saturday evenings. In warm weather, two outside dining areas are open: one facing Colorado Avenue, and the other in a more secluded garden patio in the rear of the restaurant.
Cucuru is in an old house with colorful walls and small semiprivate rooms that once were parlors and bedrooms. It's funky and, though those chairs aren't the best, the food certainly is worth having a seat.